BlackBerry Torch Will Please RIM Fans, But Few Others
RIM BlackBerry Torch

The Torch smartphone successfully delivers a design that is both innovative and familiar to BlackBerry users, but its performance and features aren't quite up to par.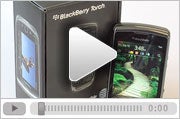 RIM's new BlackBerry 6OS-based Torch 9800 smartphone features a modern, spruced-up user interface, but BlackBerry owners will feel right at home. Are these changes enough to win over new customers and to compete with the ever-growing Android army? Ginny Mies takes a look.