Review: Omron Activity Tracker is more than just a pedometer
At a Glance
Omron HJA-312 Activity Tracker
Omron's HJA-312 isn't a pedometer or a heart rate monitor or anything like most of Omron's standard fare—it's a smart activity tracker. This little plastic device doesn't stop at just counting steps—it also tracks workouts, distance (including pace), and calories burned. So it's a great companion for anyone who does a lot of distance-related activities.
Fitness level:
Like most activity trackers, the HJA-312 isn't designed with a specific fitness level in mind. This activity tracker can be used by casual users looking to track calories burned (even at rest), or by athletes looking to track their workouts.
Best activities:
The HJA-312 is best for walking, jogging, running, biking, hiking, and other distance-related activities. Since it does incorporate a timer, it can also be used as a stopwatch.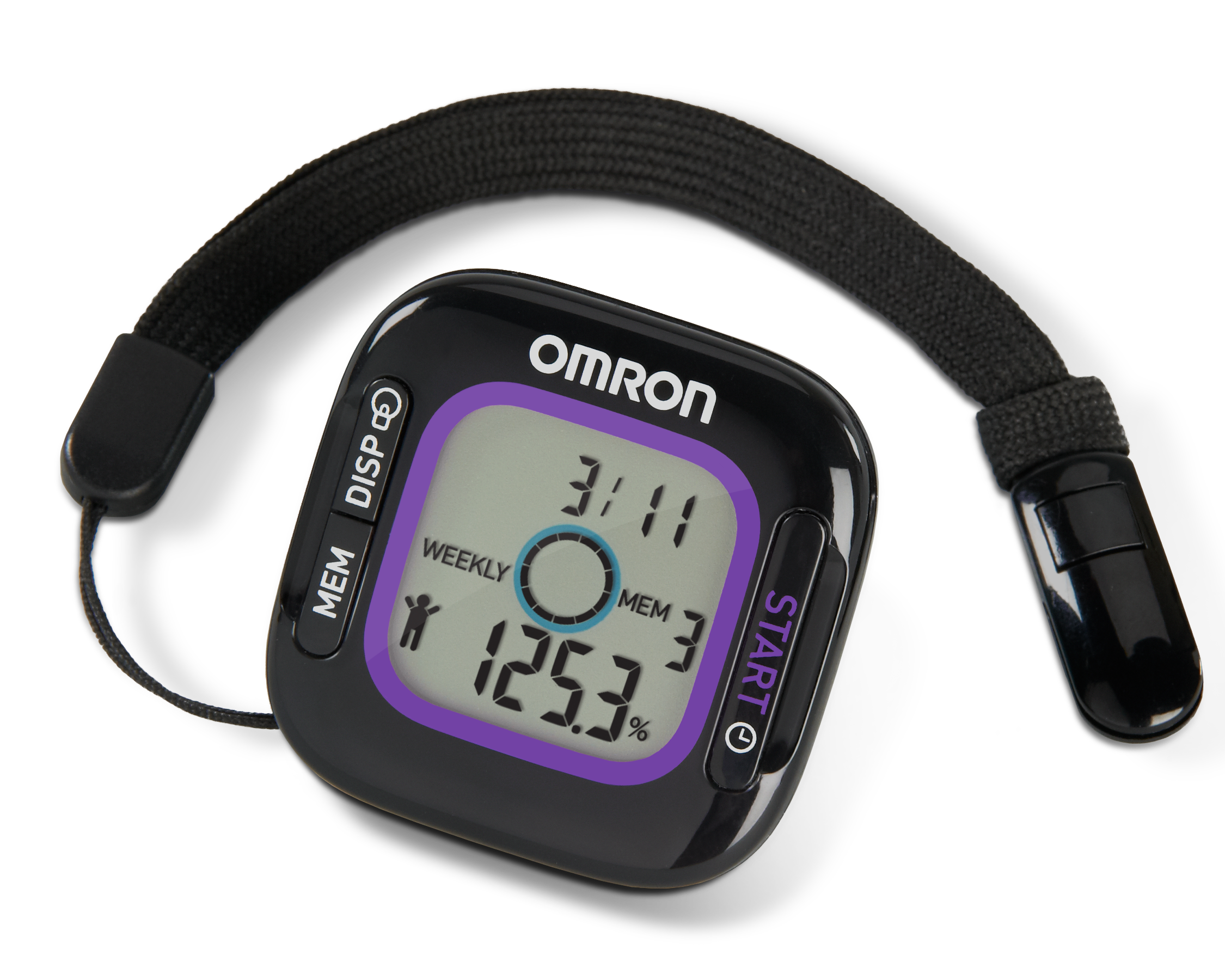 Design and features:
The HJA-312 is a small, square device with three buttons and a one-inch monochromatic screen. It's fairly eye-catching as far as activity trackers go: It's made of shiny black plastic with white and purple accents. There are two buttons on the left side of the screen (memory and display) and one button on the right side of the screen (start).
The display button cycles through the tracker's different modes: Percentage of weekly weight loss goal achieved, calories burned, distance traveled/steps taken, workout time, and pace. The memory button cycles through the last seven days' worth of data (you can hit the display button to toggle between calories burned/distance traveled and workout time/distance). The display button also acts as a light switch: Hold it down and a small watch-style light shines down from the upper right corner.
The start button does something a little different, and it's something you don't typically see on activity trackers or smart pedometers. Instead of automatically determining your aerobic steps (workout steps), the HJA-312 asks you to determine what is a workout and what is not. If you press and hold the start button, a small circle will fill up. When the circle is filled, the tracker will start timing your "workout." This way, the tracker can measure your workout time and distance which is helpful if you happen to be running a mile, for example.
You can start and stop the workout tracker as many times as you want (which means you can also use it as a stopwatch, in a pinch), and at the end of the day the tracker will tally up the data under "aerobic steps." Again, this feature isn't terribly useful—unless you happen to be doing some sort of distance-related activity (since it tracks both distance and time and combines those to get your overall pace), but it's still sort of neat.
Web services/mobile apps:
This activity tracker is technically a "smart" device—which means that you can connect it to Omron's fitness tracking website to track your data over a longer period of time. Although the HJA-312 only displays up to seven days' worth of data, it actually stores 14 days' worth in its memory bank. This means that when you connect it to the Internet, your last 14 days' worth of activity will be recorded.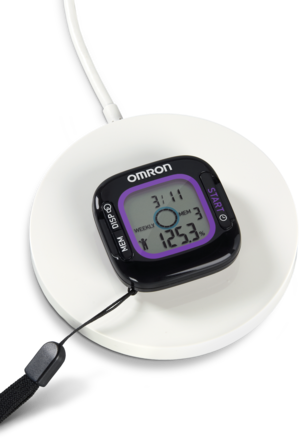 Here's the catch, though: The HJA-312 can only connect to the Internet via a special NFC Communications Tray that's sold separately. That's right. Unless you purchase the NFC tray (which costs about $20), you can't connect to the Internet at all, or take advantage of any of Omron's fitness website features such as long-term tracking and weight loss goals. What's even stranger is that the tray seems to be specifically designed for the HJA-312, yet it's still a separate purchase.
The fact that the HJA-312 doesn't come with a way to connect to the Internet is a pretty big deal—after all, Internet connectivity and long-term tracking ability is what really separates today's smart activity trackers from regular old pedometers. With no way to connect to the web service (aside from the NFC tray), the HJA-312 lags some behind competing products.
The bottom line:
It's too bad that the HJA-312 doesn't come with a way to connect to the Internet—except through a $20 separate purchase—because otherwise, I really like this activity tracker. It's got features that other smart pedometers don't have, such as a backlight and a way to time workouts, and it's very accurate when it comes to counting steps. It also tracks calories burned during rest (I assume, using your weight and height as a guideline), so it's a pretty neat little data tracker. Now if only we could get that data on the Internet, it'd be even better.
This story, "Review: Omron Activity Tracker is more than just a pedometer" was originally published by TechHive.
At a Glance
Omron HJA-312 Activity Tracker
Shop Tech Products at Amazon