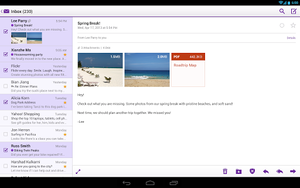 Yahoo is revamping their image with a brand new email app for your mobile device.  The latest update to Yahoo! Mail, available today on Android and iOS, gives users a vastly improved email experience.
The most striking sight in the new Yahoo Mail may be the full-screen email viewing option.  It sounds simple, but it may be innovative enough to help Yahoo gain some steam in the mobile market.  The new version allows you to bring an email out to fill the entire screen, after which you can flip through emails just like turning pages on a magazine.  Yahoo hopes that this, along with a reorganized, split-screen home base and improved sorting options, will help get "rid of the noise."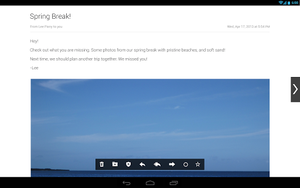 "Tablets have changed the way we experience books, photos, movies, and more," said Lee Parry, Senior Director of Yahoo Mobile.  Parry also noted that "email, something we do every day, has remained pretty much the same."The new, more streamlined Yahoo Mail is intended improve the entire email experience, and sports a sharper, cleaner look than previous versions.  Yahoo decluttered the interface and streamlined the operation in an effort to make it easier for users to find, read, and organize their emails.
The outstanding capabilities of our mobile devices, particularly those powered by Qualcomm Snapdragon processors, have augmented the demand for more capable, and more sophisticated applications.  It makes perfect sense that programs we use every day, like an email client, should embrace every new possibility.
Initial public response to the new look has been positive.  Users have also praised the new weather app, which Yahoo released concurrently.  The weather app shows pictures of weather phenomena from around the world, swapping out traditional icons of cloudy skies or snowflakes with actual, current images.  The weather app is only available for iOS right now, but Android users can get the new email program in the Google Play Store.
This story, "Yahoo Uneils New Noise-Free Email Template for Tablets" was originally published by BrandPost.