Page 2 of 2
Control Your Home Security System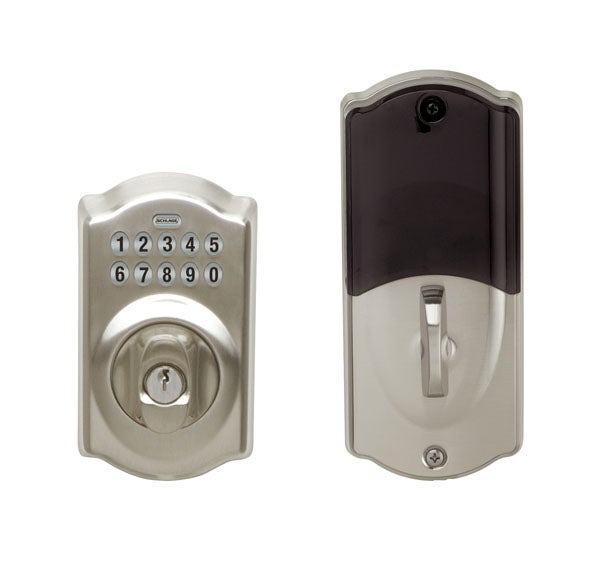 Now that you understand home-automation basics, you can install additional modules and sensors to improve your home's intelligence. You can buy Z-Wave-enabled thermostats, faucet switches for irrigation, door sensors, and more.
Your automated home can boost your security, too. ADT is launching a Z-Wave-enabled service, ADT Pulse, which works with many devices. (An ADT representative told me that only ADT-approved Z-Wave devices are supported; I'm anticipating that any Z-Wave hardware could work, but Pulse wasn't available for my testing in time for this article.)
ADT's computer software will monitor and control your home, including disarming your security system from your phone. The system will cost $47 to $60 per month in addition to up-front hardware fees ranging from $399 to $1299. ADT Plus should be available across the United States in early September.
You don't have to wait--or pay those monitoring fees--to automate your home security, however. Several door locks and deadbolts are enabled for Z-Wave, and they can help your smart home recognize when you manually open them (as well as automatically open them for you in certain situations).
For example, Black & Decker, Kwikset, and Schlage make Z-Wave deadbolt locks that run from about $200 to $400. You install the lock, and then connect it to the HS2 software.
The locks include keypads for password entry, so within the software, you could program specific codes for certain people, such as a dog walker. You could also set each code to allow access only at a certain time of the day. Since the locks send Z-Wave updates when opened, the HS2 software could e-mail you each time your pup gets picked up, for example.
Control Your Home From Anywhere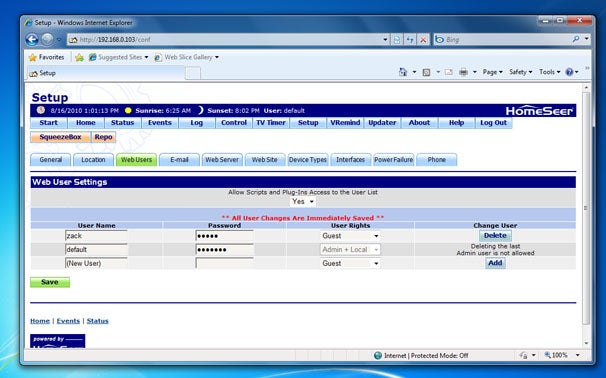 You can have a long-distance relationship with your smart house, and check in on it while you're in the office or on vacation. Most home-automation software includes an online component, although companies sometimes charge extra for the service.
You don't have to pay anything else if you have a VPN or remote-access setup. LogMeIn Hamachi or another free VPN application can make your remote PC act as if it were on your local, home network; after establishing the link, you connect to your software's Web server, such as in HS2.
Remote-access software such as GoToMyPC is an alternative. Through it, you connect directly to your server PC, controlling the home-automation system in a window as if you were there.
Software for the iPhone and other smartphones can work in both situations: You can run a remote-access app or connect to a VPN. Native iPhone software, however, can control your home devices from anywhere. The free HSTouch interfaces with HSPRO (or can be added to HS2), giving an app view into your automated home. To set it up in the HSPRO configuration Web page, click Interfaces, and then select Disabled next to 'HSTouch for iPhone'. Click Save at the bottom of the page.
Wake Up in Luxury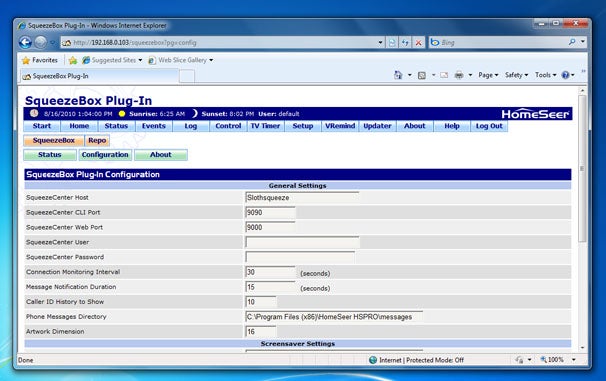 Home automation certainly works for utilitarian tasks--you could configure the system to e-mail you if it senses a water leak, for example--but it should offer a dash of luxury, too. Here's how to configure the ultimate weekday wake-up.
A half-hour before your 7:00 a.m. reveille, your house can begin brewing coffee for you. All you need to do in advance is set a dumb coffeemaker in the "on" position and connect it to a Z-Wave appliance module that controls its power. When you configure your software, set your script to signal the module to turn on electricity to the coffeemaker at 6:30 a.m.
As the aroma wafts up to your bedroom, your lights can gently turn on. Schedule the Z-Wave-enabled light dimmer to gradually increase the brightness between 6:50 a.m. and 7:00 a.m.
At 7:00 a.m., your system can play your favorite MP3s or tune in to a streaming-audio station. HS2 can interface with many audio devices, such as a PC running iTunes. I like to have it connect to a stand-alone Logitech Squeezebox. If you want to do the same, you'll have to install the Squeezebox Plug-In ($40) first. In the HS2 Web interface, pick Interfaces, and then select Install more interfaces. Click Next, wait for the page to load, and then click Next again. Check the box next to the plug-in, and click Next once more. After you've installed it, you can configure it in your script.
And that's just the beginning. You could have the system open your shades, turn on the shower, and do nearly anything--simply add more sensors and modules.
How about a system that triggers a Z-Wave garage-door opener and starts your car on a winter morning? Add a network camera, and your house can e-mail you a picture of your kids when they get home from school. A Z-Wave-to-IR translator can command your home entertainment system, so you could dim the lights, make popcorn, and start a movie with one button press.
Even if the right Z-Wave device doesn't exist, you could hack your own. Z-Wave relay switches can be wired to any electronics to close a low-voltage circuit instead of toggling power. That way, you could wire a self-contained electronic pet feeder, a variable-speed fan, or even an NES controller. Want to unlock your game room by punching in the Konami code? You can.