Motorola's Droid 2 Needs a Better User Interface and Camera
At a Glance
The Droid 2 is a big improvement over its predecessor, but if you take a lot of pictures with your smartphone, you might want to opt for another Droid.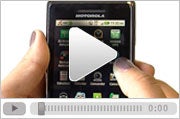 While the Motorola Droid 2 ships with latest version of Android and has an improved design, the phone's proprietary Motoblur interface gets in the way of a few native Android apps and the camera is mediocre. Smartphone expert Ginny Mies takes a look.
For comprehensive coverage of the Android ecosystem, visit Greenbot.com.
At a Glance
The Droid 2 is a big improvement over its predecessor, but if you take a lot of pictures with your smartphone, you might want to opt for another Droid. Read the full review

Pros

Ships with latest version of Android
Improved design

Cons

Motoblur detracts from a few native Android apps
Camera is mediocre