Page 2 of 3
Powermat
Slicker but more expensive is the Powermat . With the Powermat, you don't even need to plug your devices into the charger: You just lay them on the mat. (The mat has to be plugged into the wall, of course.)

The Home and Office Mat and the Portable Mat (which comes with a travel case) each cost $99.99 and can accommodate up to three devices at once. The truly pricey part, though, are the receiver cases you have to add to your devices to enable them to charge wirelessly. Those are available only for iPhones/iPods, BlackBerries and the Nintendo DS, and they cost $29.99 and up.
If you have a device for which there's no case (or don't want to spring for a case), you can use the Powercube receiver, a universal charger that sits on the Powermat and comes with both the mat models mentioned above. You plug your device into the Powercube using one of the eight included adapter tips, from mini and micro USB to iPods and iPhones (additional tips are available at extra cost -- $6.49 to $8.49 each).
Of course, if you're planning on using wired adapters, you might want to just get a Chargepod.
Toshiba Dynadock V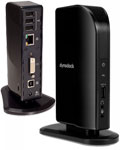 Student housing, whether in the dorms or in cheap apartments, isn't known for its spaciousness, and you'll often find yourself working at a small, cluttered desk. Toshiba's Dynadock V docking station (list price $119.99, currently on sale for $79.99) eliminates some of that clutter and makes it easy to disconnect your laptop when you need to take it somewhere and reconnect it when you get back.
Sort of like a USB hub on steroids, the Dynadock connects to just about any laptop through a USB cable and provides four other USB ports, including one that stays on for charging portable devices even if the computer's asleep. But USB ports aren't the only connections the Dynadock provides. It also has a 10/100 Ethernet port, a microphone jack and a speaker/headphone jack. So you can leave all your peripherals, even your router, attached to the Dynadock and reconnect your laptop with a single cable.
On top of that, it comes with a built-in DisplayLink graphics card, which can support an external monitor at up to 1920-by-1080 resolution. That means you could get up to three screens going: the built-in laptop screen, an external monitor attached to the laptop and a third one attached to the Dynadock.
Note: The Dynadock officially supports laptops running Windows 7 (32- or 64-bit), Vista SP1 (32- or 64-bit) and XP SP2/SP3 (32-bit). Mac users can download the DisplayLink driver from the vendor's site, but certain features might not work properly.
Mini-projector
Most of your presentations will be from your laptop, connected to projectors supplied by the school. But sometimes you just want to show a smaller group -- whether a seminar or a group of friends -- a slide show or a video without making them crowd around a computer.
For that, you can connect your digital video camera, iPod or iPhone to a personal portable projector like the Optoma PK100 Pico Pocket Projector (listed at $159.99, but often available for less). Measuring just 2 in. by 4 in. and weighing only 4 oz. (with battery), the DLP-based PK100 can project an image from 10 inches to 8.5 feet away at a size up to 59 inches.
The thing to know, though, is that it doesn't attach to your computer. It has a 2.5mm composite video/stereo jack and comes with a cable that connects to the standard yellow-red-white jacks from devices such as digital video cameras. An optional iPod connector kit ($39.99) lets you attach an iPod or iPhone via the dock and includes a spare battery.

Targus Lap Chill Mat laptop cooler
Keeping your laptop from overheating is an important way to protect your most valuable (and expensive) academic tool, and that's where laptop coolers come in. We like the Targus Lap Chill Mat ($39.99), which is thoughtfully constructed of cushiony neoprene with built-in rubber stops to hold your laptop. The wedge design lets you orient your computer the way you like. (Targus' photos show the laptop angled toward the user, but ergonomics experts would probably recommend angling it away.)
The Lap Chill Mat's two fans blow your laptop's excess heat out the side; another advantage of the open wedge design is that it gives the hot air someplace to go. Just make sure you get the Lap Chill Mat and not the plain-old Chill Mat, which is not as cushy and won't feel as comfortable in your lap.