Page 3 of 3
Stored media player
You no doubt have hard drives filled with media of various sorts -- music, movies, photos -- but you don't always want to access them through your computer. It's nice to be able to watch your videos on a real TV or listen to your music through a decent stereo without running wires or dragging your laptop over to where the entertainment system is.

Seagate GoFlex TV HD media player
That's the purpose of the Seagate GoFlex TV HD media player ($129.99). It attaches to your TV and stereo (it works with an HDMI cable, as well as composite and component video) and lets you play anything on a USB storage device, controlling it with a remote through menus on the TV. Options include media on a hard drive, photos on a digital camera or video on a camcorder.
The TV HD is part of Seagate's newish GoFlex line of storage devices and has a built-in slot for one of the line's ultraportable drives. You can also add a Wi-Fi adapter ($49.99) that enables you to stream media from your computer or the Internet. With the adapter, for example, you can watch YouTube or Netflix videos on your TV.

Sprint's Overdrive 3G/4G Mobile Hotspot On-the-go hot spot
Just a few years ago, finding a Wi-Fi signal could be a challenge, and there was a strong market for devices that could point you to one. Now, though, Wi-Fi hot spots are everywhere, especially on campus, and Wi-Fi finders are commodity trinkets -- you can get them for under $10 with built-in flashlights (tip: the flashlight won't help you find the Wi-Fi signal), on keychains or in bulk imprinted with your school's mascot or logo of your choice.
But when you find yourself out of hot-spot range and need Internet access -- maybe you live off campus or are on a road trip -- what do you do? If you have a mobile phone with a 3G data plan, you can bring a mobile hot spot with you. What's more, you can share it with your friends.
Novatel MiFi 2200 Mobile Hot Spot
Verizon and Virgin Mobile both offer the Novatel MiFi 2200 -- it's $149.99 from Virgin with a pay-as-you-go Broadband2Go plan ($20 to $60 per month), and as low as $19.99 from Verizon with the current online discount and a two-year contract for MiFi ($40 to $60 per month). This palm-size gadget lets you connect up to five Wi-Fi-enabled devices at the same time; they'll access the Internet at 3G speeds within a range of up to 30 feet.
Sprint offers the similar Overdrive 3G/4G Mobile Hotspot by Sierra Wireless, which, as the name suggests, can work with the carrier's 4G network where available. The Overdrive supports up to five Wi-Fi devices within a range of up to 150 feet. It's pricier, though, starting at $99.99 with the current online discount and two-year contract.
Cradlepoint CTR500 Mobile Broadband Travel Router
On the other hand, if you already have a cellular modem for your laptop (either ExpressCard or USB) plus a data plan, you can share that signal by plugging it into a Cradlepoint PHS300 Personal WiFi Hotspot ($179.99) or CTR500 Mobile Broadband Travel Router ($199.99). The former is battery-operated but works only with USB modems; the latter also accepts ExpressCard modems but requires an external power source. Both can be used with a wall or car adapter and support up to 16 simultaneous users within a range of up to 150 feet.
All of these products include password protection with WEP/WPA/WPA2 encryption and are compatible with 802.11b/g Wi-Fi devices.
Flash Drives with Labels
You wouldn't think there'd be much to differentiate one USB flash drive from another these days -- and for the most part, you'd be right. But a couple of companies have come up with a head-slappingly obvious innovation: labels on the drives that you can write on. Whether you label them "school" and "home" or "English" and "history," it's handy to have a way to identify a drive's contents without having to plug it in.

Flash drives you can write on from HP and PNY
HP's Write Label drives ($14.99 each) hold 4GB and come in blue, red or plum. They're available only at Staples, so if there's a store near you, you're in luck. You can also order them online, but shipping will add another 50% to the price -- that's a lot to pay for a label.
PNY also makes a label-toting flash drive, the Label Attaché . It comes in 2GB and 4GB versions with red, blue, gray or purple labels. These are available at several popular mail-order electronics stores and online discount shopping outlets -- just use your favorite shopping search engine to find the best deal. Prices with tax and shipping vary, but you should be able to pick up a 4GB model for about $15 total.
Kodak Pulse Digital Photo Frame
There are a lot of digital photo frames out there, so what makes the Kodak Pulse ($129.99) special? The fact that it's Internet- and Wi-Fi-enabled and has its own e-mail address. That means you can transfer photos to it from your computer wirelessly and send new photos to it from your mobile phone as soon as you take them. In addition, the Pulse has a USB port and two card slots for more standard ways of adding images.
Better, the connectivity options mean you can get photos from family and friends without having to do anything. Mom can send you the photos of the latest family gathering, or -- maybe better -- your BFF from high school can send you shots of her latest escapades, just by e-mailing them right to the frame. You can also link the Pulse to your friends' Facebook profiles and receive new photos they upload. A digital photo frame that surprises you with new pictures -- that's pretty special.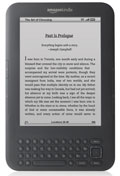 Amazon's Kindle
We're quite taken with Amazon's third-generation Kindle -- not least because of its new price point. Last year we recommended the then-new Kindle DX, but at $489 it was firmly in the "ask your parents" section. This year, the new 6-in. Kindle comes in at a relatively modest $139 ($189 with 3G in addition to Wi-Fi), an amount conceivably within a student's budget.
We don't really need to explain the benefits of an e-reader: It gives you the ability to carry thousands of books in an 8.7 oz., 4.8-by-7.5-in. package. The new model is easier to hold and use than the old one, and the display is brighter and crisper.
One alternative to a dedicated e-reader would, of course, be an Apple iPad; the several excellent e-book apps available make it a decent e-reader on top of its wireless Web abilities. At $499 and up -- way up -- the iPad is definitely outside the range of our student budget. But we've noticed that the people who want an iPad want an iPad regardless. Who are we to stop them?
Jake Widman is a freelance technology writer in San Francisco.
This story, "Back-to-School Gadgets: Top Tech for 2010" was originally published by Computerworld.