The 101 Best Mobile Apps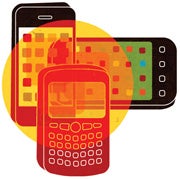 Wondering what to download for your smartphone? Trying to find high-quality apps among the many thousands available can be a challenge, no matter what phone you own. Start with this collection of the best productivity tools, utilities, reference apps, media helpers, timesavers, and games.
Below is the complete list of all 101 picks. To learn more about our choices, read the other articles in this package:
Audio and Music Apps
Browsers
Entertainment Apps and Games
Financial Tools
Maps and Location Services
News and Reference Apps
Organizers and Timesavers
Photo and Video Tools
Productivity Tools
Social Networking and Communication Apps
Utilities
For comprehensive coverage of the Android ecosystem, visit Greenbot.com.