Page 3 of 3
CONTENT
13. Save Web content to read later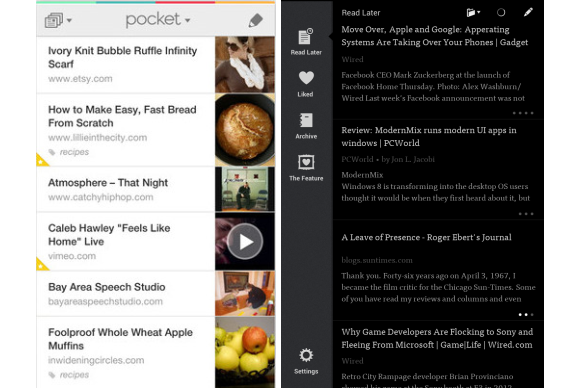 It happens all the time: You notice a great review or feature story on PCWorld.com (or some other site), but you don't have time to read it right now. With one click of a bookmarklet, you can "clip" that page for later viewing. Both Instapaper and Pocket can store your clips in the cloud and format them for easy, clutter-free reading on mobile devices.
14. Stream your music library
Liberate your music library from your PC by sending it to the cloud, making it available anywhere you go (and also acting as a handy backup). One of the best options is Google Play, which lets you upload up to 20,000 songs—including any you might have in iTunes—and stream them to other PCs and devices. Its Windows client automatically syncs newly added music, and there's a download option in case you need to restore your library.
15. Publish a blog or website

Whether you need a quick-and-dirty website or you simply want to avoid paying domain and hosting charges, check out Pancake.io. This free tool turns your text files into webpages, and then it uploads them to your Dropbox account, which effectively serves as the host. For more advanced Web spinners, Pancake.io supports CSS, Markdown files, PDFs, GIFs, and other common file types.
16. Back up your blog or website
Whether you blog about cupcakes or run an online cupcake business, it's vital to back up your site. You never know when a hacker might attack or a server might melt, destroying your hard work in the process. If you're a WordPress user, the WordPress Backup to Dropbox plug-in does exactly what its name suggests. For everyone else, Backup Box can archive Drupal, Joomla, WordPress, and other sites to just about any cloud storage service. Both options are free.
WORK OFFLINE
17. Make your Google Docs available offline
Google Docs is great for creating and editing documents of all stripes, but if you're cut off from the Internet, you're cut off from your files, right? Wrong: Google Drive for Windows syncs your cloud drive to your local drive, making documents available even when you're offline. However, you'll need to use Chrome for your Web browser, at least for Docs purposes, add the Google Drive Chrome app, and enable offline access.
18. Access your favorite Dropbox files offline
If you use the Dropbox app on your phone or tablet, there's a crafty way to make select documents available for offline viewing. Just open any given document, than tap the star icon to add it to your favorites list. The app stores those favorites locally, so you can access them even when there's no Internet connection—like when you're on a flight or subway train.
FAX, PRINT, SCAN UTILITIES
19. Send and receive faxes
You can finally put the old fax machine out to pasture. Web-based HelloFax can integrate with most cloud storage services. Newly received fax pages will land right in your account for easy viewing, sharing, and archiving. Better still, you can fax documents directly from your cloud, meaning no more printing pages and then walking them to the fax machine or scanner.
20. "Print" documents from your iDevice to Dropbox
Collobos' FingerPrint software for Windows allows your iPhone or iPad to print to any connected printer, but it also supports virtual printing to cloud services like Dropbox and Evernote. That means you can route pretty much any email, photo, webpage, or other printable item from your iDevice directly to an online account. The only rub: FingerPrint isn't free. It'll cost you $19.95.
21. Turn your phone or tablet into a scanner
The camera built into your smartphone or tablet probably has sufficient resolution to capture documents. All you need is the right app to deliver those "scans" to the cloud-storage service of your choice. For example, Doc Scan (iOS, Free), Genius Scan (Android, $1.59) and Handyscan (Windows Phone, $2.99) will take a snapshot of any document, convert it to PDF if needed, and sync it to Dropbox, Google Drive, SkyDrive, or a similar destination.