Nerdcore mixes geek culture with hip-hop
Henry Bowers, a rapper born in Sweden, cuts an intimidating figure. Dreadlocks stream from beneath his black beanie, merging into the gargantuan beard he wears. He looks like a modern-day viking, teeth bared as he snarls an answering rhyme to his opponent.
This is a rap battle.
There are no chairs—the spectators stand up close and personal, encircling the combatants. It's a gladiatorial match, executed with words and prose rather than swords and nets. An approving chorus swells from the crowd. Bowers takes a step back; it's his opponent's turn to retaliate.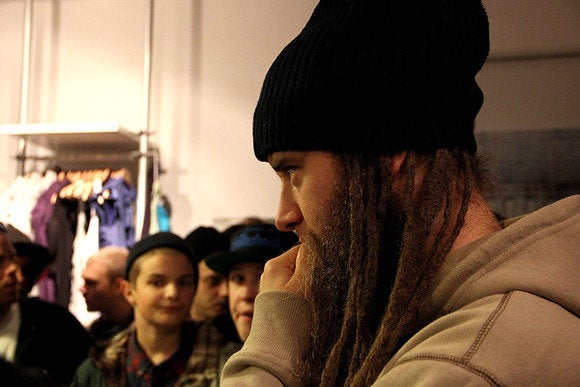 They trade insults that need to be both harsh and clever. They fire boasts and taunts, goading and pushing at each other. It's like a scene out of a hip-hop music video, a vignette cut from a dance movie, a duel far removed from garden-variety geekdom. But then Bowers snaps:
"You're just a disgusting orc. You stand no chance against Gandalf!"
This is nerdcore.
According to Wikipedia, nerdcore is "a sub-genre of hip hop music characterized by themes and subject matter considered to be of general interest to nerds."
It exists at the intersection between heavy gold chains and Super Nintendo consoles. Instead of waxing lyrical about fast cars and dangerous lifestyles, nerdcore musicians expound on things like Super Mario Bros., programming languages, and science advocacy. It's Tupac with typewriters; Lil' Wayne with Lego and light sabers. Depending on who you ask, nerdcore is either an exciting new medium or a gimmicky addition to the world's amalgamation of music genres.
But in its own way, nerdcore is a statement—a defiant anthem against societal norms.
The birth of a genre
With a little under 300,000 subscribers and almost 80 million channel views, nerdcore artist Hiimrawn is something of a YouTube celebrity. He is arguably best known for his "Gets Played" series, a collection of gaming-related rap videos that incorporate everything from a grizzled mobster reimagining of Super Mario Bros. to a hip-hop-flavored ode to Minecraft.
"I grew up playing the accordion, so—in a way—nerdcore was inevitable," Hiimrawn quips over Skype. "I think a combination of my fantasies [of] being a rapper like Gucci Mane or Biggie Smalls and the harsh reality that I was just a gap-toothed white boy drew my focus to things that I could relate to."
For all his relative fame, however, Hiimrawn expressed relief when asked if he would be okay with having the interview conducted over instant message.
"I'd prefer that, too, since I'm shy," says the man who once dressed up as Sonic the Hedgehog for a music shoot.
Though artists such as the Beastie Boys and Biggie Smalls have long since referenced subjects like science fiction and technology in their music, not until 2000—the year MC Frontalot debuted his song "Nerdcore Hiphop"—did the subgenre get a name. For some people, nerdcore represents an homage to shattered stereotypes, but for others it's simply idle self-expression.
"Nerdcore to me is just about showing people other ways people have fun," Hiimrawn shrugs, before adding glibly, "I love getting into costume and playing pretend. I'm a big kid."
Though they allude to Silent Hill or '80s cartoons in their lyrics, some artists haven't entirely embraced the nerdcore label. Henry Bowers certainly hasn't. "I would definitely say that there are elements of what you call 'nerdcore' in my music," Bowers says. "I love to spice up my lyrics and my battle verses with references to pop-culture; and among these references you'll find a lot of geeky stuff like characters from video games and cartoons and such. But since it's only one of many ingredients I use, I wouldn't go so far as to say that I do full-on nerdcore."
Bowers, a slam poet widely recognized as one of Sweden's best hip-hop acts, was quick to note, however, that he does occasionally revel in writing songs overloaded with nerdy references; Bowers points to a track in a previous album as an example of this: "On the album I'm working on at the moment, I have a track where I only rhyme on names that in some way are related to horror fiction. Starting off with a reference to the video game Silent Hill—spooky s**t, like 'Alessa Gilespie when/all messed up on mescaline, molestin' pedestrians.'"
Next page: Push-back against nerdcore

Amazon Shop buttons are programmatically attached to all reviews, regardless of products' final review scores. Our parent company, IDG, receives advertisement revenue for shopping activity generated by the links. Because the buttons are attached programmatically, they should not be interpreted as editorial endorsements.