Microsoft confirms Windows 8.1 (a.k.a "Blue") will be free
It's official: The Windows Blue update will be dubbed Windows 8.1, it'll be available for Windows 8 and Windows RT devices alike, and it will cost you the low, low price of zip, nada, zilch.
Interestingly, the free Windows 8.1 update will be available through the Windows Store, not the usual Windows Update method.
"Windows 8.1 ... continues the journey we first began with Windows 8 last fall," the confirmatory Windows Blog post commented this morning. "Windows 8.1 will help us to deliver the next generation of PCs and tablets with our OEM partners and to deliver the experiences customers—both consumers and businesses alike—need and will just expect moving forward."
What's that mean? Early leaks of Windows 8.1 gave us some tantalizing glimpses into the future, while we have some strong suggestions and logical guesses (hello again, desktop!) of our own.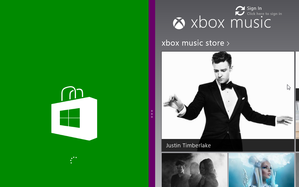 Windows 8.1 gives Microsoft an unprecedented (for Windows) and crucial opportunity to quickly correct some of the most glaring missteps present in its new-look operating system. Comments from company representatives seem to suggest that Microsoft is truly paying attention to customer feedback and metrics as it develops Windows 8.1—here's hoping Microsoft doesn't fumble the opportunity. The very fates of the PC and Microsoft's mobile ambitions alike may be hinging on this critical course recalculation.
Will Microsoft get it right? The Windows Blue leaks suggest the company is on the right track, but we'll know for sure before long.
Speaking at the JP Morgan Technology, Media & Telecom Conference, Windows co-honcho Tami Reller nailed down a concrete ship date for the developer preview. Prepare to start feeling Blue in just over a month, on June 26.
Split-screen Snap and a returned Start button, here we (hopefully) come. Just don't expect the price of future Windows upgrades to be so generous.
Product mentioned in this article
(1 items)
Windows 8 Professional

$140.00

Amazon Shop buttons are programmatically attached to all reviews, regardless of products' final review scores. Our parent company, IDG, receives advertisement revenue for shopping activity generated by the links. Because the buttons are attached programmatically, they should not be interpreted as editorial endorsements.

Windows 8 isn't for everyone. If you're mostly a desktop PC user comfortable with Windows 7, upgrading to Windows 8 is probably not worthwhile. If you're a mobile user who needs easy access to the...