Google shows off a Nexus-like Galaxy S4 that Droid geeks will love
Samsung and Google have given diehard Droid fans a love letter, in the form of a phone. At Wednesday's Google I/O keynote, Google executives showed off a carrier unlocked Galaxy S4 running the stock version of Android, rather than Samsung's skinned TouchWiz interface. Call it the Google Galaxy S4 Nexus, if you want.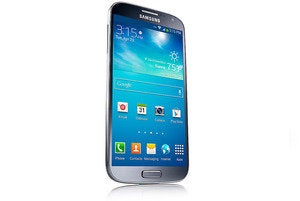 Android updates will become available as swiftly as they do on Android devices. The phone even ships with an unlocked bootloader for all you CyanogenMod fans. Geeks couldn't ask for anything better—and other manufacturers, already having their lunches handed to them by Samsung, couldn't have feared anything more.
Other than the software running on the phone, the Nexus-like version closely mirrors its TouchWiz-sporting cousin. Don't expect much in the way of new hardware. Android head Hugo Barra said the phone will be sold with 16GB of memory. It also will be able to work on the T-Mobile and AT&T mobile networks, complete with LTE support.
Now for the bad part: This legendary phone rocks a suitably epic price tag, costing a full $649 when it hits the Play Store on June 26—a price tag that brought more than a few groans from the otherwise enthusiastic keynote crowd. But hey, on the plus side, you won't be locked into a contract.
Updated to mention LTE support and remove reference to HSPA.
Product mentioned in this article
(1 items)
Samsung Galaxy S4 (Sprint)

Amazon Shop buttons are programmatically attached to all reviews, regardless of products' final review scores. Our parent company, IDG, receives advertisement revenue for shopping activity generated by the links. Because the buttons are attached programmatically, they should not be interpreted as editorial endorsements.

The Samsung Galaxy S4 is a stellar Android phone held back by boring design and half-baked features.
For comprehensive coverage of the Android ecosystem, visit Greenbot.com.