A week with Bloglovin': A Google Reader junkie's journey
Many RSS eaters have attempted to take the place of the soon-to-be slayed Google Reader. Some have been more successful than others. I would have to place the barebones Swedish import, Bloglovin', in the less-than category.
The service allows you to sign-in with a Facebook account, but it still asks you for an email and password (but that's why we have those one-step sign-ins, no?). As far as I can tell, you don't appear to need this email/password at any other point in the experience.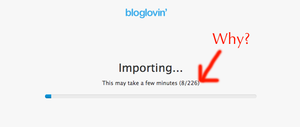 Those coming in from Google Reader will be able to import feeds by linking in with your Google account. The process is nearly instantaneous for other RSS services, however Bloglovin' offers up a warning that this may take a few minutes—in my particular case, it took about five minutes to import all 226 of my Google Reader feeds. The time spent signing up isn't that big of a deal, but it does get annoying that you are forced to repeat the action if your cookies spoil and you have to re-authenticate.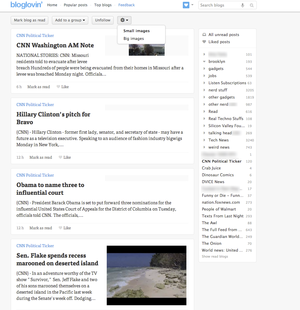 Bloglovin''s about page claims that it hoped to design an RSS service that wasn't "cluttered with features." And to that end, it has succeeded—there's really not much here. All the blog feeds and their parent folders are off to the side and the content meat is in the middle. The only viewing options are "small images" and "big images"—there is unfortunately no Reader-retro list view for quick browsing.
This may be acceptable for those who only follow a few blogs and don't need much functionality out of their RSS service. For those who want the ability to easily share items to social circles directly (and quickly) through the service, they will find Bloglovin' lacking.
If you click through to see a full-story, Bloglovin' will take you to the page with a panel at the top that you can use to navigate through the blog. I don't know if this is a necessary function and it is easily removed. It is only after this additional step that users will find the social-sharing buttons.