Oscar Mayer wants you to give the gift of bacon this Father's Day (no, really)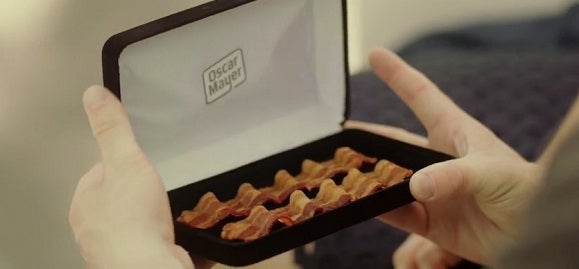 Out of gift ideas for Father's Day? Oscar Mayer hopes to save your bacon with what they are calling "the world's most tasteful gift." Yup, you guessed it; it's delicious bacon.
The meat makers are selling rashers in specially prepared presentation cases. The 20-strip bacon gift boxes are available in three versions, which include either a money clip, bacon cufflinks or a multi-tool. No word if Oakland A's fans were involved.

The bacon gift sets are available for a limited time only, and will set you back between $20 and $30. You can grab yours at SayItWithBacon.com.
[via Laughing Squid]

Amazon Shop buttons are programmatically attached to all reviews, regardless of products' final review scores. Our parent company, IDG, receives advertisement revenue for shopping activity generated by the links. Because the buttons are attached programmatically, they should not be interpreted as editorial endorsements.