Gaming mice: we test the best
Products Reviewed
(6 items)
You know if you need a gaming mouse. You're not pushing virtual paper around on your desktop; you're fragging bots and shooting zombies. For gaming, you need an extra-responsive mouse that has lots of buttons and, ideally, a programmable interface.
Seeing how they run
It was brutal work, but we put six such mice through their gaming paces, using the three types of games for which mice are the best controllers: first-person shooters (Left for Dead 2, BioShock Infinite, and so on), real-time strategies (StarCraft II, Supreme Commander, and such), and role-playing games (Baldur's Gate: Enhanced Edition, Torchlight II). We observed each mouse's responsiveness, button placement, features, and (most important) comfort. If your mouse isn't comfortable, gaming becomes more of a chore than an amusement.
Nearly every mouse in this roundup can execute macros (chains of commands such as key presses and mouse clicks) with a single button press. Most of the mice have programming interfaces that allow you to create profiles, tailor them to particular games, and store them in the mouse's memory. They also have a high dots-per-inch sensitivity for optimal precision and speed. The high-end standard sensitivity these days is about 8200 dpi, and all gaming mice let you tweak the settings to one of various customizable presets. Also, every gaming mouse reviewed here is wired, since wireless ones can have a hint of latency—a potentially fatal flaw if you're in the middle of a firefight.
Corsair Vengeance M65 Laser FPS Gaming Mouse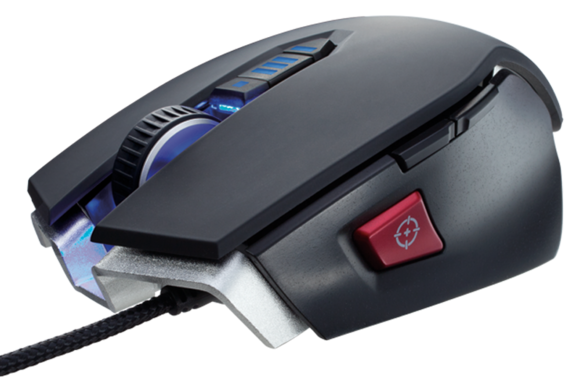 The Corsair Vengeance M65 is a terrific and comfortable right-handed mouse with a feature that gives gamers an edge unlike any other: the Sniper button, a big red thumb button on its left side.
The Sniper button reduces the mouse's sensitivity to a predetermined 400dpi, which significantly slows down mouse response. But when you're sniping in a first-person shooter, slower can be better: You can line up a perfect headshot without the crosshairs overshooting your target. The Sniper button is a handy feature in both single-player and multiplayer gaming. It can also level the field for less-skilled players, giving them a chance against competitors who can perform regular-speed headshots while in midair, leaping over a gap, and dodging rocket fire.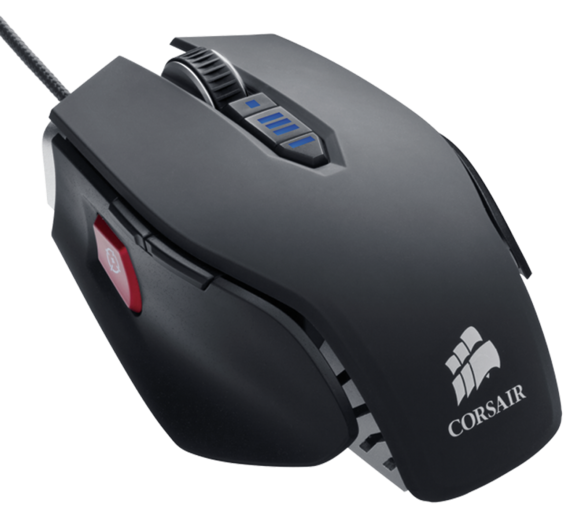 The major downside of the Vengeance M65 is that its primary buttons are far too sensitive. We discovered this while playing during a late-night, sleepy gaming session. When your fingers get heavy and you rest them on the mouse, it becomes all too easy to click a button accidentally—especially the one on the right. In games like Bioshock Infinite, misclicking the right button uses up your "salt," leaving you at a disadvantage.
Otherwise, the Vengeance M65 is comfortable and responsive, and its programming interface is solid. It lets you define up to three dpi modes, plus the sniper mode.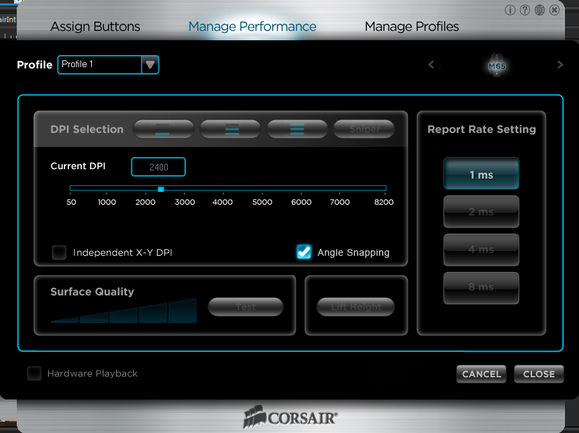 The eight programmable buttons are well placed, the sensor goes to an industry-state-of-the-art 8200 dpi, and the polling rate hits 1000Hz—all competitive specifications. Were it not for that tricky right mouse button, we might recommend the Corsair Vengeance M64 above all others, but its oversensitivity is troublesome enough to be a real drawback.
Pros 
Sniper button is a battlefield leveler
Great button placement 
Comfortable 
Cons 
Buttons can seem oversensitive, especially the right mouse button 
Bottom line
There's plenty to like about this mouse, but heavy-handed gamers will find its buttons to be oversensitive.
Rating: 4 stars
Genius GX Gaming Gila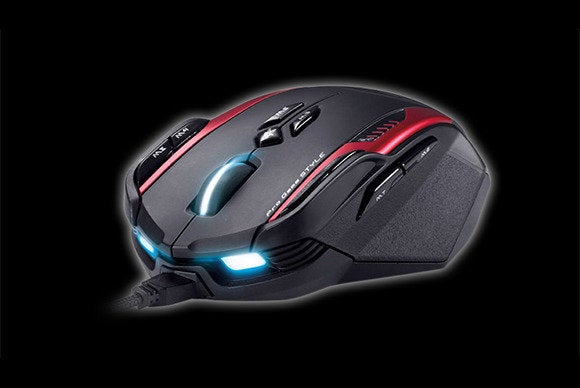 The GX Gaming Gila is the mouse we used the longest during the course of this roundup, as we tried to decide whether we loved it or hated it. There are reasons to feel one or the other way about it, and it's likely to have as many diehard fans as it is to inspire people to fastball it through the nearest window.
Though it's advertised as a 12-button massively-multiplayer-online/real-time-strategy gaming mouse, it works just as well in first-person shooters. Some of its buttons, especially its thumb buttons, are well placed. Others, notably those on the forward-right side, are baffling. Which digit are those for, the middle finger or the ring finger? We couldn't find a comfortable way to use that pair of programmable buttons.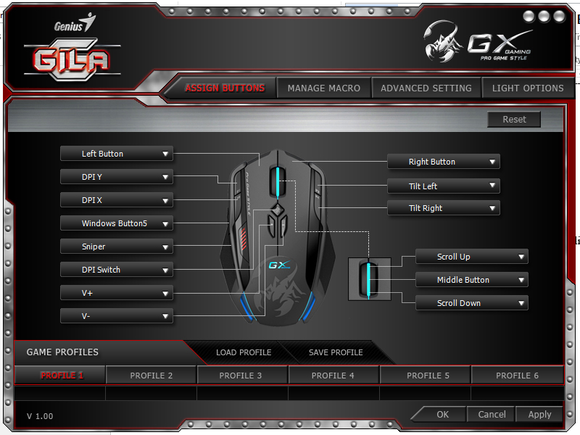 The Gila offers a wealth of dpi levels (from 200 to 8200) and includes—through its software interface—a dedicated low-sensitivity sniper setting that you can map to the button of your choice. Unlike the Corsair Vengeance M65, it doesn't have a big, obvious "sniper" button in the middle of the thumb area—and it makes you responsible for assigning a position for the sniper button if you don't like its default location.
You can tweak the heft of this semi-ambidextrous mouse with included weights. We say "semi-ambidextrous" because, despite its symmetrical shape, it includes thumb buttons on the left side that a southpaw won't find useful. Also, the laser sensor on the underside of the mouse is offset to the left side, which makes it less sensitive in left-handed use.
It's also small. A gamer with meaty paws may find this mouse too petite to wield comfortably. Otherwise, the GX Gaming Gila is well built and quite functional, though we're not convinced that it justifies its nigh-on-$80 price tag.
Pros 
Dedicated sniper functionality 
Lots of programmable buttons 
Cons 
No dedicated sniper button: feature requires software mapping 
Odd, smallish feel to the mouse 
Bottom line: 
The Gila's compact dimensions and the placement of certain buttons could frustrate some users.
Rating: 2.5 stars
Logitech G500s Laser Gaming Mouse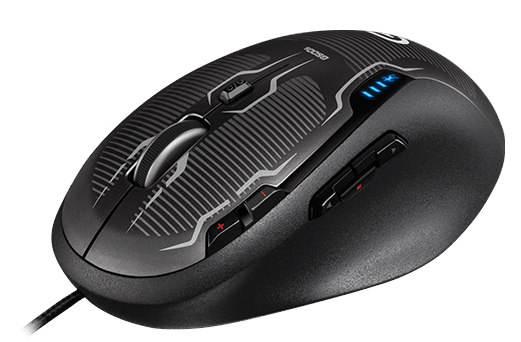 The Logitech G500s Laser Gaming Mouse finished in a dead heat with the Roccat Kone XTD as our favorite mouse in this roundup. Its greatest strength is its sheer comfort: Built for right-handed users, it feels like a big jellybean sliced in half, and the palm grip feels as natural as a glove.
The Logitech G500s is more than just a big, oval puck, though. The tension on the left and right buttons is perfect, making clicking a light task for the fingers, yet minimizing accidental clicks. The surface is smooth, with textured sides where the thumb and pinkie rest, for a nice, satisfying grip. You can toggle the tilting wheel (a rarity among gaming mice, and a feature that accommodates two extra programmable buttons) to tick with each fraction of a turn (as most wheels do) or to rotate smoothly. Two buttons toward the upper left end of the mouse let you easily control up to five dpi sensitivity levels.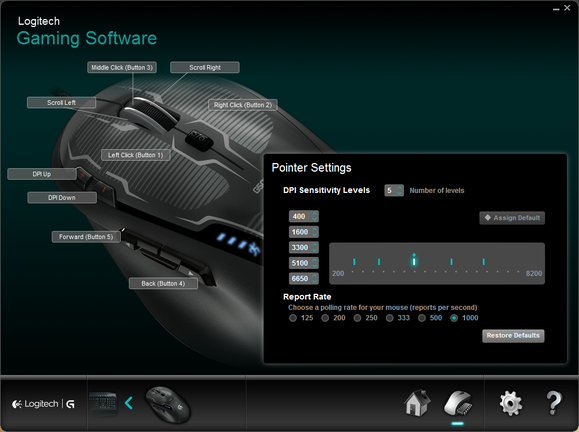 The mouse is super-responsive, with an 8200-dpi maximum sensitivity and a 1000Hz polling rate. It comes with various weights, as many Logitech gaming mice do, so you can tweak the overall feel of the mouse right down to its mass.
The biggest downside of the G500s is that its three thumb buttons are clumped together in one rectangular area and are somewhat difficult to differentiate. To get the most out of the programmable buttons, you need to have a particularly sensitive thumb.
Pros 
Fantastic comfort and responsiveness 
Side-tilting scroll wheel is intuitive for programming 
Five-state dpi switching for any situation 
Cons 
Buttons are too small and clumped together 
Interface isn't as powerful or option-filled as those of the competition 
Bottom line: 
This is now one of our favorite gaming mice. It's comfortable to hold, deadly accurate, and supremely programmable.
Rating: 4.5 stars
Razer DeathAdder 2013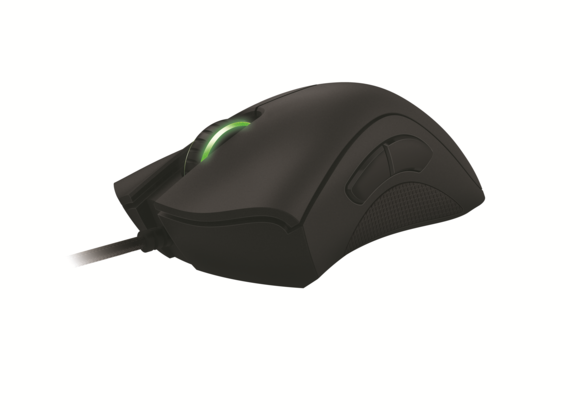 The Razer DeathAdder's 2013 refresh is well built and very responsive, with a 1000Hz polling rate (the original DeathAdder was among the first to offer that feature). This time around, Razer has added on-the-fly adjustment, a nice bonus.
The design, which almost matches the Logitech G500s for comfort, includes a killer (right-handed) grip, with subtle, nonslip texturing. The big buttons—including a pair of thumb buttons and a deliciously wide, rubberized, clickable scroll wheel—are impossible to miss. Regrettably, no side-clicking is available, though.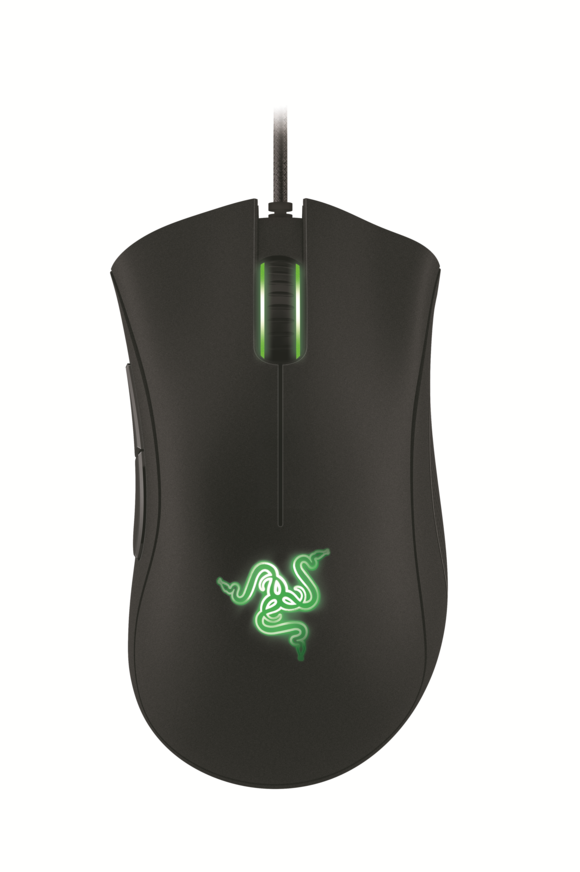 However, gamers who seek the extra edge in sensitivity that an 8200-dpi mouse delivers may be disappointed by the DeathAdder's 6400-dpi sensor.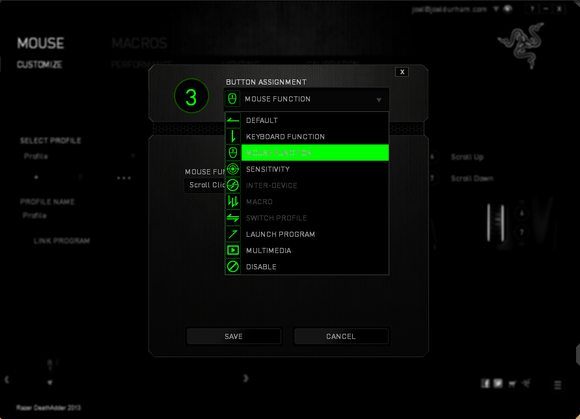 Then there's this: The Razer Synapse 2.0 control app, though capable, is cloud-based, meaning that it stores your customizations in the mouse memory or online. I don't care about privacy when it comes to mouse tweaks, but does everything have to be cloud-based these days? Razer offers an optional offline mode, but it requires a connection for full features after you've installed the software back end, which we found needlessly irritating.
Razer can, and has, done better than this. The DeathAdder 2013 is no cheaper than the other mice, yet it has fewer frills—and a few notable drawbacks.
Pros 
Form-fitting comfort 
Competitive responsiveness 
Cons 
Cloud-centric control interface 
Resolution and other features are falling behind the competition 
Bottom line 
The DeathAdder 2013 seems a bit behind the times with its lower resolution, and its cloud-based interface is frustrating.
Rating: 3 stars
Roccat Kone XTD
If there's such a thing as too much customization, the Roccat Kone XTD may have achieved it. The interface is crammed with data and adjustments—enough to satisfy the pickiest gaming pro and to intimidate any novice.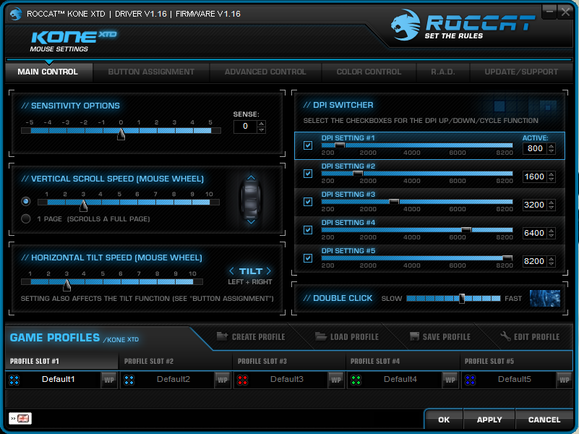 It's an excellent mouse. The right-hand-fitting shape is outstanding, complete with a finish that, while plastic and hard, somehow feels soft and silky to the touch, and invites a sure-handed grip. The controls and buttons include two thumb buttons, a left/right tilting scroll wheel, and dpi adjustment buttons.
This Roccat is also a nifty conversation piece: A pair of colorful, LED-fed ribbons of light run down either side of the mouse from front to back. You can set the base color in each of the four corners of the body. The coloring pulsates according to settings in the software interface. It's a very cool effect that people notice.
The Kone XTD is very responsive—and like the Logitech G500s, it comes with weights that let you manage the overall feel of the mouse's action. Complementing the 8200-dpi sensor is onboard memory for storing customized profiles. If you spring for the Roccat Isku FX keyboard ($110), the two peripherals will communicate each other in a feature called Talk, and you can use them together for complex macros, though that seems like overkill for a mouse.
Overall, the Kone XTD is an outstanding mouse that leaving very little to complain about. It would nose out the Logitech G500s for the coveted title of top mouse if it weren't significantly more expensive.
Pros 
Best-feeling mouse of the bunch 
Customization options are nigh on overwhelming 
Cons 
So much customization, in fact, that for novice users it is overwhelming
Requires Roccat keyboard for its fullest functionality
Bottom line 
A pile of customization, and communication with Roccat keyboards, set this incredible, ergonomic mouse apart from its competition in this roundup.
Rating: 4.5 stars 
SteelSeries Sensei
SteelSeries makes some great mice, but the Sensei isn't one of them, due to an odd mix of inadequacies and overkill.
A unique feature of the Sensei among the mice in this roundup is the LCD menu located on the mouse's underside. That menu lets you customize the mouse locally, without turning to the PC-based control interface. You can even add your own banner to the LCD—via the control interface, though (because the LCD is underneath the mouse) no one will see it. The software interface lets you customize the mouse's color LEDs independently, but otherwise it doesn't offer much in the way of personality.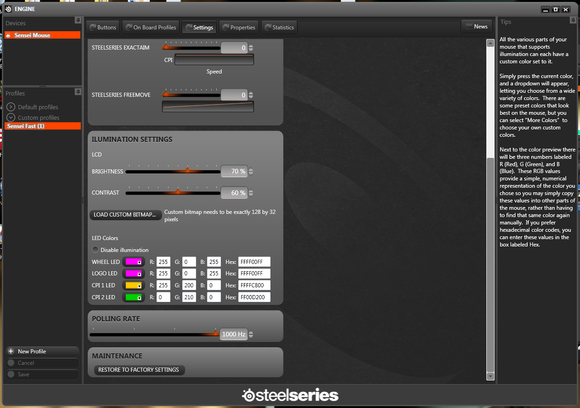 The Sensei gives you only two dpi-on-the-fly settings (which it refers to as CPI): one up to 5700, and the other between 5701 and a whopping 11,400. It's unlikely that anyone could control such a sensitive mouse, much less find any use for doing so.
The SteelSeries Sensei is one smart mouse. Armed with a 32-bit ARM processor, it can record ridiculously long macros—but you're unlikely to play any game that needs them. Macros of the length supported here are suitable for fighting games like Mortal Kombat and Street Fighter X Tekken; but in almost every case, such games work better with gamepads than with mice. We can almost see using lengthy macros in a massively multiplayer online game, but if you're that into MMOs, you might as well choose something like the SteelSeries World of Warcraft MMO mouse.
Then there's the issue of comfort. The Sensei isn't textured, and it's too low-slung to suit players who use their full palm on the mouse surface. Fingertip mousers might be able to forgive its design, and it's one of the few ambidextrous gaming mice around; but compared to the other mice in the roundup, the Sensei comes up short—literally.
Pros 
Among the most intelligent mice around
Very powerful customization options 
Cons 
Not comfortable enough for long, or even short, play sessions
Its coolest feature, a customizable LCD banner, is on the bottom of the mouse
Bottom line 
The Sensei has a nice design and is very customizable, but it's too small to be comfortable for extended play.
Rating: 2.5 stars