Thanks, science! Mobile phones could run on urine power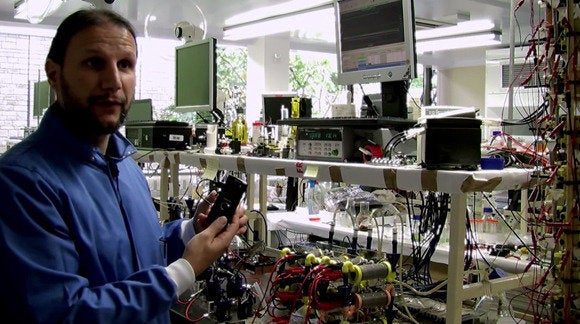 There are probably two things you find yourself doing all day: charging your phone and taking a leak. Thanks to researchers at the University of the West of England and the University of Bristol you could do both at the same time and charge your phone with your urine (o_O).
The researchers developed a novel way for you to charge your phone with pee using microbial fuel cells, because, according to Dr. Ioannis Ieropoulos, "[o]ne product that we can be sure of an unending supply is our own urine."
Luckily, the microbial fuel cell isn't built into your phone so you won't be urinating directly on your handset just yet. Instead, the scientists built a cascading rig of microbial fuel cells that processes your waste into electricity. It does this using a series of tubes filled with microscopic bio-organisms that eat up things in the urine and generate energy. Meanwhile, the technological bits of this bio-tech rig converts the energy into pure electricity.
"So far the microbial fuel power stack that we have developed generates enough power to enable SMS messaging, web browsing and to make a brief phone call," Dr Ieropoulos, an expert at harnessing power from unusual sources from UWE Bristol, said in a release.
Ieropoulos went on to say that the next step of the research will refine the microbial fuel cell system to fully charge a battery, What's more is the scientists believe the system could be installed into your bathrooms as well. So one day in the future you might just be able to hit the John and generate enough electricity to "power showers, lighting or razors as well as mobile phones."
"[T]his is a world first, no-one has harnessed power from urine to do this so it's an exciting discovery," Ioannis said in a release. "Using the ultimate waste product as a source of power to produce electricity is about as eco as it gets."
[University of the West of England via TechRadar]
Get more GeekTech: Twitter - Facebook - RSS | Tip us off