5 budget laptops for college students: We name the best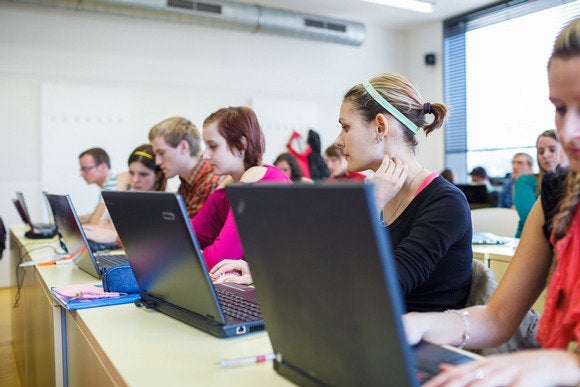 At a Glance
HP Pavilion TouchSmart 11z-e000

PCWorld Rating

Acer Aspire E1-572-6870

PCWorld Rating

Lenovo IdeaPad Z400 Touch

PCWorld Rating

Toshiba Satellite L55Dt-A5253

PCWorld Rating
So you're heading back to school and you need a new laptop—but you didn't manage your finances over the summer. Your bank account is nearly tapped out, and you still need to buy text books and lay in enough ramen noodles to last through the winter.
Yeah, we've all been there. Fortunately, Moore's Law is still in play, so today's budget notebook is yesterday's workhorse. Pretty much any modern laptop can handle the gamut of productivity chores—word processing, number crunching, email, and the like—but all of the machines in this roundup can also tackle media editing and encoding sessions, and deliver respectable entertainment experiences.
To strike the best balance between performance and affordability, I gathered the top five notebooks I could find for $650 or less. Benchmark busters they're not, but they aren't budget busters, either.
CPU, memory, and storage specs
Model
CPU
Memory
Storage
Asus VivoBook S550CA (Reference)
Intel Core i5-3317U
6GB DDR3/1600
500GB 5400-rpm
(+24GB cache)
Acer Aspire E1-572-6870
Intel Core i5-4200U
4GB DDR3/1600
500GB 5400-rpm
Dell Latitude 3330
Intel Core i3-2375m
4GB DDR3/1600
320GB 5400-rpm
HP Pavilion TouchSmart
11z-e000
AMD A4-1250
4GB DDR3/1333
500GB 5400-rpm
Lenovo IdeaPad Z400 Touch
Intel Core i5-3230M
6GB DDR3/1600
1TB 7200-rpm
Toshiba Satellite
L55Dt-A5253
AMD A6-5200
6GB DDR3/1333
750GB 5400-rpm
I used several criteria to evaluate these laptops, including benchmark performance, storage capacity, weight, battery life, and (of course) price. Three of the laptops use Intel CPUs and two are AMD-based, but no two machines use the same CPU. And though Intel's Haswell family has been justly lauded for its conservative power consumption, the one entry in this roundup equipped with a fourth-generation Core processor finished third in our battery rundown test.
When you're shopping in this price category, you can expect to make some trade-offs. If carry weight is your primary consideration, for example, you'll have to sacrifice display size. The lightest notebook I looked at weighs 2 pounds less than the heaviest, but it also has the smallest screen: 11.6 inches. On the other hand, all five models here deliver the same native resolution of 1366 by 768 pixels, and each has an HDMI output for connecting to an external display or a TV. Four of the five notebooks come with Windows 8 installed, but only three of them have touchscreens.
Graphics, display, and weight specs
Model
Graphics
Display
Weight
Asus VivoBook S550CA (Reference)
Intel HD Graphics 4000
15.6 inches, 1366 by 768 touch
5.7 pounds
Acer Aspire E1-572-6870
Intel HD Graphics 4400
15.6 inches, 1366 by 768 nontouch
4.6 pounds
Dell Latitude 3330
Intel HD Graphics 3000
13.0 inches, 1366 by 768 nontouch
3.9 pounds
HP Pavilion TouchSmart
11z-e000
AMD Radeon HD 8210
11.6 inches, 1366 by 768 touch
3.4 pounds
Lenovo IdeaPad Z400 Touch
Intel HD Graphics 4000
14.0 inches, 1366 by 768 touch
5.3 pounds
Toshiba Satellite
L55Dt-A5253
AMD Radeon HD 8400
15.6 inches, 1366 by 768 touch
5.6 pounds
You should consider relying on the cloud or on an external hard drive if you need a lot of storage, since most laptops in this price range have smallish hard drives (and none of the ones I looked at for this story have a solid-state drive). The two models with drives bigger than 500GB are also the heaviest and most expensive in the group.
You won't have to make too many compromises on connectivity, however: Each of the five laptops has at least one speedy USB 3.0 port, and all have both 802.11n Wi-Fi adapters and hardwired ethernet connections for networking. Even so, some models had better networking options than others.
Now all you have to do is decide out which laptop fits your needs best.
Acer Aspire E1-572-6870
For general use, Acer's Aspire E1 is the clear winner in this roundup. Acer crams a lot of value into this laptop's $580 price tag, including a Haswell-class CPU (Intel's 1.6GHz Core i5-4200U) and a 15.6-inch LED-backlit display with native resolution of 1366 by 768 pixels.
Though Acer uses quite a bit of plastic in the Aspire E1's design, you won't be ashamed to pull the notebook out of your bag. A smooth finish and rich color—Acer calls it Clarinet Black—make the 1-inch-thick machine very attractive.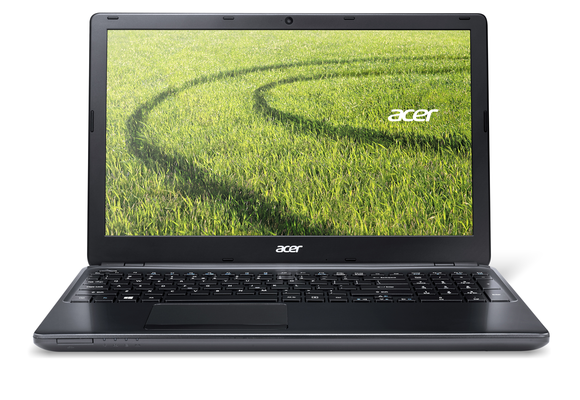 The chassis and lid, on the other hand, exhibit quite a bit of flex, so you won't want to subject this machine to rough handling. The upside to all the plastic is low weight: At 4.6 pounds, this laptop has an advantage of more than 1 pound over the other 15.6-inch models I looked at, and it weighs just over a pound more than the ones with smaller displays.
Capitalizing on the display's generous size, Acer includes a full-size keyboard and a numeric keypad on the Aspire E1's deck. I expected the island-style keyboard to be somewhat flimsy, but I was pleasantly surprised by its solid tactile feedback. It's not backlit and it's a trifle noisy, but I have no complaints about how it felt under my fingertips.
The Aspire E1's display is plenty bright, producing vivid photos and videos, but off-axis viewing is merely adequate. Acer also shaved a few bucks off the Aspire E1's asking price by not including a touchscreen, but its highly responsive trackpad supports several Windows 8 gestures, including two-finger scrolling, zoom, rotate, and flip. You can also slide in from the right to open the charm bar, and slide in from the left to switch between applications.
The trackpad, which has a wide bar at its base that provides both right and left mouse-button functions, is off center in relation to the display, but dead center to the keyboard. It looks a little odd until you lay your hands on the keyboard's home row.
The Aspire E1 has only 4GB of DDR3/1600 memory, but you can open it up and pop in a second module to double that amount to 8GB. Storage takes the form of a 500GB, 5400-rpm hard drive. There's no SSD, to handle cache or anything else, and I noticed what appears to be an empty bay where an optical drive might go.
Benchmark performance
Acer's machine delivered a Notebook WorldBench 8.1 score of 177, the best of the group by a wide margin. It also outperformed our reference platform, an Asus VivoBook S550CA, which has both an SSD and a touchscreen (but costs more than any of the systems reviewed here). Diving into the individual components in our test suite, the Acer performed better than the rest of the field in the PCMark Productivity suite, but Lenovo's IdeaPad Z400, which has a larger and faster hard drive, handled our collection of media editing and encoding tasks better.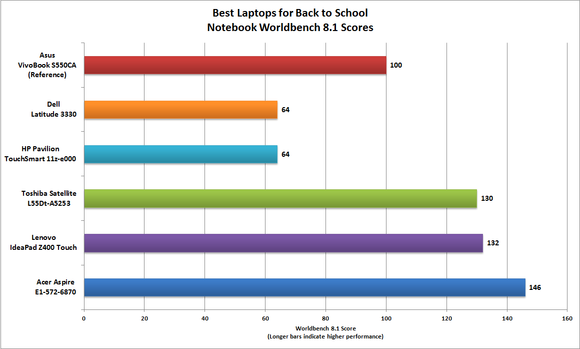 All work and no play makes for a boring lifestyle, but you'll want to stick with casual games on this computer. We dialed BioShock Infinite's resolution down to 1024 by 768 and its image quality to Low, and Acer's laptop still managed to render the game at no better than a sluggish 25 frames per second. Intel has made strides with its integrated graphics, but its Intel HD Graphics 4400 still isn't up to snuff for hardcore gaming. Even so, its gaming score beat everything else in the field (aside from our reference notebook).
Connectivity and conclusion
The Aspire E1-572-6870 offers a gigabit ethernet connection for occasions when you can plug into a network, and a Qualcomm Atheros AR956x dual-band 802.11n Wi-Fi adapter for times when you can't. The laptop also has a Bluetooth 4.0 + HS adapter to support theoretical data-transfer speeds of up to 24 mbps, though the only good application I've ever found for Bluetooth is streaming audio).
Acer provides an HDMI-out for connecting the computer to digital displays and TVs, and a VGA output for older monitors and video projectors (the latter could come in very handy in classrooms and conference rooms, which tend to have vintage equipment). The system also has three USB ports, but only one of them is USB 3.0. The included memory card reader supports only SD Card.
i enjoyed using Acer's Aspire E1-572-6870. The machine is blessedly quiet, and it delivered a respectable 4 hours of battery life (middle-of-the-pack performance in this roundup).
Pros
Haswell-class CPU
Bright 15.6-inch display
Relatively lightweight
Dual-band 802.11n Wi-Fi adapter
Cons
No touchscreen
Lots of flex in the chassis and lid
Just one USB 3.0 port
Bottom line
You won't get everything in a 15.6-inch notebook priced below $600, but Acer made nearly all the right compromises to get to that price point.
Rating
4 stars
Dell Latitude 3330
If someone tells you "Dude! You're gettin' a Dell!" in reference to the Latitude 3330, run away. Dell makes plenty of good computers, but this isn't one of them.
Admittedly, the Latitude 3330 didn't burst into flames or poke anyone's eye out during our testing. But you have many better choices in the same price range. Though one of the five budget notebooks in this roundup (HP's Pavilion TouchSmart 11z-e000) delivered even lower performance than this one—probably because it has an even less powerful CPU than the Dell's 1.5GHz Intel Core i3-2375m—the HP also costs $110 less than the Latitude 3330 and has a ten-point touchscreen. The Dell's 13.3-inch, 1366-by-768-pixel display doesn't support touch, though its trackpad does support simple gestures such as two-finger scrolling.
The Latitude has only 4GB of DDR/1600 memory, but an open and readily accessible slot accommodates a second module to double its memory. Its puny 320GB, 5400-rpm hard drive is similarly easy to access and upgrade. And this is one of only two notebooks in our roundup to include a removable and upgradable battery (the other one again being the HP Pavilion).
One component that won't be easy to swap out is the Dell Wireless 1504 single-band (2.4GHz), 1x1, 802.11n Wi-Fi adapter, which delivers a physical link rate of just 150 megabits per second. The laptop doesn't provide Bluetooth support, either. But it does have a gigabit ethernet interface.
Unlike most of the notebooks in this price range, the Latitude 3330's chassis contains some aluminum elements that render it considerably more rigid than the other machines we looked at. The lid, on the other hand, is rather flimsy, and the display inside doesn't feature edge-to-edge glass, as most of the others do.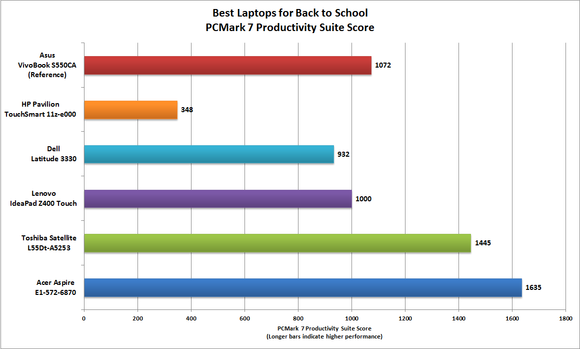 The Latitude 3330's display isn't wide enough to accommodate a deck with both a full-size keyboard and a numeric keypad, but the system's arrow keys are full-size and not easily mistaken for anything else. Apart from not being backlit, the island-style keyboard is well designed and a joy to type on, delivering firm but springy tactile feedback. The Function keys in the top row play their traditional roles, so you'll need to hold down the Fn key and tap them to access their alternative assignments, such as controlling a media player.
Benchmark performance
The Latitude 3330 tied for dead last in our Notebook WorldBench 8.1 benchmark. Its overall score of 64 was more than 35 percent slower than our reference Asus VivoBook S550CA. Drilling down into some of the individual benchmarks from that suite, I note that the Dell finished next to last in the PCMark7 Productivity benchmark and the BioShock Infinite test, beating out only the HP Pavilion TouchSmart 11z-e000.
Connectivity and conclusion
Dell broke the pattern of Intel-powered laptops providing only one USB 3.0 port. The Latitude 330 boasts two, plus one USB 2.0 port that can charge a device whether the computer is awake or asleep. It doesn't have an optical drive, but its media card reader supports both SD and MMC media.
Dell follows the crowd by providing HDMI and VGA video outputs. Because the Latitude's Wi-Fi adapter isn't an Intel model, the system doesn't support Intel's WiDi wireless media-streaming. If your primary concern is long battery life, however, be aware that this machine turned in a first-place finish, running for 5 hours, 13 minutes. And you can quickly pull out a run-down battery and snap in a fresh one to double the laptop's useful life. But that's one of the system's few truly bright spots.
Note: We also reviewed this model as a small-business laptop. You can read that review here.
Pros
Easily upgradable memory, battery, and hard drive
Solid construction
Cons
Lousy benchmark performance
No touchscreen
Weak Wi-Fi adapter
Bottom line
Dell's Latitude 3330 delivers very good battery life—but little else to recommend it at this price.
Rating
2 stars
Continued from page 1

HP Pavilion TouchSmart 11z-e000
HP's Pavilion TouchSmart 11z-e000 is one the smallest, lightest, and least expensive notebooks we've ever reviewed. It's also one of the slowest, finishing dead last on nearly every criterion in our five-system roundup except two important ones: weight and battery life.
Despite carrying a price tag of just $410, this Pavilion has a touchscreen. It measures just 11.6 inches, but delivers ten-point touch and the same 1366-by-768-pixel resolution as the other budget notebooks we looked at. Once you get over its diminutive size, you realize that the display is actually pretty good. Though it has a minor issue with vertical off-axis viewing, it's much better than the screen on the Toshiba T Satellite L55Dt-A5253. Augmenting the Pavilion's touchscreen is a trackpad that supports Windows 8 gestures such as two-finger scrolling, zoom, and rotate. Mechanical right and left mouse buttons are situated beneath the pad.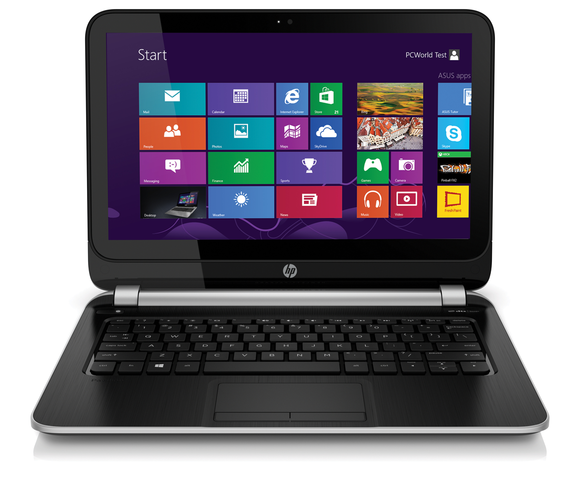 Apart from its small size, the Pavilion doesn't look like a cheap PC. Though its case is composed almost entirely of plastic, the finishes on the lid and chassis are dead ringers for brushed aluminum, and the computer feels very sturdy despite being just 0.86 inch thick. Although this laptop was one of the lightest we considered for our roundup, its 3.4-pound heft is not especially impressive for its overall size.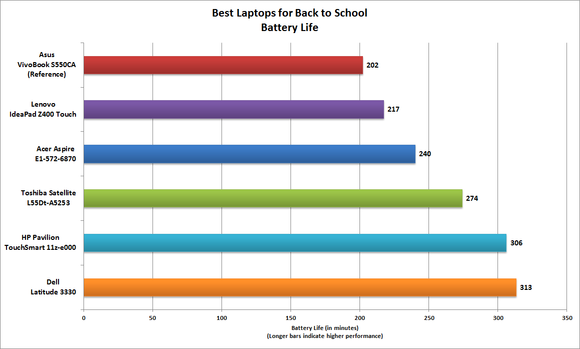 If you have large fingers, you won't like the reduced size of the Pavilion's non-backlit keyboard. The keys are only slightly smaller than average, but the difference drove me crazy during touch-typing sessions. The laptop is too small to accommodate a numeric keypad, too—and I loathe its arrow keys' design. Rather than laying them out in the familiar inverted T formation, HP made the right and left keys oversize, and the up and down keys half-size—and bookended by the other two.
The Fn keys have common tasks (such as volume and media player control) assigned to them by default, so you don't have to hold down a second key to use them for those purposes. Speaking of media, the Pavilion has surprisingly good speakers, augmented by DTS Sound+ audio-processing software.
Benchmark performance
Egad, is this computer ever slow! Much of the blame can be laid at the 1GHz AMD A4-1250 processor that runs the show. This is paired with 4GB of DDR3/1333 memory, which HP says is upgradeable to 8GB. But since the machine has only one DIMM slot, you'll need to toss the existing 4GB DIMM to do so (unless you buy the 8GB version at the outset). Our review model came with a 500GB hard-drive upgrade (the stock machine packs a 320GB hard drive), but both drives spin their platters at an unhurried 5400 rpm. There is no SSD option available, and the only optical drive option is external.
The Pavilion TouchSmart's pitiful Notebook WorldBench 8.1 score of 64 matches that of the $539 Dell Latitude 3330, but its scores on most of the other benchmarks are significantly worse than the Dell's. For example, the Latitude earned a PCMark 7 Productivity score of 932, versus the Pavilion's mark of 348. And the HP's scores on our media editing and encoding tests were off-the-chart bad. On the plus side, the superior graphics processor integrated into the AMD A4 processor helped level the playing field in at least some of our gaming benchmarks.
Connectivity and conclusion
One of the ways that HP kept this computer's price so slow was by provisioning it with cheap networking capabilities. The Realtek RTL8188EE Wi-Fi adapter is a single-band 802.11n model that supports a maximum physical link rate of just 150 mbps, and its hardwired ethernet adapter maxes out at 100 mbps.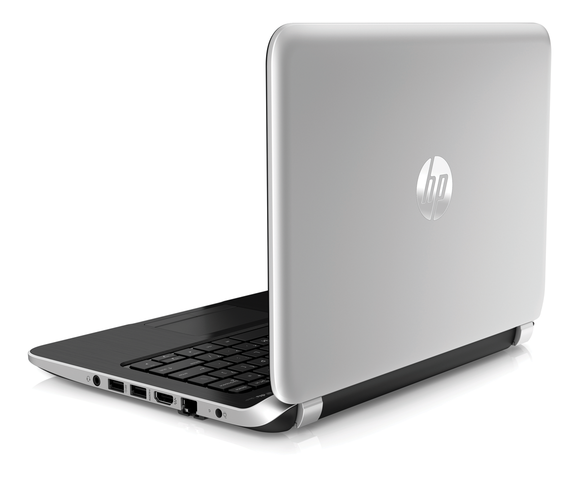 For better wireless networking performance, you can plug an adapter into one of the Pavilion's USB ports. It has two USB 3.0 ports and one USB 2.0 port, plus a multiformat media card reader. HP provides both HDMI and VGA video outputs.
The HP Pavilion TouchSmart 11z-e000 is tough to beat on price—you get a lot of computer for the money. Its closest rival in price—Dell's Latitude 3330—costs $100 more, doesn't have a touchscreen, and carries a smaller hard drive. The Dell is slightly faster and has a larger display, but I think the TouchSmart 11z is a better value in the long run.
Pros
Solid build
Touchscreen
Great battery life
Very inexpensive
Cons
Very, very slow
Chintzy network connectivity options
Less-than-optimal keyboard
Bottom line
If you insist on getting a laptop with a touchscreen, HP delivers a lot of computer for very little money. But you'll need to be patient with this one's performance.
Rating
2.5 stars
Next up: Lenovo's IdeaPad Z400 Touch and Toshiba's Satellite L55Dt-A5253
Lenovo IdeaPad Z400 Touch
This solidly built notebook features a great touchscreen display, an even better keyboard, and a huge and fast hard drive. But Lenovo's networking component choices are a bit disappointing.
Lenovo laptops are the models of choice for many corporate IT departments, and the company manufactures some very good consumer-oriented machines, too. The IdeaPad Z400 Touch is a case in point. You wouldn't mistake it for a sleek Ultrabook—it's thick and heavy, and its battery life is wretched—but the Z400 did finish second on Notebook WorldBench 8.1 in our five-laptop competition. And despite Lenovo's copious use of plastic, the Z400 is built like a brick outhouse.
Lenovo stuck with Intel's third-generation Core processor for this budget-priced machine, pairing a 1.6GHz Core i5-3230M with 6GB of DDR/1600 memory. At 14.0 inches, its 1366-by-768-pixel display is much smaller than the Acer Aspire E1-572-6870's 15.6-inch display; but the IdeaPad Z400 boasts a ten-point touchscreen, whereas the Acer does not.
The Z400 is an attractive PC, with charcoal-colored soft-touch paint on the outside and a pretty carbon-fiber look on the inside. Lenovo's computer feels as rugged as Acer's feels fragile. Though the display exhibits a little flex, the lower chassis is as rigid as some all-metal bodies I've tried to bend. The downside to the solid construction is weight gain: Despite its smaller display, the Z400 outweighs the Acer by 0.7 pound. Still, it comes by most of that weight honestly. Lenovo provides 6GB of memory (as against Acer's 4GB); packs a 1TB, 7200-rpm hard drive (versus the Aspire's 500GB drive); and includes a DVD burner (Acer provides no optical drive at all).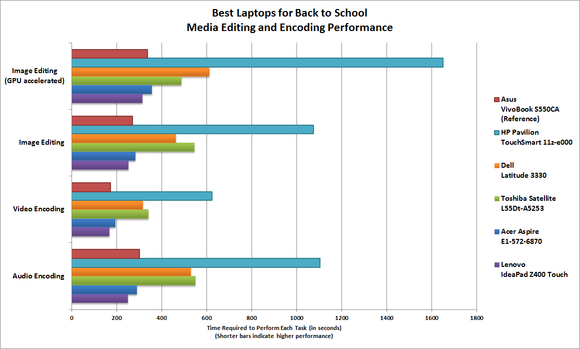 The IdeaPad Z400 comes with the type of top-notch keyboard that Lenovo is famous for building. The island-style keyboard is fully backlit and feels great under the fingers. It lacks a dedicated numeric keypad, and there's no provision for temporarily assigning letter keys on the right side an alternative function to serve as one, but I was happy to see the full-size arrow keys in the familiar inverted-T formation at the far edge.
Augmenting the touchscreen is a responsive trackpad that supports most Windows 8 gestures, including two-finger scrolling, swipe, zoom, and rotate. The trackpad doesn't have distinct right and left mouse buttons, but clicking in the lower right and left areas of the pad perform the same function. Unlike Lenovo's higher-end notebooks, the Z400 does not embed a trackpoint in its keyboard; however, I found that the trackpad and the touchscreen were all I really needed.
Benchmark performance
The IdeaPad Z400 took a solid second place in our Notebook WorldBench 8.1 benchmark competition (behind the Acer Aspire E1-572-6870), with a score of 132, marking it as 1.3 times faster than our reference Asus VivoBook S550CA, which comes outfitted with a 24GB SSD cache for its hard drive.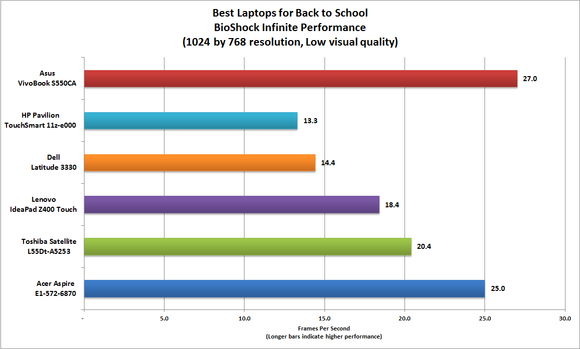 The Lenovo placed third in the PCMark 7 Productivity, despite having a 7200-rpm hard drive (both the Acer Aspire E1-572-6870 and the Toshiba Satellite L55Dt-A5253 were much faster). But the IdeaPad captured first place on our media editing and encoding tests. It finished in the middle of the pack on our gaming tests, delivering a leisurely frame rate on BioShock Infinite of 18.4 frames per second, even with resolution set to just 1024 by 768 and visual quality set to Low.
Connectivity and conclusion
The IdeaPad Z400's networking capabilities are a bit disappointing. Though Lenovo selected a high-quality Wi-Fi adapter—Intel's Centrino Wireless-N 2230—it's a single-band adapter that doesn't give you any choice but to connect to crowded 2.4GHz Wi-Fi networks. On the bright side, it's a 2x2 adapter, meaning that it supports a maximum physical link rate of 300 mbps. It also provides Bluetooth 4.0 support, and is compatible with Intel's WiDi video-streaming technology. The wired ethernet adapter, meanwhile, is limited to 100 mbps—I thought those adapters had gone the way of the PS/2 port.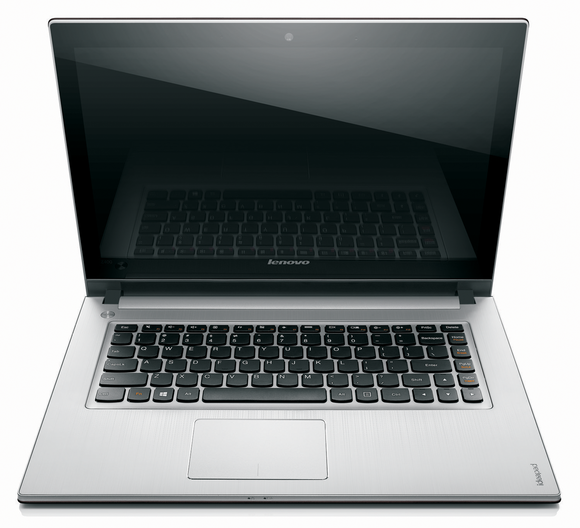 In addition to WiDi, you have your choice of HDMI or VGA video outputs for connecting to external displays. And like the Acer Aspire, the IdeaPad has three USB ports, but only one of them is the speedy USB 3.0. Lenovo does provide a memory card reader that supports both SD and MMC media, and the company includes Dolby Home Theater technology and a set of decent speakers, so you won't have to rely on headphones for an enjoyable audio experience.
The Lenovo IdeaPad Z400 Touch is a heavy computer for its size, its network connectivity is weak, and its battery life is very poor. But this laptop is a very good performer, with a great keyboard, an optical drive, and the largest, fastest hard drive in this group. It's also the machine I'd recommend if you need a computer in this price range that's rugged enough to tolerate a little rough handling. Overall it finishes a solid second in our roundup.
Pros
Great backlit keyboard
Touchscreen
Solid construction
Cons
Heavy
Chintzy network connectivity options
Poor battery life
Bottom line
If you tend to be rough on your gear, Lenovo's IdeaPad Z400 is among your best choices among laptops priced at $650 or less.
Rating
3.5 stars
Toshiba Satellite L55Dt-A5253
The buyers that Toshiba targets with its luxury Kirabook wouldn't touch a Satellite L55Dt-A5253 if Neiman Marcus was giving them away. That's too bad, because this laptop actually offers a much better price-to-performance ratio.
Toshiba selected AMD's 2.0GHz A6-5200 APU to power this $650 notebook. That chip features an integrated AMD Radeon HD 8400 graphics processor, which helped Toshiba secure a second-place finish in the games portion of our benchmark suite. But the machine's 6GB of DDR3 memory runs at only 1333MHz, which held its performance back in comparison to some of the laptops equipped with Intel CPUs and faster DDR3/1600 memory.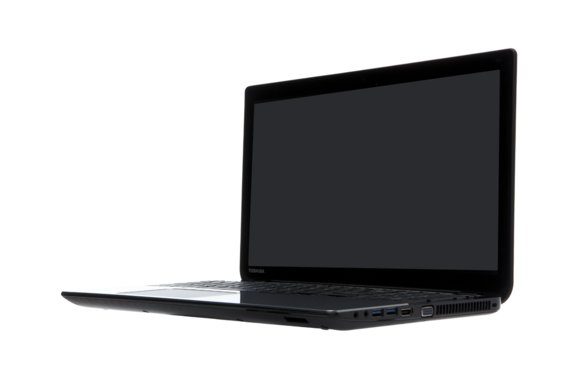 Like most notebooks in its price range, the Satellite is composed primarily of plastic, but Toshiba's attractive material does a nice job of resisting smudges and fingerprints. The computer's lid and chassis also feel more rigid than most, though it does weigh a full pound more than the Acer Aspire E1—a significant consideration if you'll be carrying your laptop on your shoulder for extended periods every day.
The Satellite L55Dt features a 15.6-inch, LED-backlit touchscreen display with a native resolution of 1366 by 768 pixels. The display is attractive enough, if you position it just so. Text appears most legibly when the screen is tilted back; but bring it even slightly forward—as you might have to do when using the computer on your airline tray table, if the passenger in front of you decides to recline—and you may not be able to read it at all.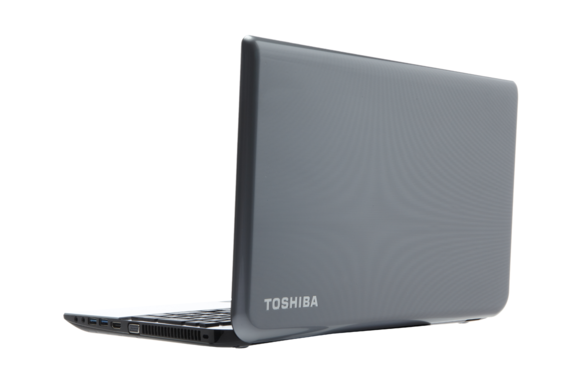 If your arms get tired from reaching out to stroke the Satellite's screen, you can use its touchpad, instead. The touchpad is centered beneath the keyboard, so it's off center from wrist rest, but that's where it should be. It supports all of the usual Windows 8 gestures, including two-finger scrolling, zoom, rotate, and flip. And you can slide in from the right border to call up the charm bar, or slide it from the left to switch between applications. The setup lacks distinct left and right mouse buttons, but you can click the lower area of the pad to obtain the same actions.
Toshiba took advantage of the display's width to provide a numeric keypad next to the alphanumeric keyboard. The half-size function keys in the top row have useful default actions mapped to them—including controls for such features as volume, brightness, and a media player.
The island-style keyboard has short-travel keys that nevertheless provide a desirable amount of tactile feedback while remaining nearly silent. I wouldn't have minded the half-size arrow keys if they hadn't been located so close to the edge of the wrist rest. The entire keyboard is recessed in a well, making it nearly impossible to tell whether your finger is tapping the up arrow or the down arrow without taking your eyes off the screen to look.
Benchmark performance
The Satellite L55Dt-A5253 finished third in our Notebook WorldBench 8.1 benchmark suite, a scant 2 points behind Lenovo's Intel Core i5–powered IdeaPad Z400 Touch, but 16 points behind the Intel Haswell–powered Acer Aspire E1-572-6870. The Toshiba's 750GB, 5400-rpm hard drive helped it grab a second-place finish in the PCMark7 Productivity component, but the faster CPU in the Acer Aspire more than compensated for that computer's smaller drive.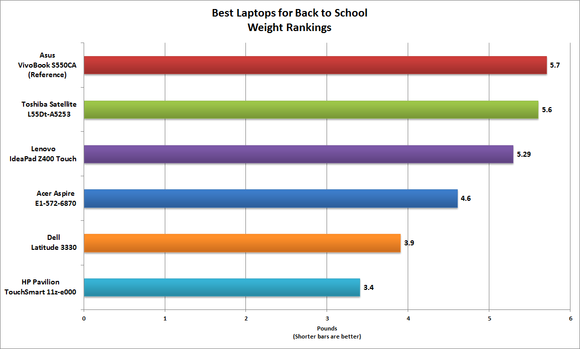 Given the amount of hay AMD has made over what it describes as its superior GPU/CPU integration, I had expected to see this A6-powered notebook clean up on the gaming benchmarks. It did reasonably well, but fell 5 fps short of equaling the performance of the Intel-powered Acer Aspire E1.
Connectivity and conclusion
Toshiba provides the usual three USB ports on its Satellite: Two of these are USB 3.0 and you can use the one USB 2.0 port to charge your smartphone (or other USB device) even while the computer is sleeping—a very handy feature. The media card reader in the front of the PC supports only SD media.
Aan HDMI-out supports digital display connections, and VGA handles analog. I don't want to see HDMI go away, but I'd like to see laptop manufacturers include DisplayPort 1.2 ports on their consumer offerings. A DisplayPort 1.2 connection would let you daisy-chain displays, and you could buy an adapter to handle just about anything else, including VGA.
Like the Lenovo IdeaPad Z400 Touch, the Toshiba Satellite L55Dt-A5253 provides a single-band 802.11n Wi-Fi adapter that limits you to accessing overcrowded 2.4GHz networks; worse, the Toshiba's Realtek RTL8188SU supports a maximum physical link rate of just 150 mbps, whereas the Lenovo's Intel adapter delivers a 300-mbps maximum link rate and support for Intel's WiDi media-streaming technology.
Though the Satellite bears a DTS Sound logo, I found its audio capabilities wanting. Music sounded thin and flat, with very little of the oomph I crave from bass response. Stick with headphones, and you should be fine. Finally, this may reflect my right-handed bias, but I found it odd to access the Satellite's DVD burner on the left side of the computer. The hardwired ethernet port—100 mbps max—is located here, too.
The Satellite L55Dt-A5253 is a well-built laptop that delivers good performance, but many of its drawbacks don't show up in its benchmark numbers: It's weighs 5.6 pounds, its off-axis viewing is abysmal, and it has third-rate wireless networking capabilities. Clearly, it's not the best notebook in this collection, but it's still a decent value.
Pros
15.6-inch touchscreen display
750GB hard drive
Rigid construction
Cons
Poor off-axis viewing
Weak networking features
Uses 1333MHz memory
Bottom line 
Toshiba's mainstream notebook won't launch you into orbit, but it is a solid value.
Rating 
3 stars
At a Glance
HP Pavilion TouchSmart 11z-e000

PCWorld Rating

Acer Aspire E1-572-6870

PCWorld Rating

Lenovo IdeaPad Z400 Touch

PCWorld Rating

Toshiba Satellite L55Dt-A5253

PCWorld Rating