5 budget all-in-one PCs for college students: We name the best values
At a Glance
Toshiba PX35t-A2210

PCWorld Rating

Lenovo C540 Touch (Model 57317016)

PCWorld Rating

HP Pavilion TouchSmart 23-f260xt

PCWorld Rating

Dell Inspiron One 20 Touch

PCWorld Rating

Acer Aspire Z3-605-UR22

PCWorld Rating
Page 2 of 2
HP Pavilion TouchSmart 23-f260xt
I love the sturdy, rectangular stands on the Toshiba and Dell all-in-ones, but I must admit they're not exactly space efficient. HP's Pavilion TouchSmart 23, which costs $800 as of 8/29/13, might not be the most attractive AIO of the bunch, but its signature picture-frame design certainly helps it take up less desktop real estate, which is always a plus if you're trying to fit a 23-inch TouchScreen AIO on a cramped dorm-room desk.
The HP Pavilion TouchSmart 23's design is functional, if not very sexy. The system has a glossy 23-inch touchscreen, which is surrounded by a slim bezel under edge-to-edge glass. Around this bezel is another bezel that's thicker and fabricated from matte-black plastic. A silver metal frame is wrapped around this, extending past the bottom of the screen (where the speakers are located) to rest on your desktop. The entire system is propped up via an easel-like stand, which is sturdy, space-efficient, and easy to adjust.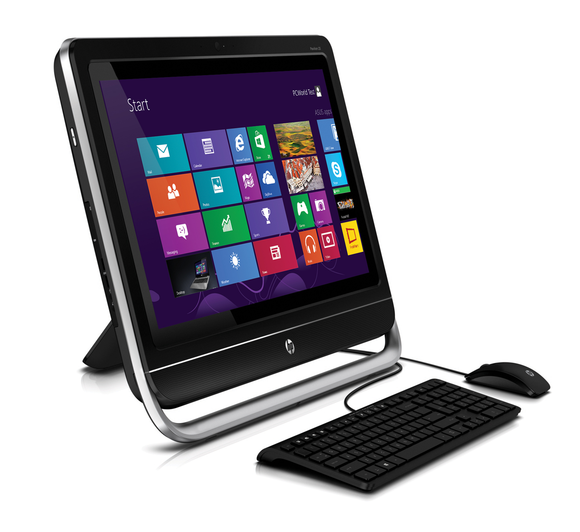 The biggest issue with this design is that it's just not very attractive. While the Toshiba and the Dell look like they're floating in midair, the TouchSmart 23 just looks clunky. And don't even get me started on the bezel-within-a-bezel look.
Design issues aside, the HP Pavilion TouchSmart 23 is a solidly average performer, with a Intel Core i3-3220T processor; 6GB of DDR3/1600 memory; and 1TB, 7200rpm hard drive working together to deliver a Desktop Worldbench 8.1 score of 110. Like the other systems in this roundup, the TouchSmart 23 is good for schoolwork and basic entertainment, but not great for graphics-intensive editing or high-resolution gaming. In our Dirt Showdown graphics test (1024 by 768 pixels, image quality at Low), the TouchSmart 23 managed a barely playable 32.5 frames per second. Its BioShock Infinite performance, at the same settings, was worse: just 15.9 frames per second.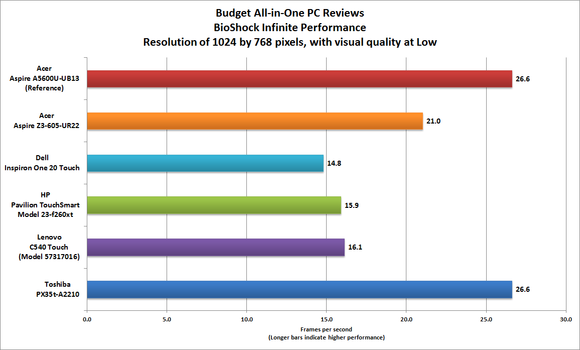 The TouchSmart 23 display resolution is the typical 1920 by 1080 resolution. It looks good: Images and text are crisp and colors are accurate, but I couldn't shake the perception that video looked dull on this machine. Perhaps I'm used to looking at oversaturated, strangely vibrant screens, but the TouchSmart 23 just seemed to lack oomph. It is, on the other hand, a very good touchscreen, with smooth, accurate touch and a slick, sensitive surface.
The system also boasts a very usable wired USB keyboard, with flat, island-style keys, excellent feedback, and a comfortable feel. It's a bit loud, but had no problem typing quickly and accurately on it. The mouse, which is also a wired USB model, felt just a little less comfortable. Its shiny, curved form factor isn't very ergonomically designed, and it felt a bit awkward in my hand.
HP's Pavilion TouchSmart 23 is a sturdy-looking computer with a slim, space-saving design. Although it lacks the minimalist sexiness that many other AIOs boast, it's a solid performer with decent peripherals, a good port selection (including two USB 3.0 ports), and acceptable performance.
Pros
Slim, space-saving design
Comfortable keyboard
Cons
Design looks clunky and dated
Mediocre performance
Bottom line
HP resurrected the all-in-one concept many years ago, but there's nothing particularly great about this model. Here's hoping the company shakes the industry up again soon.
Rating
3 stars
Lenovo C540 Touch
Lenovo's C540 Touch is one of the two best all-in-ones in this roundup. And while I have no significant complaints about the quality of its multitouch display, the manner in which the glass is recessed behind the bezel is disconcerting when you're sweeping your finger in from the edge to call up the Windows 8 charms bar. The display measures 23 inches diagonally—just like the Acer, HP, and Toshiba models—but it's mounted to a stand rather than being incorporated into a monolithic frame.
Lenovo pairs the Intel Core i3-3240 CPU with 8GB of DDR3/1600 memory—more than any of the other machines we looked at—and it packs a 1TB, 7200 rpm hard drive inside its somewhat thick chassis. All-in-ones are notoriously difficult to upgrade, so having lots of memory onboard to start is a major benefit.
The C540 Touch's Desktop Worldbench 8.1 score of 129 identifies it as nearly 30-percent faster than our Core i5-powered reference machine, Acer's Aspire A5600U-UB13 , and just a whisker behind the Toshiba PX35t-A2210. The Lenovo has a faster CPU, which helped it deliver very good media editing and encoding scores, but its weak Intel HD Graphics 2500 integrated GPU left it running in the back of the pack on our gaming benchmarks, producing just 16.1 frames per second with BioShock Infinite, even with the game running at resolution of just 1024 by 768 pixels and with its visual quality set to Low. The Toshiba, which features an Intel HD Graphics 4000 integrated GPU, produced this game at a much quicker 26.6 frames per second. Neither experience is ideal, but at least the Toshiba won't leave you looking at a slideshow.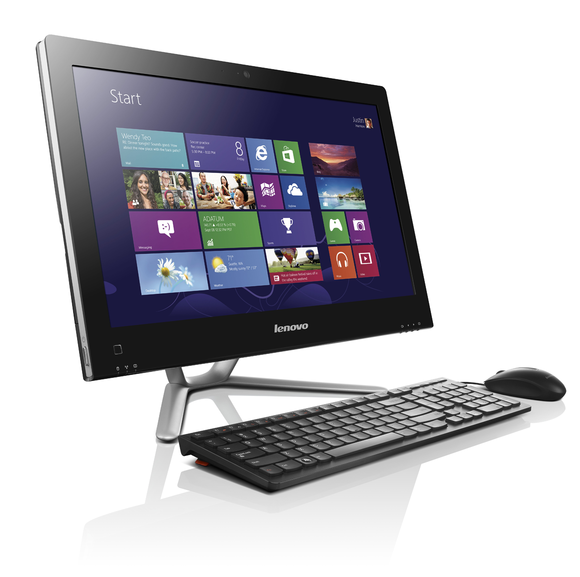 Although Lenovo doesn't have any big-name speaker manufacturers to boast of, the C540 Touch produces surprisingly good sound from its down-firing speakers. Lenovo is rather stingy with the USB 3.0 ports, providing just two on the left side of the display (along with mic and headphone jacks). Four USB 2.0 ports, hardwired gigabit ethernet, and an HDMI input are located in the back. You'll use two of those rear USB ports to plug in Lenovo's mouse and keyboard. The mouse is a two-button, bargain-basement cheapie; but the keyboard, while also exceedingly basic, delivers excellent tactile feedback.
It's tough to say which all-in-one is best, the Toshiba TX35t-A2210 or the Lenovo C540 Touch. The Toshiba looks more attractive and performs better with games, but the Lenovo's more-powerful CPU and additional memory delivers better performances on our audio-encoding, video-encoding, and image-editing benchmarks. Their Worldbench scores, meanwhile, leave them essentially tied.
Pros
8GB of memory
Great keyboard
Very good productivity benchmark scores
Cons
Weak integrated graphics
Display recessed deep behind bezel
Bottom line 
Lenovo's C540 Touch isn't the sexiest all-in-one we've seen, but it is an exceptional value at just $719 (as of 8/29/13).
Rating
4.0 stars
Toshiba PX35t-A2210
If looks are your top priority, Toshiba's PX35t-A2210 ($930 as of 8/30/13) will surely woo you with its slim, attractive design. This 23-inch AIO sports a glossy full HD touchscreen, modern-looking wireless peripherals, and a third-generation Intel Core i3-3120M processor. It also boasts 6GB of DDR3/1600 RAM, built-in Bluetooth and Wi-Fi, and a roomy 1TB, 7200rpm hard drive.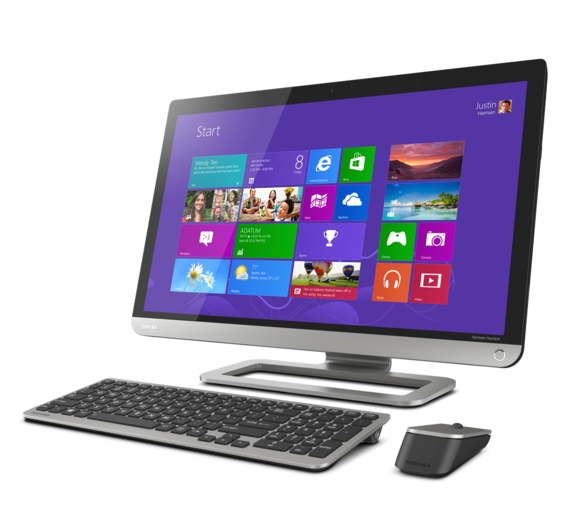 But looks aren't everything, and the PX35t-A2210 isn't just a pretty centerpiece for your desk, it's also a good all-around performer, delivering a Desktop Worldbench 8.1 score of 131. That means it's nearly one-third faster than our baseline machine, the Acer Aspire A5600U-UB13 . You won't mistake the PX35t-A2210 for a top-of-the-line gaming machine, but it'll do just fine managing documents, spreadsheets, and presentations; surfing the Web and checking email; and streaming HD clips from Netflix, Hulu, and YouTube.
The PX35t-A2210 relies on the Intel HD 4000 Graphics processor integrated into its CPU, rather than a discrete graphics card, but it can still handle many graphics-related tasks without falling over and dying. It outperformed the rest of the field with our BioShock Infinite benchmark, for instance, delivering the game at 26.6 frames per second (albeit with resolution of just 1024 by 768 pixels and image quality at Low). It took a first-place finish with Dirt Showdown, too, delivering the game at 47 frames per second (here again, with resolution of 1024 by 768 pixels and image quality set to low). This PC won't have any problem with less visually intense games, such as MMORPGs. Simpler photo- and video-editing tasks won't be an issue, either.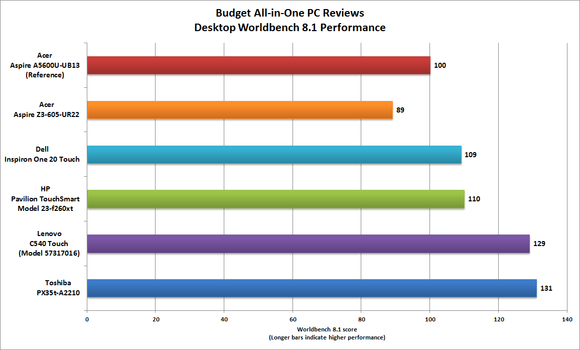 Toshiba outfitted the PX35t-A2210 with a glossy 23-inch multitouch screen with native resolution of 1920 by 1080 pixels. It's a very good display, but it's not perfect. While it's extremely bright, and images look crisp and clear on it, colors look a little dull and whites have a yellowish tint. It's also not the most accurate touchscreen I've used. There were several moments in my testing when I accidentally hit the link below the one I was trying to tap. Multitouch gestures are smooth and seamless, but the glass has an ever-so-slightly tacky feeling to it, which can make gliding across its surface a little tough. But it's a much better input device than the PX35t-A2210's mouse, which is a modern-looking angular thing that felt uncomfortable and sharp in my hand. The keyboard, meanwhile, delivers shallow tactile feedback but accurate typing.
The Toshiba PX35t-A2210 is attractive, usable, and relatively powerful. It's a great choice for college students looking to balance work and play, since it performs basic administrative tasks with ease and can also play streaming HD video without a hitch. It has excellent Harman/Kardon speakers (with a Sleep and Music feature that lets you play your digital media player through them), and an ample collection of other I/O ports: Four USB 3.0, two USB 2.0, and one HDMI input (so you can plug in a cable/satellite set-top box or a videogame console).
Pros
Attractive design
Good performance
Four USB 3.0 ports 
Cons
Screen coloration looks off
Uncomfortably angular mouse 
Bottom line
The Toshiba PX35t-A2210 is a relatively powerful all-in-one desktop machine. While it is more expensive than the rest of this field, it delivers the performance and features to back up its price tag.
Rating
4 stars
Think you want a laptop after all? Check our roundup of the top 5 notebooks, here.
Additional reporting by Michael Brown 
At a Glance
Toshiba PX35t-A2210

PCWorld Rating

Lenovo C540 Touch (Model 57317016)

PCWorld Rating

HP Pavilion TouchSmart 23-f260xt

PCWorld Rating

Dell Inspiron One 20 Touch

PCWorld Rating

Acer Aspire Z3-605-UR22

PCWorld Rating
Shop Tech Products at Amazon