Netgear Nighthawk review: This 802.11ac router sets LAN speed records
With the IEEE expected to finally ratify the 802.11ac wireless networking standard in November, the race is on to introduce a new generation of high-end Wi-Fi routers based on that standard. Wireless gear designed according to the draft 802.11ac standard has already left older 802.11n gear in the dust, so what comes next should be exciting.
Netgear is first to market with a new 802.11ac router powered by Broadcom's BCM4709 SoC (system on chip), which is based on a 1GHz, dual-core ARM Cortex-A9 processor. The Netgear R7000 is packed with tasty features, and it delivers exceptionally good performance.
First, a comment on the rather nasty lawsuit that Netgear has filed against Asus. Netgear has accused Asus of unfair competition, among other things, so I think it's funny that the two companies seem to be taking design and marketing cues from each other.
Historically, Netgear's consumer wireless routers have used fixed internal antennas, while Asus's Wi-Fi routers have been equipped with external, removable antennas. When I compared Netgear's first 802.11ac router (the R6300) to Asus's (the RT-AC66U) last year, I credited its superior performance to its external antennas.
So I chuckled when I saw humongous external, removable antennas on the R7000, which—like the Asus RT-AC66U—has a rather slablike enclosure that you can lay flat or hang on a wall. I think it's even more amusing that Netgear is marketing its new router with the nickname "the Nighthawk." Asus markets its router as "the Dark Knight." Is this a case of imitation being the sincerest form of flattery, or has Netgear realized that people buying high-end routers care more about a router's performance than about its ability to blend into a home's decor? I hope it's the latter.
In any event, the Nighthawk's sharply angular industrial design and huge antennas make it look very much like its namesake, the F117 Nighthawk stealth jet fighter. A dozen LEDs on top of the router inform you of the status of its wireless radios, USB ports, Internet connection, ethernet and USB ports, and other features. Each LED is labeled, but the tiny gray symbols on the gray enclosure are nearly impossible to read. The last two LEDs on the right side are also buttons: One turns the router's wireless capability on and off, and the other enables WPS (Wi-Fi Protected Setup) for connecting a client.
Netgear describes the Nighthawk as an AC1900 Wi-Fi router. That number stems from its ability to support physical link rates of 1300 mbps on its 5GHz radio (using the 802.1ac networking standard) and of 600 mbps on its 2.4GHz radio (using the 802.11n networking standard). The higher-than-usual 2.4GHz link rate is made possible by the device's use of 256-QAM (quadrature amplitude modulation). Most routers rely on 64-QAM, which provides a maximum link rate of 450 mbps with 2.4GHz 802.11n networks. Broadcom markets this capability as TurboQAM.
Unfortunately, not all old 2.4GHz, 802.11n devices will suddenly become faster. To enjoy the higher link rate, the client must also support 256-QAM. In some cases, this can be accomplished via a firmware update, if the manufacturer offers one. In a briefing last week, Netgear's director of product marketing, Sandeep Harpalani, told me Netgear's A6200 USB Wi-Fi adapter would receive such an upgrade.
Performance
I benchmarked the Nighthawk three different ways: with an 802.11n client (an AVADirect laptop outfitted with an Intel Centrino Ultimate-N 6300 adapter); with the same laptop connected to a Linksys WUMC710 802.11ac wireless bridge (after disabling the laptop's onboard Wi-Fi adapter); and with a Netgear A6200 802.11ac USB adapter plugged into the same laptop (ditto).
The Nighthawk supports beam forming, as do the WUMC710 and the A6200 (with the latest firmware updates in both cases). With beam forming, the router and the client exchange information with each other to determine the best route for their signals to travel. Netgear's Harpalani told me that the company will add beam-forming support to the Nighthawk's 2.4GHz radio with a future firmware update, though most 2.4GHz 802.11g and 802.11n clients don't have the feature and therefore can't exchange information with the router. Harpalani said the router will nonetheless learn enough about a 2.4GHz client's location to improve its throughput by about 30 percent.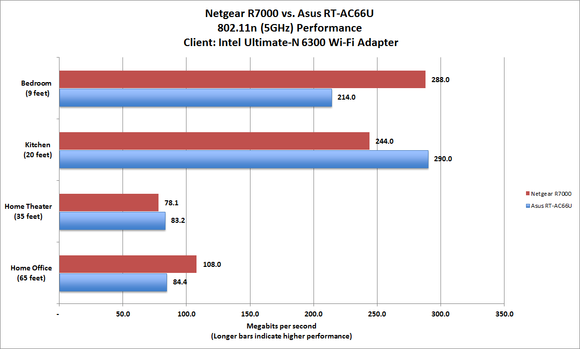 As the chart indicates, Netgear's router was faster in the first scenario (5GHz 802.11n) at two test locations, and Asus's was faster at two others. The R7000, however, was 28 percent faster than the RT-AC66U at long range (65 feet from the router).
Testing with the 802.11ac wireless bridge resulted in performance ties in the bedroom and kitchen (with the client separated from the router by 9 feet and by 20 feet respectively), but the Nighthawk was faster by 25 percent and 12 percent, respectively, in the longer-range tests: in the home theater (with 25 feet separating the client and router), and in the home office (with 65 feet between the client and router).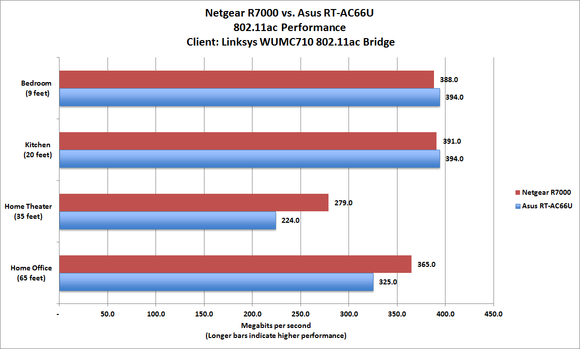 In scenarios where you need to connect multiple clients in the same general vicinity (such as inside an entertainment center), Netgear recommends that you purchase two Nighthawks and configure one to operate as an 802.11ac bridge. I wasn't able to test this scenario since the company provided only one device. Netgear has since agreed to send a second unit, so I'll update this story following a retest with that configuration in place.
For a laptop without 802.11ac Wi-Fi, you'll have to plug in a USB adapter to take advantage of the router's 802.11ac capabilities. I ran some benchmarks using Netgear's A6200 adapter and recorded performance ties at close range, but the Nighthawk was significantly faster at longer range. With the client in the home office, Netgear's router was 39 percent faster.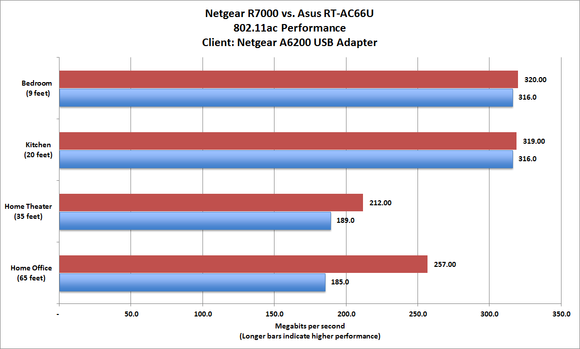 More features
The router has two USB ports and can support both a USB printer (you'll need to install Netgear's USB Control Center utility on each client) and a USB storage device. I recommend using the rear USB 2.0 port for the printer, and the front USB 3.0 port for a storage device. I attached a 500GB USB 3.0 Western Digital My Passport drive to the front port and recorded file-transfer speeds that were from 188 percent to 400 percent faster than the Asus RT-AC66U's USB 2.0 port managed. For the first time, I can recommend using a portable hard drive connected to a router as a viable alternative to a more expensive, dedicated NAS box.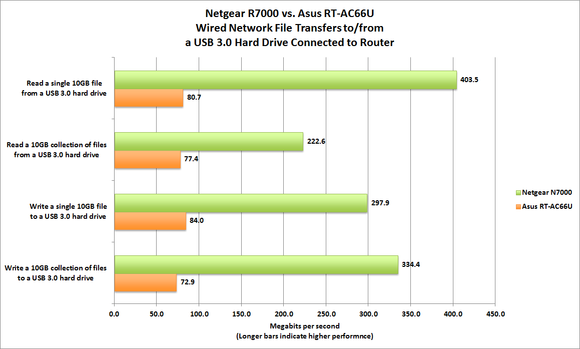 The Nighthawk comes with both DLNA media and iTunes music servers, so any DLNA-compatible device or Apple AirPlay device on your network—an AV receiver, Roku box, Apple TV, or the like—can stream media from a hard drive attached to it (though the iTunes server supports only music). Netgear also provides free ReadyShare Vault backup software that you can install on as many client PCs as you want to back up its hard drives. The Nighthawk supports Apple's Time Machine backup technology for Macs on the network.
QoS (Quality of Service) describes a router's ability to analyze and prioritize the traffic flowing through it. With most routers, QoS applies only to upstream traffic—typically games and VoIP calls—which receive higher priority than other types of traffic (file uploads or Web addresses, for instance). But the Nighthawk can also analyze downstream traffic—such as a Netflix video stream—and assign it higher priority than a file download or Web-surfing session. A crowd-sourced database in the cloud will be updated with new traffic patterns as new services come online and become popular.
This isn't a unique feature—the Qualcomm StreamBoost technology in some D-Link routers delivers similar functionality—but Harpalani told me that Netgear worked with Microsoft to come up with a way for the Nighthawk to recognize Xbox game and video traffic. The company plans to work with other console manufacturers to do the same for their systems.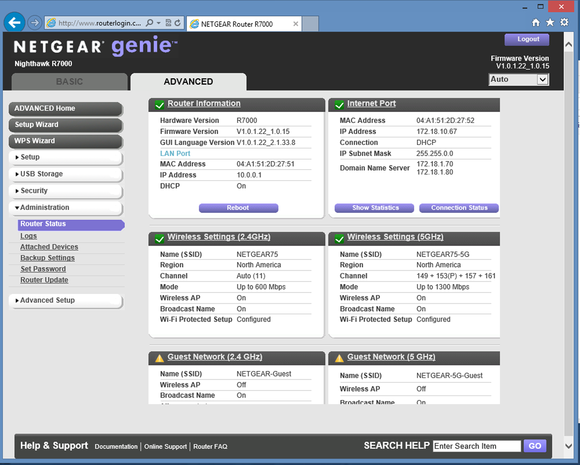 In addition to the media servers I mentioned earlier, the Nighthawk provides a personal ftp server, with dynamic DNS support to make it easy to access a USB storage device connected to the router from the Internet. Using Netgear's free service, you can set up an easy-to-remember ftp address (such as ftp://yourname.mynetgear.com) and use it with any Web browser to access the contents of the drive. You won't be able to stream media this way, but you will be able to download files.
The Nighthawk also supports OpenVPN, which gives you secure access to your home network—and all of the client PCs running on it—from anywhere that provides Internet access. And finally, DD-WRT open-source firmware will be available. The Nighthawk is equipped with ample memory—128MB of flash and 256MB of RAM—to go with its fast processor, so it will be interesting to see what the DD-WRT community comes up with.
Netgear plans to add two other features via a firmware update in the near future: Airtime Fairness will ensure that slower, single-stream clients joining the network won't create lag for faster clients. And Smart Connect will force dual-band (2.4GHz/5GHz) devices to connect automatically to the router's faster and less-crowded 5GHz band when they join the network.
The Netgear Nighthawk is very fast, and it's stuffed with compelling features for a very reasonable $200. Upgrading to this from any 802.11n router (or anything older) is an absolute no-brainer. It's a tougher call if you already have a good 802.11ac router.
If you live in a household in which other users compete for bandwidth, the Nighthawk's downstream QoS feature might solve any video-streaming problems you encounter. If you don't already have a NAS, this unit's USB 3.0 port will be attractive. And if you have a 2.4GHz client that you don't want to discard, Netgear's 2.4GHz beam-forming technology could make for faster connections. As for me, the Nighthawk has displaced the Asus RT-AC66U as my top pick (and now I can't wait to see what Asus's next router—the RT-AC68U—has to offer).
That brings us full-circle to the Netgear/Asus lawsuit, because the RT-AC68U looks a lot like Netgear's older R6300 would if you stuck external antennas on top of it.