How to delete your Google+ account
Google+ lags behind powerhouses Facebook and Twitter in terms of popularity, and if you're anything like me, you might find that you simply can't deal with a third social network. If that describes your situation, you can always delete your Google+ account without bidding farewell to other Google services such as Gmail.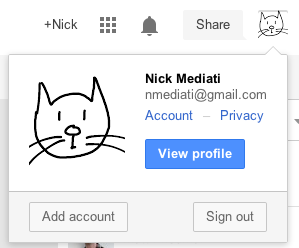 Start by logging in to plus.google.com with your Google account. Next, click the thumbnail of your profile photo in the upper-right corner, and select Account.
Scroll to the bottom of the page, and under the Account Management heading, you'll notice two links: Delete profile and remove related Google+ features and Close account and delete all services and information associated with it. The first of these links lets you delete your Google+ profile; the second allows you to close your Google account altogether.
Deleting your Google account entirely will also eliminate your account for Google services such as Gmail and YouTube, so you don't want to touch that link unless you're done with all things Google forever. Since your focus is only on deleting your Google+ account, click Delete profile and remove related Google+ features.
On the next screen, you'll be asked whether you want to delete Google+ content (which will delete your circles and anything you've posted to Google+ but will preserve your profile), or whether you want to delete your whole Google profile. Deleting your Google profile will remove you from Google+ and may prevent you from using any service that requires your profile.
If that's okay with you, click Delete your entire Google profile, check the box acknowledging that deleting your account can't be reversed, and then click Remove selected services.

Amazon Shop buttons are programmatically attached to all reviews, regardless of products' final review scores. Our parent company, IDG, receives advertisement revenue for shopping activity generated by the links. Because the buttons are attached programmatically, they should not be interpreted as editorial endorsements.