All-in-One PCs for Everyone
Page 5 of 6
For the Child's Room: A Multipurpose Machine for the Gaming Tween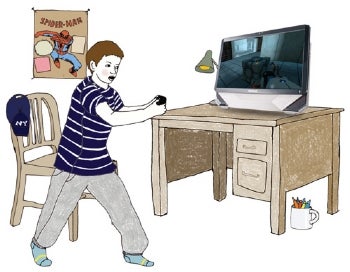 For the youngest computer users in your household, you'll want to set up an all-in-one that meets their not-too-demanding needs for work and play. But a dollop of panache doesn't hurt. For the tween in your life, we turn to Lenovo. Though the company generally means business, the Lenovo IdeaCentre B500 all-in-one is anything but plain.
If you have any familiarity with the Transformers--or if you have an affinity for motorcycles--the B500's angular chassis should bring a twinkle to your eye. Clad in a shell of black, chrome, and orange, with sharp lines and ac­­cents, the B500 has a strikingly handsome, almost aggressive appearance.
Equipped with a 2.66GHz Core 2 Quad processor and 4GB of DDR3 memory, the B500 earned a WorldBench 6 score of 108, marking it as a strong performer. And the all-in-one's 1TB of hard-drive storage space leaves plenty of room for your child's music, movies, and homework.
Worker's Playtime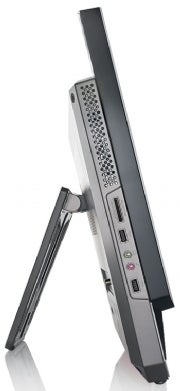 Once the chores are done, the system's nVidia GeForce GTS 250M graphics card lets your kid celebrate with some games. The B500 earned impressive scores on our gaming benchmarks: 73 frames per second in our Unreal Tournament 3 test, and 80 fps in Call of Duty 4, at a resolution of 1680 by 1050 pixels, with the settings cranked up high.
The screen is bright and attractive, with a na­­tive 1920-by-1080-pixel resolution. The included Blu-ray player lets Junior view his favorite flicks without tying up your dedicated media center. For youngsters who prefer to obtain their media from traditional sources, the built-in TV tuner will help keep them in touch with their favorite television shows. There's a remote control too, for replicating the couch-potato experience in the comfort of their own kid-cave.
The rear end of the B500 is as striking as the front, with a bright, almost neon-orange grille that accents the chrome backplate. Six open USB ports are available for adding external devices such as portable hard drives or gaming peripherals. The system's built-in Wi-Fi connectivity means that you don't have to figure out how to snake an ethernet cable into your child's room without tripping everyone who enters. The bundled keyboard and mouse are wireless, too, and they connect to the B500 over the machine's integrated Bluetooth transceiver.
Missing from this all-in-one's feature set is a touchscreen. That means your tween won't be able to take advantage of Windows 7's gesture support; but on the other hand, it also means you won't have to research how to safely remove gummy-bear fingerprints and Cheetos residue from the display panel. The system affords some measure of built-in protection against your child's roving curiosity, too: the B500 includes Lenovo's Vantage Technology suite, a consumer-oriented version of the company's ThinkVantage software utilities, which handle hardware drivers and software updates automatically, and provide system recovery tools for fixing mishaps more easily, should your progeny have an unfortunate propensity for indiscriminately downloading toolbars that stubbornly resist uninstalling.
Lenovo is well known for its relatively drab business machines, but the Idea­Centre B500 couples performance with an expressive flair that kids (and adults) are likely to appreciate.
Shop Tech Products at Amazon