One great thing about writing the Gripe Line blog is that the readers here are a smart bunch. In response to my post "When to insure your tech gear," I received great advice on whether to buy my son a new laptop and phone, how to teach him to be more responsible with gear, and when and why to buy insurance for my tech purchases. I'll save the parenting advice for another outlet, but when it comes to insurance, read on.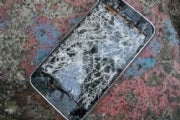 "You suggest purchasing insurance rather than a warranty for tech items," Gripe Line reader David says, "but does the insurance offer replacement value or depreciated value? A three-year warranty will give you repair or replacement of the original. But insurance policies tend to pay depreciated value. If it's depreciated value, you're not going to get much for your son's phone or laptop in the third year."
[ For a look at where tech support is going, read Christina Tynan-Wood's "The (better) future of tech support." | Frustrated by tech support? Get answers in InfoWorld's Gripe Line newsletter. ]
Good question, David. I ran it by Aaron Cooper, marketing director at the Worth Ave Group. While this may not be true for every insurance policy, for the Worth Ave Group, the answer is, essentially, replacement cost.
"We replace or repair all items on a Replacement Cost Scale," Cooper explains. "That scale is based on the current market value of an item."
While it's true that I wouldn't get back the price I paid for my son's laptop (as I did with my SquareTrade warranty, which expired with that replacement), insurance is still not a bad safety net for the klutzy tech-gear owner who is more likely than the rest of us to destroy his gear or let it get stolen. The policy is slightly cheaper than a warranty and continues for the life of the policy -- not the item. You can also insure gear that isn't brand new.
Cooper asked his claims department to provide a chart of how the company depreciates computers and other electronics. Here are the relevant findings:
Computers
1 year: 15 percent
2 years: 25 to 30 percent
3-plus years: 50 percent
Electronics
10 percent per year
Maximum depreciation: 50 percent
Another reader (also named David) points out that, when it comes to considering insurance for phones, "replacement cost" can be very different from what the phone actually cost you. "The cost of most smartphones is actually very high since the advertised price for most phones are the 'subsidized price' that you get only after you agree to a two or three year service contract -- plus the required data-plan and, usually, text-service fees," he says.
If that phone gets stolen or destroyed before you are eligible for an equipment upgrade from your service provider, you will be shopping for a replacement with a significantly higher sticker price. "Replacing my Touch Pro 2 would probably cost $900," he estimates. His point? He insures all his tech gear through SquareTrade.
"The insurance cost has, in every transaction to date, been a very small fraction of the total purchase price. This makes the cost of getting the insurance so affordable that it becomes insane NOT to get it," David says.
Got gripes or questions? Send them to christina_tynan-wood@infoworld.com.
This story, "Weighing the merits of tech-gear insurance," was originally published at InfoWorld.com. Read more of Christina Tynan-Wood's Gripe Line blog at InfoWorld.com.
This story, "Insuring High-Tech Products: A Safety Net for All Users" was originally published by InfoWorld.