Starting Over: The Windows Phone 7 Review
"There's a kind of freedom in being completely screwed... because you know things can't get any worse."
-Clark Kellogg (Matthew Broderick) in The Freshman (1990)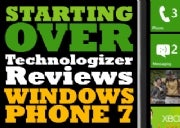 How often does any tech company truly wipe the slate clean? Products usually get utterly reinvented only when they're in trouble, and even then the reinvention tends to involve radical modernization more than anything else. Apple's OS X was the operating system that Mac OS wanted to be but wasn't; Palm's WebOS is what the Palm OS would be if it was fifteen years younger.
But Windows Phone 7? Other than technical underpinnings and a few semi-recognizable apps-such as Internet Explorer-it has nothing in common with any previous Microsoft mobile OS. To steal Sarah Palin's lingo, it's a refudiation of everything Windows Mobile stood for. Until WP7, the whole idea of Microsoft's mobile OS was that on-the-go users were best served by familiar Windows elements like a Start button, menus, and folders. But you only need to spend a minute or so with WP7 to see that the company has come to the conclusion-finally!-that small OSes aren't the same as big OSes.
The abrupt abandonment of a decade and a half of core principles is okay, because Microsoft's new philosophy happens to be right: Small devices do have profoundly different needs from big ones. And WP7 doesn't just mimic proven interface elements from other mobile OSes, either-it has surprisingly little in common with Apple's iOS, Google's Android, and other modern rivals. (Its closest ancestors are other Microsoft interfaces-it shows hints of the Zune HD, Windows Media Center, and the Xbox.)
In short, Windows Phone 7 is bold in a way that few products are, and Microsoft products almost never are. It's not a grand slam by any means: It's still missing multiple key features, is rough around edges in certain places, and is (in my experience so far) occasionally downright glitchy. But its interface is smart, fresh and engaging-a stand-up triple, at least. It's remarkably better than Windows Mobile 6.5-and I can't believe the same company released this and the poor, benighted Kin in the same year.
Microsoft seems especially keen on marketing WP7 phones to people who don't own smartphones at all just yet, and it's promoting the OS as being quick and easy, not super-powerful. It's clearly trying to make lemons into lemonade: The software just doesn't yet have all the features it needs to tempt most iPhone and Android fans. I still think that Microsoft made a wise decision by focusing on getting the interface right, though: It makes for a foundation that gets the company back in the mobile game in a way that a more powerful but less thoughtful upgrade wouldn't have.
In Video: Windows Phone 7 Impresses on the Samsung Focus and HTC Surround
Windows Phone 7 doesn't hit the United States until next month, but it's being rolled out in other countries today. I tried it on two AT&T handsets loaned to me by Microsoft: The Samsung Focus and the HTC Surround. Both will sell for $199.99 with a two-year contract; the Focus will be available on November 8th, and the Surround will come along in time for the holidays. I quickly gravitated towards the Focus: Its 4? OLED display and thin case are reminiscent of Samsung's Galaxy S Android handsets, and make for a really pleasing general-purpose piece of smartphone hardware. (The Surround, which has a kickstand and slide-out Dolby speakers with SRS 3D sound, is more of a niche product...and there's a limit to how good even the best teeny-tiny audio system can sound.)
Herewith, my take on some of Windows Phone 7's major aspects.
The Basics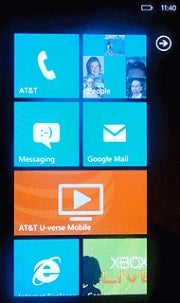 The most striking thing about Windows Phone 7's interface is how different it is from anything that preceded it or which it competes with. Different, of course, isn't necessarily better-it would be entirely possible for Microsoft to come up with an interface that was a departure from those created by Apple and Android...and inferior. (In fact, it did that with Windows 6.5 when it gave that version's dekstop a weird, pointless honeycomb layout.)
WP7's "Metro" interface, however, mostly works. Its two most striking elements are called Tiles and Panorama. Tiles are giant, widgety app icons that can incorporate live data: The one for the calendar app, for instance, lists your next appointment, and the Music/Video one shows a performer you've been listening to recently. Panorama means that almost all apps let you swipe screens to the left to reveal more stuff that slide in from the right-sort of like the iPhone and Android desktops do, but everywhere. The mail application, for instance, lets you swipe between views that show unread messages only, flagged messages, urgent messages, or everything. And swiping on the home screen takes you from a screen full of Tiles to an alphabetical list of all apps. (You get to decide which apps are promoted to the Tile screen, and their arrangement on that screen.)
The idea here is to let you get at information quickly, sometimes without loading an application at all. And for the most part, WP7 does indeed feel fast. That's partially because of clever interface design, but also because the Focus and the Surround both have the necessary hardware oomph to keep up with the OS and your touch input always registers immediately-the experience has an iPhone-like fluidity. (Third-party apps, sadly, are an exception: read on.)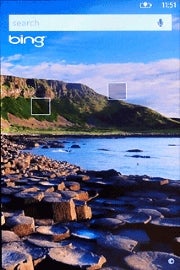 Compared to the iPhone's understated look and Android's lack of much personality at all, WP7 is...well, willfully playful and eclectic. It displays header information in a typeface so large it sometimes runs off the side of the screen. There are little animations everywhere, like flying dots that indicate that data is being downloaded. It combines blocky shapes, primary colors, and Bing-like photo backdrops. In screen shots, the interface can look downright peculiar, but it all adds up to a pleasant experience that meets the most important test of all: You can figure out about 90% of it within minutes of picking the phone up.
Both the Focus and the Surround are touchscreen-only phones; a third $199.99 AT&T model, the LG Quantum, has a landscape-slider keyboard. I did most of my typing on the Focus and found it to be very good by on-screen keyboard standards-the "keys" are big enough for comfortable tapping, and I didn't have to worry much about typo correction because I just didn't make that many typos, period.
All Windows Phone 7 handsets have three hardware buttons: a Windows one that gets you back to the desktop, a Back button that returns you to the screen you just left, and a Search one that-depending on where you are-either brings up Bing or the search features within the app you're using. (This was occasionally confusing: I pressed Search in Word, hoping to be able to search my document, and got bounced out to Bing instead.)
Unlike Android phones, which have equivalents to the aforementioned three buttons plus a menu button, WP7 puts menus into the apps themselves, in the form of icons that sit at the bottom of the screen. The icons are sometimes slightly cryptic and/or odd (a floppy disk for "Save" in late 2010, Microsoft?) but overall, it makes sense, since it letd you do most of your tapping without removing your finger from the touchscreen to press a hardware button.
In places, Windows Phone 7 is pretty and intuitive, but shallow-sort of like every version of Apple's iOS up until 4.0. A few examples:
There's no cut-and-paste, although Microsoft says it's arriving early next year;
There's no way to quickly jump to recently-used apps without going back to the home screen;
You can add lots of e-mail accounts, but there's no unified inbox-actually, every account is an island unto itself, appearing in its own tile;
Installing scads of apps might get unwieldy, since there are no folders (WP7 does automatically install some types of apps, such as games and music programs, into topic-themed "Hubs");
Moving the cursor around in a text field can be tricky, because WP7 doesn't magnify the text into a bubble the way iOS does-chances are good that your fingertip will make it hard to see the precise area you're trying to select.
The Maps app is fun to use but doesn't do pedestrian or public-transportation directions.
The OS doesn't let third-party apps, such as music apps, operate in the background (more about that below)
I also ran across a few spots where Windows Phone 7 felt more like a clunky old Microsoft desktop OS than a sleek phone platform. When you go to add a Windows Live account, for instance, you get a long-winded and intimidating explanation of how anyone with an Xbox Gamertag or Zune Pass must add the Windows Live account associated with them first. (I assume it didn't mean that adding a different account would permanently disable my ability to use a Gamertag and/or Zune Pass, but who knows? It's just not clear.)
People and Social Stuff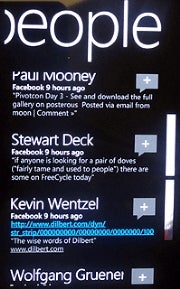 Windows Phone 7 aims to weave together information about the people you know from multiple sources-address books, Facebook, Windows Live-and then use what it knows to help you keep tabs on the folks in your life. It's not a new idea-WebOS and Android both include some similar features-but WP7 takes it particularly far.
One of the OS's topic-themed Hubs is "People," which is one part address book, one part social network. People aggregates individuals and information relating to them from disparate sources and creates Facebook Wall-like streams of status updates. (I ran into one bit of strangeness: It accidentally mixed my information with that of another guy named Harry McCracken who I happened to friend on Facebook.) You can go to Friends both for mundane tasks such as looking up phone numbers and addresses and also to see what's new with your pals; you can also create Tiles for your favorite people and pin them to your home screen.
All this works quite well and helps compensate for the fact that there's no Facebook app for Windows Phone 7 just yet Social features show up elsewhere as well: I particularly like the way that the Pictures Hub isn't just a repository of your photos (which can reside on the phone or in the cloud at Facebook or Windows Live) but also lets you browse your friends' online photos. But the OS doesn't sport a truly comprehensive set of social tools-for instance, there's nothing baked in relating to Twitter or Foursquare-style check-ins. (The Marketplace app store does have official apps for Twitter-it's similar to the Android version-and Foursquare.)
I tend to be skeptical about social networking features built into operating systems-in the end, it's impossible for an OS to do Facebook better than Facebook does Facebook. (That fact helped doom both the Kin and Motorola's Motoblur interface.) But as long as WP7's social features supplement top-notch third-party apps rather than replace them, they're a point in its favor.
Media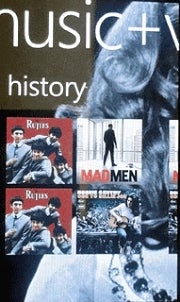 Unlike Android phones (and, for that matter, the Palm Pre and Pixi) Windows Phone 7 handsets ship with a comprehensive set of apps and services for consuming music and video. You can subscribe to Microsoft's Zune Pass service for $15 a month, which gets you unlimited music downloads for as long as you belong, plus ten MP3s a month to keep. (Zune Pass music can be downloaded onto a PC and then transferred to the phone, or streamed directly to the handset-although in my tests, loading up albums on the phone sometimes seemed to take longer than with streaming music services on other mobile OSes.)
The Zune PC software also gives you access to a respectable selection of movies (for rental and purchase) and TV episodes (to buy). You can download them and transfer them to your phone, but can't acquire video directly from the handset.
The experience isn't as seamless as Apple's all-encompassing iTunes ecosystem. For instance, items you buy in the Zune PC software continue to be priced in the inexplicable alternate-universe currency known as Microsoft Points, which serves no discernible purpose except to make it tough to figure out how much anything costs. Music you buy on the phone itself, on the other hand, is priced in dollars and cents, and gets billed (on the phones I tried) to the handset's AT&T account, not your Zune one. And as far as I can see, there's no way for Zune members to claim their ten free monthly tracks on the phone itself.
Unless you're serious about subscription music, WP7's entertainment offerings don't beat the iPhone's. (And even then, there are multiple nice third-party subscription services for iOS.) Still, this is the first post-iPhone mobile OS for which music and video are more than afterthoughts, and I'm sure that some folks who are torn between Android and WP7 will opt for the latter on the strength of its media features.
Internet Explorer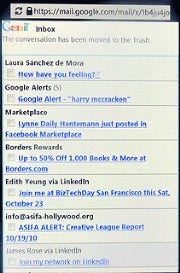 How good is Windows Phone 7's browser? It depends on what you're trying to accomplish with it. When all I wanted to do was read the Web, it worked just fine-pages loaded quickly and even complex sites such as Slate looked good, with the minor exception that fully zoomed-out text was blocky and crude. You can bookmark sites and bop between six tabs in much the same way you do on iOS and Android, and the address bar doubles as a search field (albeit one that only lets you use Bing).
What IE doesn't do-at least in my experiments-are the sophisticated mobile Web apps that work so well on the iPhone and Android handsets. You get very basic versions of Gmail and Google Voice, for instance, not the richer versions that work on Webkit-based mobile browsers. (The lack of a great Web-based Google Voice isn't a disaster, since GoVoice, a third-party Google Voice client, is in the Marketplace.) The mobile version of instant-messaging service Meebo didn't work for me, either. Nor did some app-like features in content sites, such as the quick-switch tabs in the mobile version of Techmeme.
WP7's Internet Explorer isn't based on the upcoming, standards-supporting IE9; instead, it's a variant of the four-year-old IE7. I'm not sure whether Web apps failed to work because IE simply can't handle them, or because the apps sniff for certain browsers and don't yet recognize WP7. But if you buy a Windows Phone, you'll be happiest if it turns out that you have enough company that Web sites start to go out of their way to please WP7 users.
Office
In theory, Microsoft should have a gigantic advantage over every other company on the planet when it comes to bringing its own Office documents to a smartphone. But the Office apps included with Windows Phone 7 aren't a gigantic advance over third-party suites for other phones, such as Documents to Go and Quickoffice. Actually, Office Mobile feels underpowered, except for the ability to add notes to Word, Excel, and PowerPoint files (useful for collaborative editing) and to view documents in outline form.
In one case, I couldn't edit a document, period: A PowerPoint presentation that worked fine in the iPhone's file viewer and in Documents to Go wouldn't open at all in PowerPoint Mobile. Word Mobile also didn't display graphics in one Word file, even though the iPhone viewer handled the same file with aplomb.
Word, Excel, and PowerPoint all have an adequate selection of basic features, but only adequate-Word, for example, doesn't let you change fonts and only has three text colors to choose from. (DocumentsToGo for iPhone permits font editing and offers sixteen colors.) Office is also the one place in Windows Phone 7 where the lack of cut and paste-which Microsoft says it'll fix early next year-is a major deal. (Word Mobile may be the only word processor shipped on any platform in the past thirty years that doesn't permit you to move text around.)
I also expected the Zune software, otherwise used for shuttling files between a Windows PC and a Windows Phone, would have features for moving Office documents back and forth; it doesn't. Nor does the file-attachment feature in the mail application let you attach an Office file. (Instead, you need to start with the Send option in the Office programs.) OneNote lets you sync your documents to Windows Live's SkyDrive online storage; the other apps don't.
Oh, and I don't understand why Word and Excel use an on-screen icon for search but OneNote (like other areas of WP7) uses the hardware search button.
Bottom line: If I were drawing up a to-do list for Windows Phone 7.5, a beefier Office Mobile would rank near the top.
Gaming
Other than playing Bejeweled-one of the first third-party apps I looked for in the WP7 Marketplace-I haven't delved into Windows Phone 7's gaming features much yet. Microsoft, logically enough, is trying to leverage the strength of the Xbox platform to boost its phone OS: It's helping developers build WP7 versions of major games, and it lets your avatar and other aspects of the Xbox live experienc travel between console and phone.
Stay tuned for an in-depth looks at Windows Phone 7 gaming from Technologizer's game maven, Jared Newman. (Here's a story over at Joystiq to tide you over.)
Third-Party Applications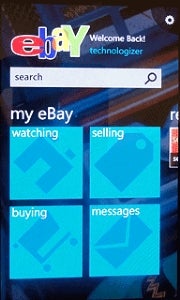 Let's get one thing out of the way: Windows Phone 7 isn't going to launch with 300,000 apps. Microsoft says it expects 1,000 to be available by the time the OS hits the US in a few weeks. The real question isn't whether WP7 can match the scale of the iOS and Android app stores-if it does, it'll take years, and it may never happen-so much as whether it will have a critical mass of the most important applications that people want, in well-done form.
In some ways, I'm guardedly hopeful. For one thing, Microsoft knows how to get third parties to support its platforms. (I wrote about some of the WP7 apps it's helped jumpstart here.) Just as important, the OS provides a coherent interface that's a solid model for third-party developers: As with Apple's iOS, apps that pick up on design elements that are already there have a head start.
The apps I've tried so far, including some that Microsoft preinstalled on the Focus and others I downloaded from the pre-release version of the Marketplace, tend to make use of Panorama and other aspects of WP7's Metro interface. (That's eBay to the right; Fandango, Foursquare, Twitter, IMdB, and other apps are also good examples.) They're not warmed-over iPhone apps, and they're more consistent in interface than early Android programs.
But most of the third-party software I tried is quite rough, lacking the polish of the OS itself. Scrolling in eBay and Twitter, for instance, is oddly herky-jerky. And when a Windows Phone 7 handset times out and locks itself when a third-party app is running, what you encounter when you unlock the phone is really ungainly: You see a "Resuming" screen for s few seconds, and then the app reloads but doesn't pick up where it left off.
If Microsoft's promise of cut-and-paste by early next year has you placated, Windows Phone 7's single most glaring omission is probably the fact that third-party applications can't multitask. This isn't necessarily fatal-all iPhones prior to the 4 seemed to sell just fine without multitasking-but Microsoft needs to fix it by the time it releases WP7's first major update.
To be fair, some of the third-party apps I tried don't claim to be finished: Twitter is a "preview" edition and AT&T's U-Verse is labeled as a beta. Keep your fingers crossed that better versions are on their way.
Ultimately, the people who determine whether Windows Phone 7 thrives as a platform for third-party software will be...third-party software developers. Most of them will make their decisions on support for WP7 based on how handsets seem to be selling. The summer of 2011 might be a good time to come to some conclusions about how things are going.
Speaking of postponing verdicts, it's clear that Windows Phone 7 cries out for at least one more meaty upgrade, and needs it soon: iOS and Android are going to just keep getting better and better, and the worst-case scenario for Microsoft involves the distance between them and WP7 growing, not shrinking.
There's also a best-case scenario, though-one that involves this operating system giving iOS and Android their most serious competition in the years to come. WP7's fresh start is only a start, but it's a liberating, clever one. It bears the burden of great potential, and now it's up to Microsoft to follow through.