Page 2 of 2
Nookcolor also contains lots of new social networking features which work with Facebook and Twitter. Some are based on the Nook's previously introduced "lend" feature, which lets users share e-books from their libraries with selected friends for periods of up to two weeks.
Now, with the Nookcolor, you can now ask to "borrow" a book from a friend's library. You can also make comments about a book, and you can share favorite quotations from books with other people.
Nookcolor is also highly "personalizable," said B&N CEO William Lynch, in a talk at the launch. Branton demo'd for me how you can choose from between white, grey, and "night" backgrounds. You can also use other backgrounds, such as personal photos, according to Lynch.
Features also announced at the launch, but not yet seen (or heard) by me, include Internet radio by Pandora, crossword puzzles and other games, and book recommendations from experts, to name a few.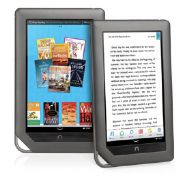 As described by officials tonight, the new Nook app development program, will be somewhat akin to Google's Android Market or Apple's App Store. Developers will submit their Android apps. B&N will then decide which ones to use, and manage the appropriate tweaking. At this time, anyway, users will not be able to run standard Android apps on Nookcolor devices, according to Iannone, who is B&N's executive VP for shopping and digital.
B&N is actually planning not just one, but two software upgrades over the next few months, Iannone told me. Prior to the Android 2.2 and Flash upgrade in 2011, B&N will provide a smaller upgrade some time in November, with enhancements that will include "easier page turning."
Although B&N also produces a 3G e-ink Nook, the new color Nook is WiFi-only. But B&N isn't ruling out the release at some point of a color Nook with mobile broadband, Lynch said during a press Q&A at the launch.
Users will be willing to pay $249 for the "premium" features in Nookcolor, and B&N won't budge from that pricetag "any time soon," Lynch contended. Over the past year, products in the highly competitive e-reader market have kept tumbling down, especially since the introduction of Apple's iPad in May.
Lynch also predicted that Nookcolor won't "cannibalize" either B&N's earlier b&w e-ink Nooks or B&N's sales of physical books in brick-and-mortar stores. B&N doesn't plan on dropping the b&w readers, since studies by Forrester Market show that a certain market segment will continue to prefer e-ink, he said.
Lynch also told journalists that the co-existence of the Nook with B&N's stores is actually financially advantageous on both sides. The CEO noted that B&N has already put up Nookcolor displays in its stores, and that consumers will be able to come in to stores to try before buying when devices become available over the next few weeks. Shipment is slated happen "on or about November 19."
On my way out the door of the B&N store in Union Square, the site of the launch, I stopped by the new Nookcolor display on the ground floor. Not surprisingly, curious shoppers were already checking out the e-reader mock-ups in the retail outlet's Nookcolor display area.
This story, "Barnes & Noble Takes the Wraps Off of Nookcolor and Android Developers Program" was originally published by Technologizer.