Page 4 of 5
Day-to-day use
In daily use, the MacBook Air performed admirably. Its chief asset is its size. It's easy to tote around and, given the construction, feels like it's solid enough to withstand daily travels from home to work or school.
The glossy 1366-x-768-pixel screen is bright and sharp, just as I've come to expect from Apple hardware. High-definition video plays smoothly at full-screen, and it looks clean and well saturated -- a credit to the Nvidia 320M graphics chip. I fired up two Lady Gaga videos -- yes, I'm a fan -- in 720p and both played side-by-side with nary a stutter. I did the same thing with a full-screen, high-definition version of 30 Rock in iTunes, where playback was equally smooth.
(The reported CPU temperature did climb a bit, from about 113 degrees Fahrenheit to around 149 degrees, but the Air never felt hot, and I never heard any internal fans kick in. This is one silent puppy.)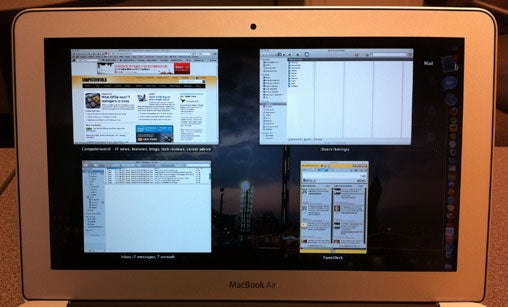 The small screen size and the new, higher-resolution screen combine for a higher pixels-per-inch count, making text and images look exceptionally sharp. (The more pixels per inch, the smoother the image, which is why the iPhone 4's Retina display has won kudos.) In the smaller Air, the screen has 135 pixels per inch; the 13.3 in. model has 128 pixels per inch.
Admittedly, the small screen took a little getting used to. My 17-in. MacBook Pro has a 1920-x-1200-pixel resolution and my work computer is a 27-in. iMac with an even higher resolution. As a result, I found myself using Exposé more often to arrange the various windows on the Air's screen. After a few days, though, I felt more at home on the Air -- and my own laptop suddenly felt gargantuan.
The full-size keyboard looks and feels just like the one in Apple's more traditional MacBook Pro laptops -- no cramped typing required. The black "chiclet" keys with white lettering give good feedback and are easy to hit.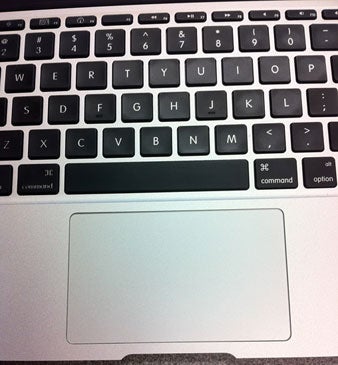 Alas, the keyboard isn't backlit as it was in earlier MacBook Airs. I'm not sure if that change was for cost reasons or to save space, but I'm hoping Apple can add this feature back in the future. It's one of my favorite things about my MacBook Pro, and since I'm not a touch-typist, I need to see the letters. Still, if I were eying a new Air, the lack of backlighting wouldn't be a deal-breaker.
Apple has also upgraded the trackpad, finally bringing to the Air the glass-coated trackpad that's been available in other Apple laptops for two years. Although it's smaller than on the MacBook Pro, it works the same way. The entire trackpad is clickable and multi-touch gestures are fully supported.
When it comes to battery life, Apple estimates that the smaller Air will last for five hours without being plugged in. The 13-in. model, which has room for a larger battery, will last seven hours, according to Apple. I've never been able to hit Apple's estimates for battery life, but this Air did better than I expected in casual use.
I brought it into the office and used it off and on all day without needing to plug it in. That's because whenever I used my work iMac, the Air went to sleep, saving power and extending the battery life.