Google Glass, the Moto X, and Samsung's Galaxy Gear have all appeared on runways at Mercedes-Benz Fashion Week, proving that tech and fashion are made for each other. But this spring, it's not gadgets that are stealing the spotlight at the semiannual spectacle. Social networks and sharing economy startups are getting in on the action, helping designers hawk their wares, get to shows, and show off the glitz behind the scenes.
Uber offers arrivals in style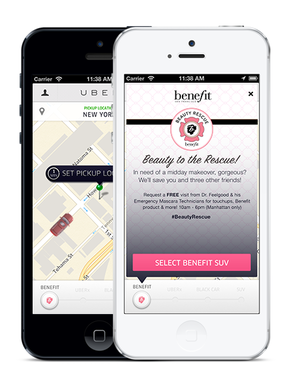 If any company can be counted in for an event tie-in, it's Uber. The on-demand transportation app has delivered Christmas trees and marching bands for past promotions, but for Fashion Week, the company is doing something that's actually relevant. Uber partnered with designer Alexander Wang, who moved his runway show from Manhattan to Brooklyn—not an easy trek if you've got a slew of other shows to attend. Attendees who used Uber to get to Wang's event got 30 percent off their fare (though it was unclear if the company put surge pricing in effect for Fashion Week). Anyone who's tried to hail a cab in Manhattan to cross the Brooklyn Bridge knows it's close to impossible, so this tie-in makes a lot of sense.
Last year, Uber went a little over the top and worked with cosmetics company Benefit to deliver "emergency mascara technicians" to fashionistas in need of a quick makeover—plus a bag of swag—before hitting the next show or after-party. That was more like it!
Instagram goes glam
Every season, Instagram's ties to Fashion Week grow stronger. Naturally, designers, models, and journalists shoot the shows from every angle and upload their bird's-eye views to the photo-sharing network. But for the first time this year, Instagram is working with Vogue on a week-long series of exclusive posts like this one:
In other words, Vogue isn't simply repurposing its own content and reposting it on Instagram—this is a whole new collaboration. The social network is also bringing back the Instagram installation it built at Lincoln Center last fall to show off the images Fashion Week attendees are uploading—and this time, the digital photo wall is even bigger.
The Marc Jacobs Tweet Shop
The pay-by-hashtag trend is still somewhat of a novelty—more of a publicity stunt than a real form of commerce—which makes it a perfect fit for Fashion Week. Designer Marc Jacobs set up a pop-up Tweet Shop in SoHo where customers purchased his popular perfumes by including the hashtag #MJDaisyChain in their tweets or Instagrams. No cash exchanged hands.
Bags and accessories were also available for a higher price: the most creative hashtagged submissions, as chosen by blogger Aimee Song.
Designer clothes on a serious budget
Want free clothes? The nonprofit group Peers, whose mission is to teach regulators and regular folks about the sharing economy, launched PeersSwaps last week to capitalize on March's parade of Fashion Weeks in New York, London, Paris, and Milan. PeersSwaps are clothing exchanges that will take place online in partnership with swapping sites Yerdle and Swapdom, as well as in person at events in 50 cities around the world.
The social media angle: PeersSwaps attendees will photograph and blog their experiences with appropriate hashtags to bring the sharing economy some Fashion Week buzz.
"OK Glass, share my photos"
Diane von Furstenberg first sported Google Glass as a fashion accessory at Fashion Week last year. This spring, Google's much-discussed wearable device is helping journalists document the shows in painstaking detail. Women's Wear Daily's beauty writers are using Glass to shoot photos, videos, and GIFs of backstage prep and share them on Google+. From the runway to real life, Glass has sure come a long way in a year.
This story was updated to reflect that Uber partnered with Benefit for last spring's Fashion Week.
This story, "Fashion Week's surprising scene-stealers: social media and sharing apps" was originally published by TechHive.