Apparently the Internet is more easily riled up by draconian anti-piracy measures than by mass government surveillance.
"The Day We Fight Back," an Internet protest against NSA surveillance, has kicked off with a whimper, at least compared to the SOPA and PIPA protests of two years ago. While those piracy-related protests prompted blackouts by major sites including Wikipedia and Craigslist, The Day We Fight Back hasn't mustered nearly the same level of response.
Wikipedia and Craigslist are not participating at all. Reddit, which shut down its site for 12 hours during the SOPA and PIPA protests, has merely slapped a couple small banners on its homepage sidebar. Tumblr, Imgur, and Mozilla are listed as a participants, but have not added anything to their respective home pages.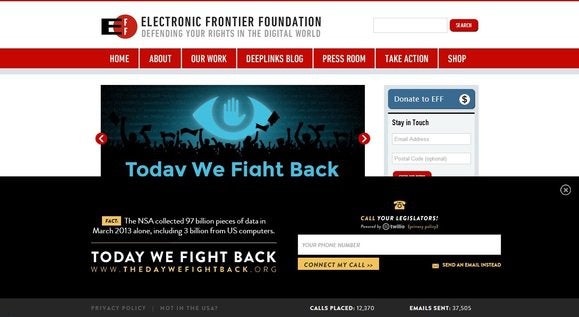 The response from tech companies is also more muted this time around. Google, Microsoft, Facebook, LinkedIn, AOL and Yahoo are all part of the Reform Government Surveillance group, which has posted a big banner ad on its site, but none of the groups have shown support on their own sites. (Google and Microsoft have at least published blog posts in support of the protests.)
The other headlining participants are a mix of smaller Web properties, such as Upworthy, DuckDuckGo and O'Reilly, and advocacy groups such as Electronic Frontier Foundation, Demand Progress and the American Civil Liberties Union. Some, but not all, of those groups have placed large banner ads on their home pages, covering half the screen.
Apples and oranges
The SOPA and PIPA protests may have benefited from a more desperate situation. At the time, two bills that could have restricted websites' ability to operate were working their way through Congress and gathering dozens of cosponsors. There was a sense of a ticking clock, with two clear targets to rally against.
The Day We Fight Back has one target, the FISA Improvements Act, which would attempt to legalize phone record data collection in bulk. But the bill has zero cosponsors, and Govtrack gives it just a 20 percent chance of being enacted. The protest also aims to boost support for the USA Freedom Act, which has 130 cosponsors and a better prognosis according to Govtrack—but getting a bill passed is a much bigger effort than getting one killed.
That doesn't mean the cause is without merit, or that the protest is pointless. Over the last several months, we've learned about bulk data collection from major tech firms, bulk collection of phone record metadata and unauthorized tapping into tech company data centers—along with clear abuses of these powers.
If any of this sounds disturbing, head to the protest's Website for instructions on contacting your legislators. As of this writing, the protest has prompted 12,307 phone calls and 37,299 e-mails.
This story, "The Day We Fight Back: Online protest against NSA spying kicks off with a 'meh'" was originally published by TechHive.