MightyText is already a must-have Android app for text messaging from a PC or tablet, and now there's a premium version those who take their texting more seriously.
MightyText Pro adds a handful of features not found in the free version, and removes some of the free version's limitations. Here's what MightyText Pro is offering:
Group messaging for up to 25 recipients, compared to 10 in the free version
Unlimited text messaging history, compared to 6 months in the free version
50 GB of storage for syncing photos and videos from a phone, compared to 5 GB in the free version
A scheduler for sending text messages at set times
Message templates and signatures
A "blocklist" for preventing certain numbers from appearing in MightyText
All support requests answered in four hours or less
11 color themes for the MightyText Web app, with more on the way
Current "early bird" pricing is $3.99 per month, or $30 for a yearly subscription, but MightyText says this price will increase in a couple of weeks.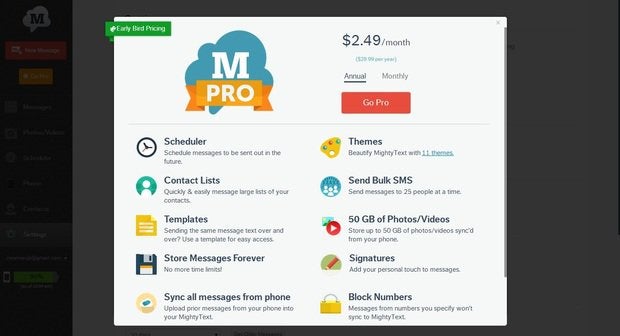 MightyText lets you use your existing phone number to send and receive text messages through most Web browsers or Android tablets. To set it up, just install the free Android app and follow the short instructions. Then, go to MightyText's installation page and follow the instructions for your browser of choice. If you're using Chrome, you'll see notifications on the desktop whenever a phone call or text message comes in.
Even users who have no interest in the Pro version should be pleased to see MightyText pursue a business model. The company has been running a free service for nearly two years, which is just the kind of situation that can end in an acquisition and shutdown. MightyText says it has no plans to stop offering its free service, so hopefully the arrival a Pro version means the company will be sticking around for a while.
This story, "MightyText's amazing app for texting from a PC or tablet rolls out 'Pro' features" was originally published by Greenbot.