If you ever want a glimpse into what Google's cooking up in its Silicon Valley kitchen, Chrome Beta for Android is usually a good indicator of what's coming up next for its mobile browser. 
Not all of its neat features are publicly advertised, however. The official update notes for the latest Chrome Beta release features the typical mundane stuff—improved performance, less battery drain, bug fixes. A more exciting feature is lurking in the change log, though.
A tipster sent Android Police his discovery that the latest update introduces built-in Chromecast streaming support for those who frequent YouTube or other HTML5-enabled video services that aren't yet available as Chromecast applications. (The YouTube app supports Chromecast, but the mobile HTML5 site does not.)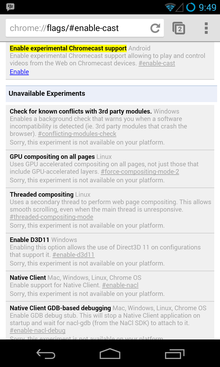 You'll have to do a little trickery to actually enable the streaming functionality. Type in "chrome://flags/#enable-cast" in the URL bar and Chrome Beta will navigate you to a page of settings where you can manually enable "Experimental Chromecast support." After you relaunch Chrome, you'll see a Chromecast icon when there's streaming available.
We haven't been able to test this ability ourselves, but Android Police notes that sites like Vimeo do work, though it doesn't have as many display options as fully-supported sites like YouTube. Other sites don't work well at all, or cause Chrome to crash. The feature is clearly not fully baked.
You can try it out for yourself by downloading the Chrome Beta for Android app from the Google Play store, and check out the official Google changelog for more information on the update. 
This story, "Google tests out Chromecast streaming in latest Chrome Beta update" was originally published by Greenbot.