Page 2 of 2
My iPhone Camera Doesn't Work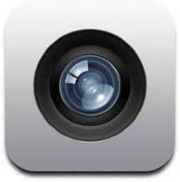 This complaint seems to come mostly from users of the iPhone 4, who have reported problems with both the front- and rear-facing cameras on their handsets.
Apple offers a couple of suggestions for resolving the problem. First, it says to verify that you have not turned on any restrictions. You can find restrictions by going to Settings, General, Restrictions. Once there, make sure that the Allow Camera option is set to On. You also can tap Disable Restrictions.
Additionally, Apple suggests turning the phone on and off; if that doesn't work, try resetting (hold the Home and Sleep/Wake buttons until you see the silver Apple icon, and then let the phone restart). Other suggested fixes include updating the iOS software and restoring the iPhone via iTunes. If you choose the latter, remember to select the option to set the device up as a new iPhone so that you don't restore troublesome settings to the phone. (And remember to sync before you do this, as music, movies, and apps on the phone will be erased.)
If none of those fixes work, you may have to take the iPhone to an Apple store for repair. Users have generally reported success when they've done this.
My iPhone's Home Button Doesn't Work
The iPhone's Home button is necessary to reboot or reset the phone, both of which are quick and easy fixes to many iPhone issues. But what do you do when your iPhone's Home button doesn't work? Two common suggestions are to update the iOS software or to restore the iPhone through iTunes. If you restore, select the option to set the device up as a new iPhone, so that you don't restore problematic settings to the phone. (And be sure to sync first.) These fixes can resolve software glitches that may be causing your troubles, but an issue with the Home button could just as likely be the result of a hardware problem.
If you suspect that hardware is the culprit, and your phone is under warranty (or if you don't mind paying for a repair), take a trip to the Apple store, where they can help you determine the cause of the problem. They won't always fix it for you, however: I accidentally dropped an iPhone 3GS in water last year, and although the phone eventually dried out and worked again, the Home button never recovered from taking a swim. Apple doesn't cover water damage (and the iPhone has a liquid indicator inside of it, so the techs can tell if it has taken a dunk). The company wouldn't fix my phone.
If you're particularly adventuresome, you can try to disassemble your iPhone and install a new Home button yourself. Your phone also may need a new connector to the Home button. You can find people who sell the buttons and cables online, but this is not a project for the timid. Cracking open your iPhone can ruin it, and even if it does survive, you will have voided any warranty you may have had. Then again, an iPhone without a Home button is fairly worthless, so what do you have to lose?
My iPhone's Touchscreen Is Frozen
If your iPhone's touchscreen isn't responding, turn the phone off and then back on. If that doesn't work, reset it. I know you've heard this before (especially if you've read this whole article so far), but these two steps really can solve a host of iPhone problems. If they don't correct your problem, you'll want to update the iOS software in iTunes, and then you can try restoring the phone in iTunes; select the option to set the device up as a new iPhone so that you don't restore bad settings to the phone, and remember to sync first.
If the screen still isn't working, the problem may be with the hardware, not the iPhone's software. If you dropped your iPhone, the connector inside may need to be repaired or reseated. You can find directions on how to do that online, but be warned that the procedure requires you to open up your iPhone and dig around inside. If your iPhone is under warranty, you're certainly better off taking it to an Apple store instead.
If the connector isn't the problem, the screen itself could be dead. You can order a new iPhone screen and replace it yourself following instructions from sites such as iFixit.com. And remember what I said about the warranty? That applies here, too.
My iPhone's Screen Is Cracked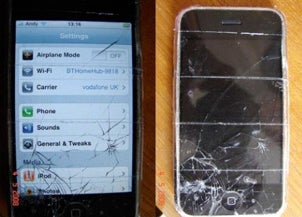 The cracked screen is the bane of the iPhone owner's existence--and unfortunately, it's something that seems to be more common with the iPhone 4. Your first option is to head to the Genius Bar at your local Apple store to see if they can repair it. In some cases they can fix the screen while you wait--and depending on the cause of the damage, your warranty may cover that service. Keep in mind, though, that Apple does not cover accidental damage or abuse, which the company may claim caused your cracked screen. You might have to pay for the repair, or the staffers may not be willing to attempt it at all.
Alternatively, you can try fixing the screen yourself, if you dare. Search for "replacement iPhone screen," and you'll find lots of options.
My iPhone 3G/3GS Has Problems With iOS 4
If you decided not to spring for an iPhone 4, you may have thought that upgrading to the iOS 4 software would be almost as good. After all, running the new OS would give you many of the features found on the newest iPhone, and you wouldn't have to deal with those pesky antenna problems. But once you upgraded, perhaps you discovered that running iOS 4 on an older iPhone was far from ideal--and if so, you're not alone. Many users reported that the new OS caused their iPhone 3G and 3GS models to run slow and reboot randomly, and that it led to a host of other problems.
So, what can you do? First, update the iOS to the latest version. Version 4.2, expected to release this week, is supposed to help speed up older iPhones. (Of course, version 4.1 was supposed to do that, too, and yet angry iPhone users still sued Apple for turning their phones into iBricks.)
If the update doesn't help, try the following fixes.
To speed up your iPhone's performance, disable the spotlight search feature (that is, if you can live without it). Go to Settings, General. From there, choose Home Button, select Spotlight Search, and disable each item by tapping on it. Exit the Settings menu.
Another option is restoring your iPhone in iTunes. Be sure to select the option to set the device up as a new iPhone so that you don't restore bad settings to the phone. (And remember to sync before you do this, as everything on the phone will be erased.)
If nothing else works, you may be forced to downgrade to the older version of iOS. That will mean losing out on the newer features. It's a complicated undertaking, too--and one that Apple frowns upon. Lifehacker and iPhoneHacks.com both offer walk-throughs, but keep in mind that you may do more harm to your iPhone than good. Still, if the new software is too problematic, the effort may be worth it.
Have you experienced any of these problems with your iPhone? Let us know what fixes have worked for you.