Samsung's Epic 4G is the Smartphone to Beat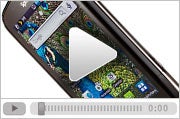 The Samsung Epic 4G sits atop the heap of high-end smartphones by virtue of its sharp display, front-facing camera, superior physical keyboard, and 4G speed.

Amazon Shop buttons are programmatically attached to all reviews, regardless of products' final review scores. Our parent company, IDG, receives advertisement revenue for shopping activity generated by the links. Because the buttons are attached programmatically, they should not be interpreted as editorial endorsements.