Released in February, the Pebble 2.0 app really unleashed the true potential of this prominent smartwatch. You know, if you're an iPhone user. At the time, Pebble said the Android version was coming "very, very soon." Well, a little more than a month later, the 2.0 app has finally landed on Google Play. I'm not sure if that qualifies as "very, very soon" but we'll give Pebble the benefit of the doubt.
So what does the new app add? Primarily, it's the new Pebble appstore, which lets you easily find and add new apps and watchfaces to your wrist. The blog post announcing the update features a couple of other related bits of good news, too.
New partnerships with eBay, Time Warner Cable, and Evernote bring much sought-after apps to your wrist. The eBay and Evernote apps do what you think they would (let you shop eBay and view notes or reminders). But the TWC app is not for controlling your cable box. It's actually for subscribers of the company's Intelligent Home product.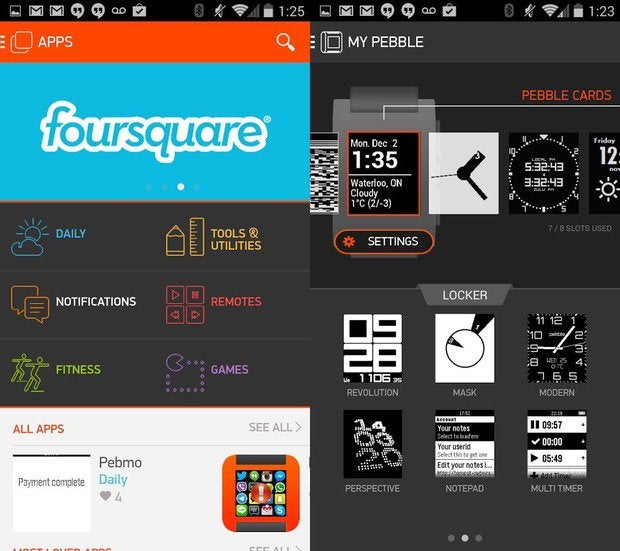 Want a detailed list of the changes in the big 2.0 update? Sure you do! The change log published on Pebble's site lists the following:
Completely revamped and improved user interface design.
Pebble watchapp directory: browse, find, and install the latest watchapps for Pebble. 
Watchapp locker: keep track of your favorite apps and manage the apps on your Pebble.
The list of prior notifications is now stored on your Pebble.
Using Pebble watchapps that connect to the internet to fetch data such as location or weather requires the Pebble Android app to be running on your phone.
This release supports a single Pebble watch. We are aware that some users may have multiple Pebble smart watches, and will add support in a future release.
Users of the Beta release of the Android 2.0 application will only see the old app in the Google Play Store. Delete the Beta version of the app to see the public version properly.
Side-loading apps from the "Downloads" app or Gmail may fail. This is a known issue—users must currently use another method (e.g. Dropbox, downloading with an alternate browser, copying manually to a SD card, loading from the File Manager, etc.)
Users may have to manually re-launch the Pebble app and reconnect to a Pebble that has been disconnected from the paired device for a long period of time.
If a user is experiencing difficulty connecting their Pebble and phone: We suggest the user first try using (device) Home button then launching the Pebble app again via the Android launcher, then attempting to connect again. If that does not work, we suggest the user navigate to the Bluetooth settings menu, un-pair on both the Android and Pebble devices, and turn Bluetooth on Android off then on.
This story, "Pebble 2.0 app lands on Android, adds appstore" was originally published by Greenbot.