Kinect: 1 Million Sold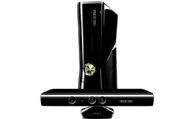 Microsoft announced today that it broke the 1 million unit sale mark with Kinect 10 days after launch. Only 4 million to go before 2011 starts.
Microsoft game division head Don Mattrick broke the news first to Reuters today in a telephone interview. He said the 1 million-in-10-days figure was a "strong start."
Just ahead of the Kinect's November 4 launch, Microsoft revised its sales expectations for the full body motion controller from 3 million in worldwide sales to 5 million. Kinect hit European shelves on November 10 and it's coming to Asia on November 18.
Source: Microsoft says sells 1 million Kinect devices [Reuters]
Got any tips, corrections, or feedback? Contact GamePro's news team or follow this article's author on Twitter.
This article originally appeared on GamePro.com as Kinect: 1 million sold

Amazon Shop buttons are programmatically attached to all reviews, regardless of products' final review scores. Our parent company, IDG, receives advertisement revenue for shopping activity generated by the links. Because the buttons are attached programmatically, they should not be interpreted as editorial endorsements.