Page 3 of 3
Maingear
About a year ago, I reviewed Maingear's then-new Shift computer. Nearly 70 lbs. of case and components, the then-$7,100 Shift bettered every benchmark result I'd seen to date. Even a year later, with the overall level of technology raised and component costs lowered, I haven't found any machines that have surpassed those scores.
The Shift is still available. The base unit, at $2,318, includes a 2.8-GHz Intel Core i7 930 processor, 6GB of memory, an Nvidia GeForce GTX 470 graphics card and a 750GB hard drive, but it can be pumped up to near supercomputer status for a tad more than $9,000 -- which includes a custom exterior paint job and a matching interior finish for $599 and $349, respectively.
One of the smaller (15 x 19.2 x 8.2 in.) models Maingear Offers is called the Vybe; at a base price of $775, this minitower is inexpensive for a boutique PC.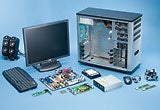 Although the base version -- with an AMD Athlon II X3, 4GB of memory, integrated graphics and a 640GB hard drive -- represents a capable PC for most mainstream productivity tasks, you can build it up to premium levels. I configured a Vybe with a Core i7 875K CPU, 8GB of memory, two 256MB SSDs, a GeForce GTX 470 graphics card, a 23-in. monitor, DVD and Blu-ray burners, a Razer keyboard and mouse, and a few software amenities. In less than three minutes, I had an almost $3,800 minicomputer in a desktop form factor.
Like the other boutique builders, Maingear has branched out into the notebook market. It has two offerings, the EX-L15 and EX-L17, both geared toward the gaming market and expandable from their $1,899 base models.
Maingear calls its support system "Angelic Service." That may seem like hyperbole, but what it amounts to is a return to the service and support principles of an earlier day, before PC pricing became cutthroat and support was sacrificed on the altar of margins. Among its provisions: You'll be able to talk to the person building your computer; phone support and labor (should you return your PC to Maingear for service) are free for the lifetime of the product; and virtual on-site support is available via an internal remote-desktop setup program. (Maingear swears that your privacy is preserved.)
This mix of old-fashioned values and extreme configurations -- as well as being able to speak with your own personal geek -- are definite assets and can make the difference between purchasing at Maingear and another site.
At a Glance
Maingear Inc.
Phone: 1-888-MAINGEAR
Business start date: August 2002
Desktop lines: Shift, Quantum Shift, F131, The Vybe, Access HD
Laptop lines: EX-L 15, EX-L 17, Clutch 13, Clutch i5
Warranty: Free lifetime labor/phone support; free parts shipping for first 30 days; remote diagnostics
Refund policy: 30-day money-back guarantee; 20% restocking fee
In Video: Building a Computer, Part 1: Choosing Your Components
Origin PC
Apparently, not all Alienware staffers were happy with the Dell purchase. Former employees Kevin Wasielewski, Richard Cary and Hector Penton broke away to form their own boutique builder company: Origin PC.
Origin PC was established in May 2009 and launched its Web site in November that year. In the interim, it developed its basic lineup of desktops (called Genesis) and laptops (EON).
The site is a bit unconventional and can be confusing at first. For example, after you select an option, you have to follow up by accepting it manually -- an extra and unnecessary step. You get to select every detail about the PC you're buying, from case to mouse, in the process.
I had no trouble running up a $9,206 tab on a $1,300 base Genesis PC that I overclocked to 4 GHz, housed in a Level 10 enclosure and stocked with 12GB of RAM and three 1.5GB GTX 480 graphics cards, to which I added a 23-in. monitor.
Origin PC sells three basic laptop units: EON15 ($1,651), EON17 ($2,499) and EON18 ($2,297); the numeric values indicate the screen size. I pushed the price of the EON18 to just over $6,000 with a processor upgrade, multiple hard-drive RAID storage, a Blu-ray drive, a 23-in. desktop monitor, and a three-year replacement warranty, among other options.
But if you really want to talk about being over the top, you need only look at one of Origin's latest desktop offerings: the Big O. The system features dual Intel Xeon X5680s overclocked to 4.3 GHz and Nvidia's Quad SLI EVGA GTX 480 FTW video cards -- all liquid-cooled. It also contains a fully functional liquid-cooled Xbox 360. The basic configuration for the Big O, touted as a "one of a kind system, customized to its owner's desires," is $7,699. Origin has a dedicated sales team to handle system configurations at this level.
Origin offers personalized service that keeps you with the same support team that knows what your system specs are. The company has a lifetime phone and service guarantee that even includes free parts shipping if something needs to be replaced. There's also a lifetime labor guarantee that applies to systems returned to Origin for repair.
In short, Origin has an in-depth understanding of the combination of exaggeration and performance that are hallmarks of the boutique PC genre.
At a Glance
Origin PC Corp.
Phone: 1-877-ORIGIN-0
Business start date: May 2009
Desktop lines: Genesis, Big O
Laptop lines: EON15, EON15 3D, EON17
Warranty: Lifetime phone and online service; dedicated support team; lifetime labor; free replacement shipping
Refund policy: 30-day money-back guarantee; 15% restocking fee
In Video: Building a Computer, Part 2: Installing the motherboard
Conclusions
Customers of boutique builders now have a choice. They can keep costs near-to-reasonable by purchasing prebuilt computers (while still acquiring the cachet of using a boutique builder) or they can go all-out, raid their bank accounts and create their own built-to-order high-end systems. Either way, these vendors offer a great alternative for tech enthusiasts who know exactly what they want and don't want to deal with the limited selection offered by most consumer-directed vendors.
Bill O'Brien has written a half-dozen books on computers and technology. He has also written articles on topics ranging from Apple computers to PCs to Linux to commentary on IT hardware decisions.
This story, "Build the Perfect PC With Boutique Help" was originally published by Computerworld.