The new HTC One (M8) might herald HTC's return to smartphone stardom, but for DIY fans there's a lot to hate about the newest HTC Android handset. The teardown champions over at iFixit recently ripped apart their very own One M8 tearing through gobs of glue, tape, and copper shielding to reveal the handset's innards.
Fixing the new HTC One is easier than its predecessor, iFixit says, but the One M8 is still a terrible patient for non-factory fixes. The device earned an incredibly low score of 2 out of 10 on iFixit's repairability scale.
That suckiness is still good enough to put the One M8 ahead of the original HTC One, which scored a 1 from iFixit, but if repairablity matters most to you then you're better off with pretty much anything else—though poor repairability is one of the prices paid for today's ultra-thin, ultra-slim handsets.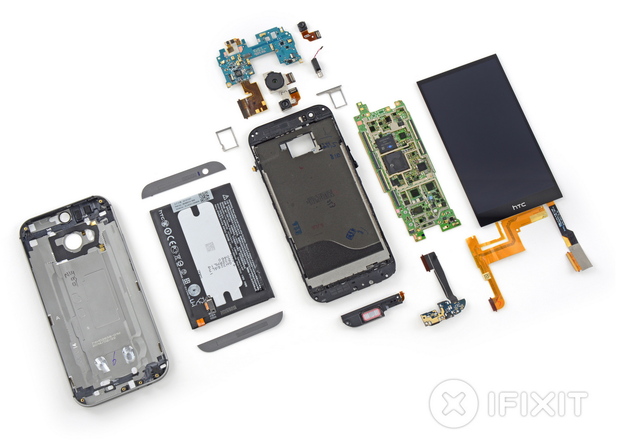 So what's so bad this time around? For starters, removing the battery requires tearing out the motherboard first, just like the original. Removing the screen, one of the most common components requiring repair, requires a near-complete teardown.
That may be why HTC is offering a get-out-of-display-hell free card for HTC One owners with a one-time free screen replacement. The offer is only valid during the first six months of ownership, however, so if you're going to drop your One M8, drop early.
On the upside, iFixit says the One M8 doesn't require damaging the outer casing just to open the device up--a design problem that plagued its predecessor. The One M8 also gained a few points for a "solid external construction that improves durability."
The new HTC One features a 5-inch 1080p display, 2.3GHz quad-core Qualcomm Snapdragon 801 processor, front- and rear-facing cameras, 2GB RAM, 16GB or 32GB onboard storage, and an SD slot that supports another 128GB.
The HTC One is available now from AT&T, Sprint, and Verizon for $199 with a new two-year contract.
This story, "The new HTC One looks great, but don't try fixing it at home" was originally published by Greenbot.