Reports of HTC's death have been greatly exaggerated. That was the message from the Taiwan-based handset manufacturer just moments after releasing its latest flagship phone, the HTC One (M8).
"We're battling against companies called Apple and Samsung—that's awesome—but HTC is one of only three smartphone companies that's been consistently profitable," said Jason Mackenzie, president of HTC America, in a closed-door interview after the company's Tuesday launch event in New York. "You look at our 17-year history, we've had only one negative quarter. Not many people can communicate that."
We've reported time and time again that HTC has been in a dark place in terms of handset market share and brand I.D. Samsung is the smartphone leader, and Apple's mindshare among consumers requires no further explanation. HTC is struggling to play catch-up, but three members of the company's executive team believe HTC has the hardware to stage a comeback in the new flagship One.
Hit the ground running
The new HTC One (M8) represents more than just another flagship device from the struggling company. It's essentially a do-over of last year's HTC One, which launched to rave reviews but fizzled quickly in the shadow of Samsung's multitudinous hardware line-up.
"Verizon didn't have the [original One] available until five months after launch," Mackenzie said, as he recounted some of the missteps from last year. It also took seven weeks after the initial One announcement before consumers could actually take home a device. "[There was a] huge buzz around the announcement and then an inability to maintain that buzz until availability," MacKenzie said.
This year, however, HTC made sure to hit the ground running with a thoroughly prepared mission strategy: The idea was to let Samsung have its moment of glory with its Galaxy S5 announcement at Mobile World Congress, and avoid the noise of Barcelona altogether. So HTC waited a few weeks, live-streamed the One (M8) announcement for all the world to see, and made sure to seed handsets with carriers for next-day delivery immediately after Tuesday's grand reveal.
As MacKenzie told me, "This year, we're making it available from day one."
Second time's the charm
Just take one quick glance at the HTC One (M8), and you can tell it's an even more refined smartphone than the original model, which was almost universally regarded as the best piece of Android industrial design of 2013. The new phone's brushed-metal hairline texturing, curved edges, and dual rear-facing cameras help illustrate HTC's design prowess. But in the world of Android, it's the whole package that matters.
"We felt we were quite successful with Sense 5," said Drew Bamford, HTC's head of user experience. "Especially with BlinkFeed—people really like using [it] to scan through headlines and look at photos," he said. So in Sense 6, HTC's software team focused on tweaking BlinkFeed so that content is not only customizable, but so that its information is easily "snackable," in the words of Jonah Becker, associate vice president of design.
HTC also introduced more customization features to its Android overlay. "We really want to give people as much ability to personalize," said Bamford. At present, users can only choose between four color schemes, but both Bamford and Becker hinted that the company may be considering opening up theming to the Android community. 
Sense 6 has also been designed so that HTC can easily push component updates through the Google Play store. "We don't have to wait for another piece of hardware to come out, or a major phone update in order to update features," said Bamford. Over time, HTC says, the design team plans to carefully study comments attached to application pages in Android's marketplace for direct user feedback. 
Open it up to everyone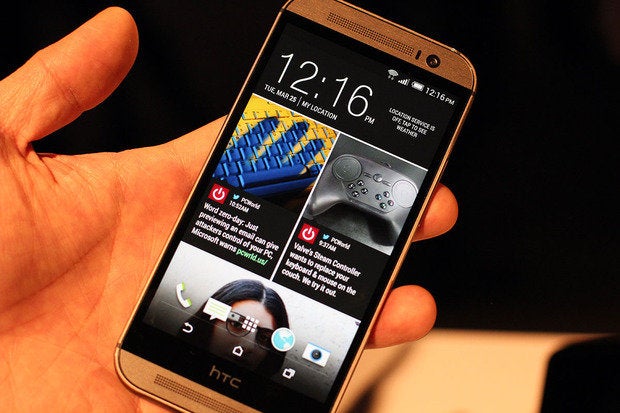 HTC hopes that by opening up its BlinkFeed and camera APIs, developers will create a whole new world of apps and features unique to HTC handsets. "[This] functionality is not available on other products," insisted Bamford. In particular, Bamford is looking forward to outside-the-box thinking with its camera API, with developers delivering more than just different camera modes. "Imagine having an app that measures the distance to a nearby object," he said.
As for Blinkfeed, Bamford wants to see more location-awareness built into the constantly updating content scroll—perhaps something similar to the FourSquare integration HTC announced yesterday, which displays relevant restaurant suggestions based on where you're located.
Don't be like Samsung
HTC has made a point of differentiating itself from other competitors—specifically Samsung, let's not mince words. Though Samsung was rarely mentioned in our one-on-one interview, its employees are generally candid about their opinions on Samsung's design choices. For example, during his event opening on Tuesday, CEO Peter Chou insinuated that the company wasn't interested in polycarb chassis. "Our competitors still use so much plastic," said Chou, "but we insist on giving you the best quality possible."
And Mackenzie also delivered a blow during yesterday's press conference by saying the new One's design is more than just "a few dimples on the back."
"Everyone talking about features and these specs—it's all white noise," Mackenzie said in our interview. "The attitude is, we don't make phones for everybody. We only make them for those who demand more." Mackenzie added that the company is committed to keeping its TV commercials US-centric, and that they won't refer to HTC as, "the next big thing," which is Samsung's current company slogan.
Of course, HTC does have to play like some of its competitors if it's going to make money and stay afloat. Later this year, it'll bring over more of its Desire line of mid-range devices to the US. And of course it also plans to expand into the wearables space.
For the most part, HTC wants to portray itself as the underdog, but the harsh truth is that it was once a major player in the mobile industry and now it's struggling for relevance. Overall, the company is optimistic that its new strategies will help it regain clout with consumers, but today's Android handset scene is much more competitive than what it was even two years ago. There's pressure from every side, and now that Lenovo is buying Motorola, HTC will have another formidable consumer electronics heavyweight to contend with.
Still, what can HTC do? Give up? It makes great hardware, but has suffered from poor marketing and mindshare development. Maybe the roll-out plan that Mackenzie and crew describe above will make a difference. We'll know more as all the competitors' mobile fortunes unfold in 2014.
This story, "HTC execs say it's not too late for a do-over: One-on-one with the president of HTC America" was originally published by Greenbot.