12 Android Apps to Supercharge Your Smartphone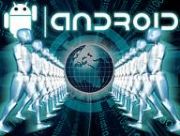 Psst... Come close. There's something I need to tell you, and there's no easy way to say it: Your Android smartphone might not be living up to its full potential.
I know, I know -- you've loved it. You've cared for it. You've cradled it while watching "Frasier" reruns at night. But despite all the tender nurturing, there's a decent chance your smartphone has hidden pockets of power you haven't yet unlocked.
[ Keep up on key mobile developments and insights with the Mobile Edge blog and Mobilize newsletter. | See who wins InfoWorld's iOS versus Android deathmatch. ]
Much of Android's aptitude, you see, comes from its flexibility. Thanks to Google's open approach to applications, there's practically no limit to the ways you can expand your phone's functionality and customize its existing features. It doesn't take much time or effort to crank up the dial on what your device can do, either; you just have to know where to begin.
So get ready to make your smartphone stronger and more versatile than ever.
You can download these apps quickly from your Android smartphone from the Android Market or visit PC World's Android App Guide where you can learn more about these apps and others. If you'd prefer to read this article and see the QR image code for each app, please read this article in its original form at the InfoWorld Website.
1. Extend your connection with PdaNet We've all been there: You're sitting at some public place -- say, an airport or a favorite lunch spot -- and you need to hop on your laptop to catch up on a few items. But alas, the scoundrels who run the joint have the nerve to charge you for Wi-Fi access. Well, put your wallet away, compadres. With your Android smartphone in tow, you'll never need to pony up an extra penny again.
(Read PC World's full PdaNet review )
Practically every Android smartphone is capable of delivering free 3G tethering that can get your PC online in seconds. Prepare your handset now, and next time you need a reliable connection, you'll be ready to roll.
Simply download PdaNet from the Android Market, snag the companion PC software, follow the installation instructions, and -- ta-da! -- you'll be able to use your phone's network connection to get online from your laptop. To be safe, just read over your carrier's conditions first to make sure you don't violate any data usage regulations.
One quick footnote: If you're on AT&T, you might not see PdaNet in the Android Market. This is due to app restrictions that AT&T alone places on its Android devices. There isa work-around, if you're willing to risk angering the AT&T overlords.
PdaNet costs $25.