HTML5 and Flash Team Up for Web Music Video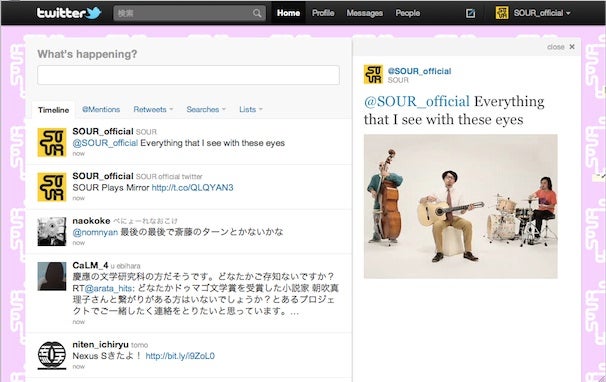 A new video from the Japanese band Sour makes use of both HTML5 and Flash to take you on a unique musical journey. The video, ties in with your social network accounts to make you part of the video as you watch it. It blew my mind when I watched it for the first time, and it is even better the more social networks you connect to it! For example, if you sign in with your Twitter account when prompted, it'll show the song's lyrics as a Twitter conversation between you and the band. (It's OK, I tried it with all of the options turned on and it gives the best results, and as far as I could tell it doesn't spam your profile.)
The potential to make the video different on the fly for everybody watching it, but at the same time basically the same, is an impressive feat. Sour isn't the first band to attempt an HTML5-based music video: Google and Arcade Fire worked together on a similar video in August.
The video is in Japanese, but don't worry, the effects of the video more than transcend the ability to understand the lyrics. Also make sure you're in either Google Chrome or Safari for it to function properly.
Like this? You might also enjoy...
Follow GeekTech on Twitter or Facebook, or subscribe to our RSS feed.