Never pay full price when dining out, that's my mantra! With that goal in mind, I've compiled a list of go-to apps that I regularly check for discounts when I'm looking to get a bite out on the cheap. There's really no need to ever pay full price again when dining out or ordering take-out.
Groupon
This one is the first to mind if you're searching for a deal from a PC, but you might not consider it while you're on the go. Groupon is known for offering 50% off vouchers for local restaurants, and their mobile app has a handy feature for sniffing out discounts nearby.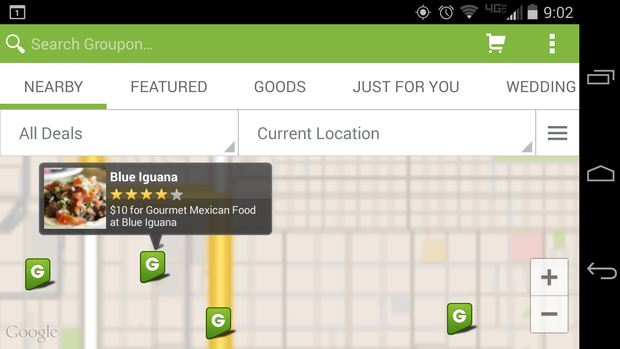 While you're out on the town, launch the Groupon app, then swipe to the right or tap on the NEARBY tab. Tap on the compass icon at the top right to access a map view. You'll see Groupon icons plotted on the map for all of the deals near you. You can tap on All Deals and then select Food & Drink to narrow the results further. Tap on each G icon to display a bubble that lists the establishment name and a discount summary. Tap on the bubble to go to the deal details page and to purchase a voucher. Show the voucher to your waiter or your cashier to redeem it.
Yelp
Yelp is a fantastic service for scoping out restaurant reviews, but they also offer exclusive discounts at a variety of restaurants. To find participating businesses, fire up Yelp and tap on Deals icon at the bottom right of the home screen.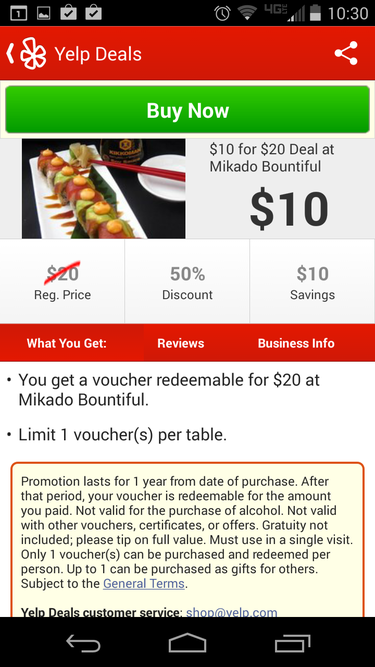 The Deals section in the Yelp app will provide you with a list of nearby businesses where you can save money. Tap on a business name to bring up its Yelp page, then tap on the green deal bar to bring up the deal page, where you can make your purchase. Some businesses also offer Yelp Check In offers, such as $5 off a $20 purchase just for checking in with the app.
Unfortunately there is no filtering, no map view, and Yelp seems to limit the deal listings to those businesses within 10 miles of your current location.
Foursquare
The quintessential check-in app that kickstarted the geolocation craze, Foursquare offers check-in discounts and deals at many eateries. To search out the deals, tap on the magnifying icon at the top center of the app, then tap Specials. You can scroll the text list of nearby specials or tap on the map to view orange dots that show where specials are offered. Unfortunately, there is no option to filter for only restaurant deals.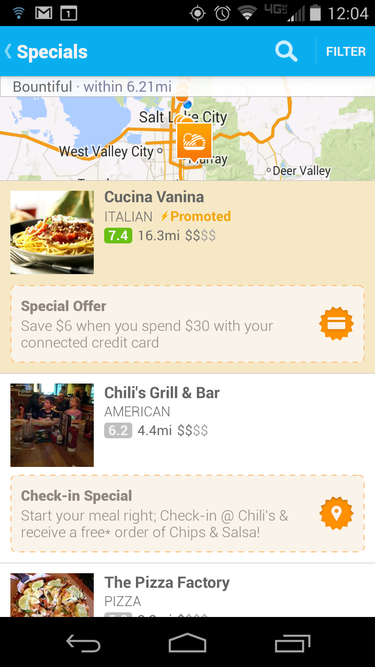 These days, redeeming a special is quite simple, unlike the experience I had when Foursquare first launched business offerings. Most specials require you to check in, which unlocks an offer that you then show to your server or cashier.
Some newer deals, however, require you to use a 'Connected Credit Card' that you register with Foursquare. When you pay with your connected credit card at a participating merchant, the discount is automatically applied to your bill. To register a card, tap on the 3 stacked dots at the top right of the Foursquare app screen, then tap Settings, then tap Connected Credit Cards and Savings.
Restaurant.com
Another well known discount service, Restaurant.com also offers an Android app. Launch the app and tap on Deals Near Me to get a listing of the deals closest to you, based on your device's GPS coordinates. You can scroll the list, or, tap on the Map setting at the top right to get a visual plot of deals displayed as blue pins.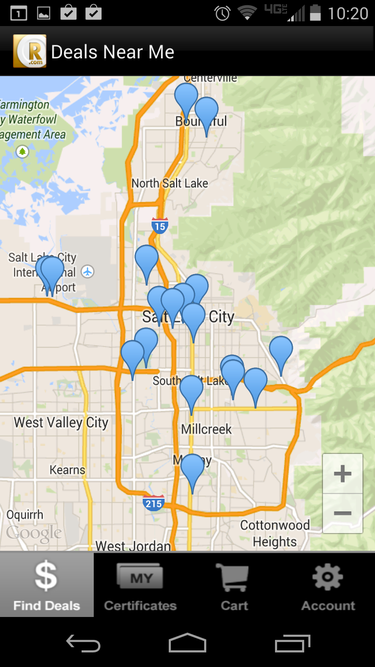 I'd like to issue a word of caution on Restaurant.com "certificates." They are, by far, the most restrictive of any service that I use. For instance: if you buy a certificate worth $25 in restaurant credit for $10, you may be required to spend a minimum of $50, excluding alcoholic beverages, in order to redeem it. Be sure to scrutinize the fine print when using this service.
LivingSocial
LivingSocial is a Groupon clone and arguably the 2nd most popular local deals service. They certainly don't have the breadth of participating businesses that Groupon has, but they're worth checking out as they might just have a deal for your favorite restaurant.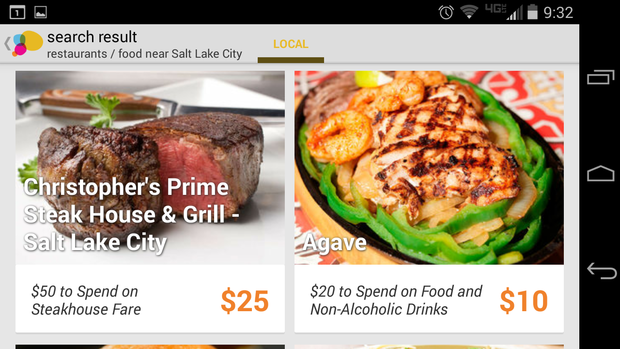 Their Android app isn't as refined as some of the others, but with a little jerry-rigging, you can do some useful searches with it. Launch the app and navigate to the LOCAL tab. Tap on the magnifying glass icon located at the center-top and then search for restaurants / food. The search should auto-complete after just a few letters, so filtering the offers this way isn't too onerous.
This story, "With these Android apps, you'll never again pay full price when eating out" was originally published by Greenbot.