Plug me in if you want to save: MetroMile thwarts street-cleaning tickets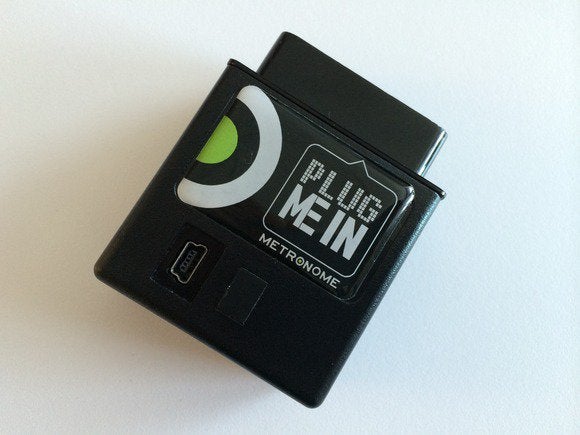 Having parked on the streets of San Francisco for nearly 30 years, I've developed a sixth sense about when I need to move my car. That, plus about five different devices yapping at me that it's time to move my vehicle, have spared me the pain of a $60 penalty (up from a mere $10 or $12 when I first arrived in 1985).
But it wasn't always so. I'd forget where I parked, come in dead-tired and think it was later than it was, misread signs, not see the new two-hour zone notification, or fail in some other way, and fatten the city coffers as a result. MetroMile's new street-cleaning notifications, active in San Francisco and Chicago, help with one major source of such tickets. It would be nice to get help with limited-hour zones in the future, but MetroMile probably needs to work on its data lag first.
The service works via a broadband OBD-II reader called the Metronome, which plugs into the diagnostic port on your vehicle (1996 or later vintage) and broadcasts information to MetroMile. My original review covers the MetroMile basics, which include per-mile insurance in Washington, Oregon, and California; driving statistics; and diagnostics. The Lab beta, with its handy gas costs and commute-time info, is now available as well.
Your OBD-II port is most likely somewhere under the driver's side of your dash and fairly easy to get to. While the Metronome required a bit of force to get in, it won't fall out, as other devices lacking snap fittings might. Total install time, including an Internet search to find the location of the port: five minutes.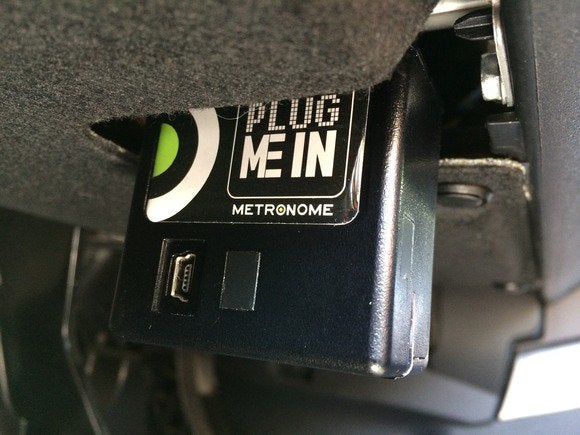 The broadcast OBD-II information, plus GPS data, which is relayed any time your car is turned on, tells MetroMile where you've driven, determines where you are currently, computes your gas mileage, and more. As it always knows where you are, simply comparing your location to a street-cleaning map allows the service to tell you when you're in danger.
The locator function is not pinpoint-precise, so some of the warnings were for street cleaning on the other side of the street from where the car was parked. The locator also doesn't know whether you are off-street, such as a driveway or garage. Metromile freely acknowledges the margin of error in the email warnings it sent me, and it even lets you click a link in the email to stop further reminders (or set extra ones), or tell Metromile that its information is incorrect. To entice yet more feedback, the company offers a $5 Amazon e-gift card if you fill out a user survey.
Within limits, the warnings work well. I received emails about parking in zones due to be cleaned the next day, and I received another warning a few hours prior. However, like a dummy I forgot to enable push notifications in the iOS app. These are disabled by default. Once that was done, the notifications flowed like wine. 
The biggest issue with the street-cleaning notifications is the lag between your actions and MetroMile's server processing. If you pull into a spot 10 minutes before it's due to be cleaned, chances are MetroMile won't notify you in time. Don't laugh about that scenario—I see it regularly and have done it once or twice myself. People get distracted. With some of the lag times I've seen with MetroMile, even pulling into a spot an hour before street cleaning might not trigger a notification in time.
Laggy or not, the notifications are handy and could save you money. They're also a harbinger of other cool things OBD-II and broadband might do for you. MetroMile's biggest possible benefit—the pay-per-mile insurance—isn't available in California yet, but of course, it's in MetroMile's interest to build an installed base of Metronome users in preparation for that golden day. For now, you can get a device and an account for free. If I were you and lived in a MetroMile-served area, especially San Francisco or Chicago, I'd check it out.
This story, "Plug me in if you want to save: MetroMile thwarts street-cleaning tickets " was originally published by TechHive.
Shop Tech Products at Amazon