Security Software: Testing in the Real Wild World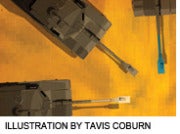 The malware threat landscape is ever-evolving, with thousands upon thousands of new pieces of malware each year, and with cybercriminals developing new attack methods. As such, security products--and our security testing methods--must evolve too.
When reviewing security suites and antivirus software, PCWorld works with AV-Test, a respected security testing lab based in Germany. AV-Test looks at various aspects of a security product's ability to detect and block malware, including its ability to stop both known and unknown threats.
New in our testing this year--with results outlined in "Battle of the Security Superpowers"--is AV-Test's "real world" malware blocking tests. These tests put antivirus software up against real, live malware found online, as opposed to samples in a lab. These tests are a good way to measure how well a security product can detect new, as-yet-unknown malware--an important metric given how rapidly new threats emerge.
Among the security suites we reviewed, Norton Internet Security 2010 performed the best in this test, fully blocking 96 percent of these attacks, and partially blocking the remaining 4 percent.

Amazon Shop buttons are programmatically attached to all reviews, regardless of products' final review scores. Our parent company, IDG, receives advertisement revenue for shopping activity generated by the links. Because the buttons are attached programmatically, they should not be interpreted as editorial endorsements.