Samsung is revamping its retractable lens cameraphone with the Galaxy K Zoom, an Android phone with a 10x optical zoom lens.
Just like last year's Galaxy S4 Zoom, the Galaxy K Zoom has a 35mm equivalent focal length of 24-240 mm, an aperture of f/3.1 to f/6.3, optical image stabilization and xenon flash. But this year's model has a 20.3-megapixel CMOS sensor, compared to 16 megapixels on Samsung's previous phone.
Samsung has also improved the actual phone. It's larger than last year's model, with a 4.8-inch 720p display, and it's more powerful, packing a hexa-core Exynos processor (1.3 GHz quad-core plus 1.7 GHz dual-core) and 2 GB of RAM. The phone runs Android 4.4 and borrows some software features from Samsung's Galaxy S5, including an Ultra Power Saving mode and a "Lite" version of Samsung's S Health fitness tracker.
Some specs are unchanged from last year's model: A mere 8 GB of storage is on-board, with microSD card slot for expanded storage, and the front-facing camera is still just 2 megapixels.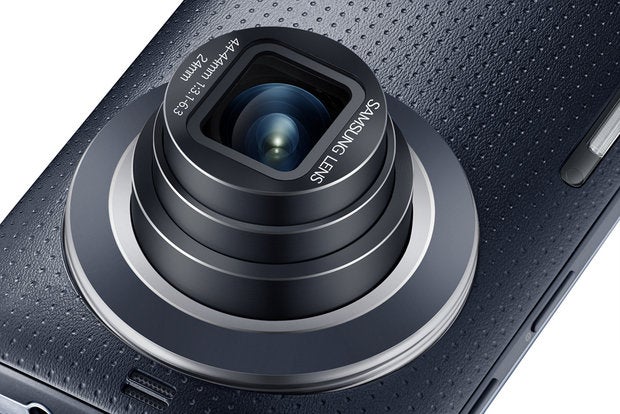 To compensate for the low-quality front camera, Samsung is throwing in a "Selfie Alarm" feature for the rear-facing camera. As you point the camera at yourself, the Galaxy K Zoom beeps when you're in the frame, then snaps the photo automatically. Samsung also partnered with Vine for a special version of the video-sharing app, allowing users to zoom in and out during their six-second videos.
Compared to the Galaxy S4 Zoom, the Galaxy K Zoom is just a little lighter and a little thicker, weighing 0.44 pounds and measuring 0.65 inches thick, not including the fully-retracted lens. With the lens factored in, the thickness increases to 0.8 inches.
Samsung hasn't announced a price or release date for the Galaxy K Zoom, and there's no word on whether the phone will launch on any U.S. carriers. AT&T did sell last year's Galaxy S4 Zoom, so there's reason to hope Samsung's latest cameraphone will eventually come stateside.
This story, "Samsung's Galaxy K Zoom phone packs a 10x optical zoom camera" was originally published by Greenbot.