Samsung Sells 10 Million Galaxy S Android Smartphones
Samsung on Monday announced that it has now sold more than 10 million Galaxy S smartphones running the Google Android mobile operating system.
The milestone sales occurred around the world in only seven months, meaning Samsung managed to sell around 1.4 million devices per month, or about 40,000 units per day.
The electronics manufacturer said it has sold around 4 million Galaxy S smartphones in North America, 2.5 million in Europe, and around 2 million in South Korea in the past seven months. While outside the U.S. the Galaxy S was marketed in one standard version, the four major U.S. wireless carriers sold four slightly different variations of the device.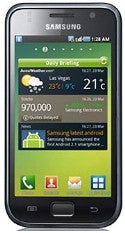 According to Gartner figures, Samsung was the lead Android devices manufacturer (32 percent) in the third quarter of 2010 and the latest sales milestone from the company only solidifies its position. HTC was the second largest Android smartphone manufacturer with 27 percent, and Motorola came third with 17 percent of the market.
Worldwide, Android is the second largest mobile operating system, only outclassed by Nokia's Symbian. But in the U.S., Apple's iOS still holds a slim lead in overall market share, according to the latest figures from the Nielsen Company. In November 2010, Apple held 28.6 percent of the U.S. smartphone market, while Android covered 25.8 percent of the market and BlackBerry OS slipped to 26.1 percent.
Samsung is among vendors preparing entries in a new batch of Android smartphones expected in 2011. But that's not the extent of its mobile devices; the company also entered the Android tablet market in late 2010 and in December 2010 said it has sold more than one million of its 7-inch tablets in less than two months.
Follow Daniel Ionescu and Today @ PCWorld on Twitter
Product mentioned in this article
(1 items)
Samsung Galaxy S

$10.00

Amazon Shop buttons are programmatically attached to all reviews, regardless of products' final review scores. Our parent company, IDG, receives advertisement revenue for shopping activity generated by the links. Because the buttons are attached programmatically, they should not be interpreted as editorial endorsements.
For comprehensive coverage of the Android ecosystem, visit Greenbot.com.