While HTC, Samsung, and LG are battling it out in the high-end market, Motorola is taking a less glamorous approach: going after price-conscious consumers by offering a low-cost, bang-for-your-buck Android-powered smartphone.
It's a smart move for a company that's in such a precarious position. Motorola is doing relatively well in countries like Brazil and the UK, but it still needs to find traction in the US.
And so now we have the Moto E, a phone that's small enough to qualify as adorable in this age of 5-inch-plus behemoths. It might also be cheap enough at $129 off contract to convert a few feature phone owners—yes, they still exist—into smartphone users.
Small but sweet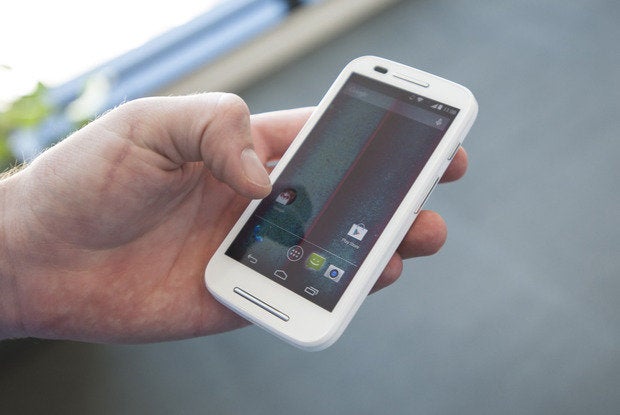 Remember when phones were small and cute? Motorola's tapping into that aesthetic for the Moto E. It features the same cheap-to-manufacture package as its predecessor, the Moto G, but despite its plastic build it feels durable. Its quaint size can fit into more pockets than your typical Android device, but its 4.3-inch, 256 ppi display will take some getting used to.
The display's color and image quality are great, but the text is so much smaller, I found myself squinting to make out what was on screen. Still, despite its small screen size, I really like the shape of the phone. Sure, its soft, round edges evoke something closer to a children's toy than a smartphone, but the chassis has a nice grip to it, and doesn't feel like it would ever slip from my hand, despite its small size.
The Moto E is powered by a 1.2GHz Snapdragon 200 processor and 1GB of RAM, boasts 4GB of onboard storage (along with an expansion slot), and features a 1980 mAh battery pack, promising "all day" battery life, according to Motorola. Its internals are almost a generation behind its two older siblings in terms of performance, and even though the phone certainly felt speedy, I'm worried about it slowing down over time (even though KitKat was intentionally designed for phones with fewer resources).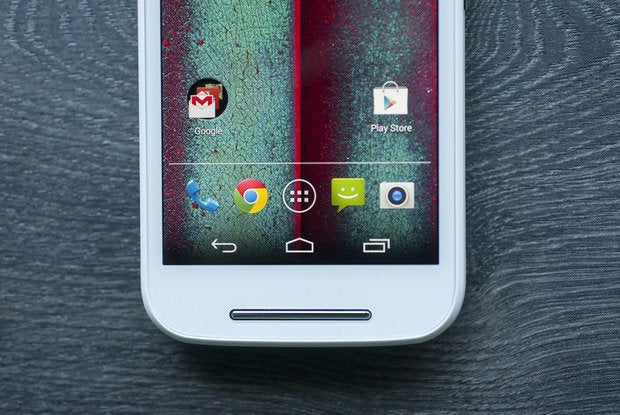 Overall, the Moto E is really just the low-end player in the company's growing line-up of devices.
Not the most capable camera
Motorola said it designed the phone's specs to "meet consumer expectations," but curiously it's missing some key features—most notably, a front-facing camera. We could make jokes about the lack of a front-facing camera preventing easy selfies, but the fact is that most low-end phones lack front-facing cameras—so Motorola missed a great opportunity to differentiate itself from the competition.
The Moto E doesn't record 720p video, a feature that's common on other Android-powered low-end phones, such as the Nokia X. I wasn't too impressed by the 5-megapixel camera, either. Quick hands-on testing showed that the camera's color accuracy is better than that of some other low-end phones, but the Moto E still suffers some pixel blending issues caused by its small sensor. Frankly, I'd be bummed if this were the only camera phone I could afford.
More of the same
I was impressed with both the Moto X and Moto G, and the Moto E is, in many ways, more of the same. It's a smaller, cheaper version of both handsets, and its hardware makes it apt to compete with phones like the Android-powered Nokia X overseas. The fact that it runs Android 4.4.2 KitKat right out of the box also gives it a leg up, and Motorola even promises that the device will have at least one guaranteed software update. 
It's important to note, however, that like the Moto G, the Moto E doesn't feature any of the Moto X's sensor-driven features, such as always-on listening capabilities. But it does come with Motorola's custom apps, like Assist and Alert, as well as a neat little pulsating notifications LED.
The Moto E retails for $129 off contract. We'll have a full blown review of the device for you in the coming days. Stay tuned. 
This story, "Hands-on: Motorola goes even lower-end with the adorable Moto E" was originally published by Greenbot.