Verizon Storms CES With HTC Thunderbolt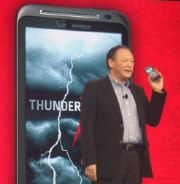 Probably the worst-kept secret phone of CES, the HTC Thunderbolt is finally official on Verizon's 4G LTE network. According to Peter Chou, CEO of HTC, this smartphone is incredibly fast.
Similar to the HTC EVO 4G, the monstrous Thunderbolt sports a 4.3-inch Super LCD display and a front-facing video camera. We're guessing that it also has an 8-megapixel camera, but that has yet to be confirmed. Running on the new version of HTC Sense (which has a cloud-based online component). The Thunderbolt also incorporates Skype video chat into the HTC Sense interface.
Pricing and availability have not yet been announced and we're still a bit fuzzy on the specs. We're dying to get our hands on this exciting new phone and will have a full report as soon as possible.
Check out our complete coverage of CES 2011.

Amazon Shop buttons are programmatically attached to all reviews, regardless of products' final review scores. Our parent company, IDG, receives advertisement revenue for shopping activity generated by the links. Because the buttons are attached programmatically, they should not be interpreted as editorial endorsements.