Able Planet Tower of Power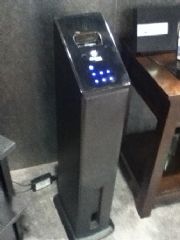 The Able Planet showed off lots of goods at CES, but the most impressive was the yet-to-be-named sound tower. The sleek black tower stands a few feet tall and 9 inches across. Slide in an iPhone, iPod, or even an iPad at the top to play music.
The surprising part is the sound piping out of its relatively low 70W power. The CES test model kicked serious bass while releasing clear vocals. The wood housed speakers give some good feedback, and the tower automatically charges any devices connected.
The tower will be out this Spring for about $250.
Check out our complete coverage of CES 2011.

Amazon Shop buttons are programmatically attached to all reviews, regardless of products' final review scores. Our parent company, IDG, receives advertisement revenue for shopping activity generated by the links. Because the buttons are attached programmatically, they should not be interpreted as editorial endorsements.