Yesterday ZDNet posted a handful of PowerPoint slides aimed at Microsoft resellers who are trying to sell Windows 7 tablets in an iPad-dominated world. The slides give point-by-point selling tips, painting the iPad as a laggard in the vaunted halls of the enterprise, showing how Windows 7 tablets run rings around the iPad in areas of corporate security, application compatibility, line-of-business applications, and more.
I believe the slides demonstrate, beyond any doubt, that Microsoft -- at least the sales force -- has an incurable case of cluelessness.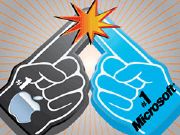 The slides tell us that the iPad's great form factor, intuitive interface, and long battery life "are driving commercial appeal." We're further informed that "end-user interest is driving the adoption [of iPads] within the organization."
That's exactly right.
Then we're told that all of those characteristics aren't key concerns for the enterprise. Corporate customers, quoth Microsoft, want a platform for data creation, not just consumption, with manageability, security, hardware choices and support, the power to run Line of Business applications and Microsoft Office, and a familiar user interface.
Bunk!
If you were in the IT business 20 years ago, you might recall precisely the same arguments being made in a very different context. Back then, the problematic machines -- the darned upstart whippersnapper devices that end-users insisted on sneaking into the office -- were called personal computers.
They didn't connect to CICS databases, thus couldn't be relied upon for creating high-quality data. They wouldn't behave like good 3270 terminals, with their familiar user interfaces and well-understood commands. Users would get all confused by these "personal" things and need new training. Worse, IT couldn't control them: Departments snuck fake line items into their budgets to buy them, or just put 'em on expense reports, bypassing IT review. Ingrates!
Heck, these toy computers didn't even run JCL or Cobol. How could they possibly be used in a secure, business-like corporate environment?
It's deja vu all over again.
Right now, Microsoft is trying to sell a decade-old bloated software design grafted onto decade-old hardware. The upstart whippersnappers have a simpler, nimbler alternative, that's finger-swiping easy to use. Sure, some applications in the enterprise need all of that bloat -- Office and SharePoint and locked-down security with giant SQL back ends -- but many people don't want the overhead, don't want the pain, don't want to waste their time learning arcane details, and just want to get on with it.
Then, as now, corporate IT departments have two choices: They can try to keep the inevitable from happening, throw up organizational roadblocks, and force their users to buy archaic equipment. Or they can run out in front of the band and pretend that they're leading it.
A year from now, where do you want to be?
This article, "Microsoft takes a swing at the iPad and misses by a mile," was originally published at InfoWorld.com. Get the first word on what the important tech news really means with the InfoWorld Tech Watch blog. For the latest business technology news, follow InfoWorld.com on Twitter.
This story, "Microsoft Takes a Swing at the iPad, Misses by a Mile" was originally published by InfoWorld.