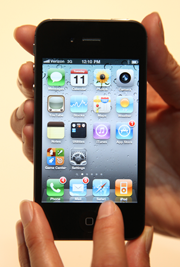 Verizon appears to be sweetening the deal for iPhone users (current subscribers, new customers, and AT&T iPhone owners opting to the switch to Verizon). The company has announced that it will offer an unlimited data plan to iPhone customers for $30/month. The plan mirrors a similar unlimited option offered by AT&T when the iPhone 3G launched in 2008.
AT&T canceled unlimited options for all devices in favor of tiered pricing this summer, including the iPhone and iPad (a particularly jarring move for iPad 3G owners as the move came shortly after the tablet launched with a contract-free unlimited data option). However, existing customers were given the option of maintaining the unlimited plan with their current contracts.
While the new plan is extremely attractive to a device that delivers all manner of Internet content to its users, Verizon acknowledges that this plan is a limited-time offer. Though not time frame is available, Verizon will eventually offer iPhone users its existing tiered data plans for smartphones - plans that are similar to AT&T's current options.
The deal may be a sweetener for AT&T customers, but since iPhone users who have been with AT&T since before this summer can maintain their current unlimited plan and newer users will be committed to at least 18 months of AT&T contracts, they aren't likely the target audience.
That target audience is likely to be users who are on the fence about signing up with Verizon for an iPhone 4 next month. There's no doubt that Verizon has some concerns about potential new customers and existing subscribers holding off on an iPhone purchase because the CDMA iPhone 4 is launching in the middle (or rather somewhat after the middle) of Apple's annual iPhone hardware cycle.
That means that early Verizon iPhone adopters won't be able to upgrade to whatever next-generation iPhone is release this June or July, which is a good reason to wait a few short months to make the purchase or switch carriers. While no solid details about the new iPhone exist, it may be a LTE/4G model and it is likely to include faster performing hardware and NFC technology. It could easily offer several other advantages, which may make waiting a good plan for many users.
By offering a limited-time unlimited data option, Verizon is providing a good reason for users to make their iPhone purchase today. That means users need to consider who what is more important to them: a brand new iPhone this summer or unlimited data for at least the next two years (it's unclear if Verizon will tie this option to a single two year contract or if it will extend indefinitely).
That's a tough decision. I can't offer any one-size fits all advice about it. The decision ultimately comes down to what's important for each customer and how much 3G service they're likely to use. Heavy users and road warriors will probably want to jump on this. Early adopters and those wanting all the potential new features of a device when it ships will want to wait. Most of us, however, fit somewhere in between those categories.
Will you jump on this unlimited iPhone data option and forego a new iPhone this summer or will you wait and take the tiered pricing? Let us hear your opinions in the comments.
Ryan Faas writes about personal technology for ITworld. Learn more about Faas' published works and training and consulting services at www.ryanfaas.com. Follow him on Twitter @ryanfaas.
Sign up for ITworld's Daily newsletter
Follow ITworld on Twitter @ITworld
This story, "Verizon iPhone Choice: Unlimited Data Now or Next-Gen iPhone in the Summer" was originally published by ITworld.