Flash Drive Gives Your Laptop Wings (Sorta)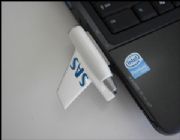 Do you want to fly? Does your laptop? With the latest Mini-tailfins usb flash storage by Bader Models you can give your laptop first-class service all the way to Albuquerque.
The new drives come in a variety of shapes and sizes to match the shape of various airliner tailfins, but they typically extend about two inches out from your usb port. They come painted with your favorite airline logos such as Virgin or KLM.
These flash drives come in 4, 8, 16, and 32GB capacities, and range in price from $53 to 1$20. While these prices may sound high, you can't get a tailfin flash drive anywhere else. I personally look forward to turning my laptop into Dumbo the elephant.
[Bader Models via Flight Global and Gizmodo]
Like this? you might also enjoy...
Get your GeekTech on: Twitter - Facebook - RSS | Tip us off

Amazon Shop buttons are programmatically attached to all reviews, regardless of products' final review scores. Our parent company, IDG, receives advertisement revenue for shopping activity generated by the links. Because the buttons are attached programmatically, they should not be interpreted as editorial endorsements.