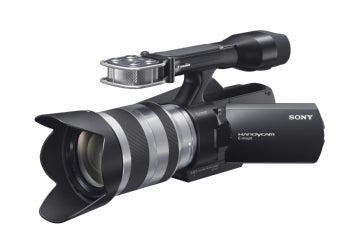 Sony's NEX-VG10 is an interchangeable-lens video camera that shoots high-def 1920-by-1080 AVCHD video at 60 frames per second. It offers DSLR-like manual controls in addition to automatic modes for beginners. Read "Sony NEX-VG10: An HD Camcorder With DSLR Brains" for more details on this high-end video camera.
The Sony NEX-VG10 usually sells for about $200, but you can get it for $1700 at Electronics-Expo.com: Just enter coupon code LSDA0128 at checkout and watch the price fall. Shipping is free.
For hot tech bargains in your inbox every week, subscribe to the PCWorld Bargain Bulletin newsletter.
This story, "High-End Sony NEX-VG10 HD Camcorder, $1700" was originally published by PCWorld Exclusive.